60 Foot Water Fed Pole Brush
The perfect water fed telescopic window cleaning pole kit for heavy-duty professional use by trade window cleaners, exterior cleaning companies, softwashing firms or high-reach cleaners and facilities management companies. The OVA8 pole kit is also perfect for applying our BuildKleen cleaner chemical.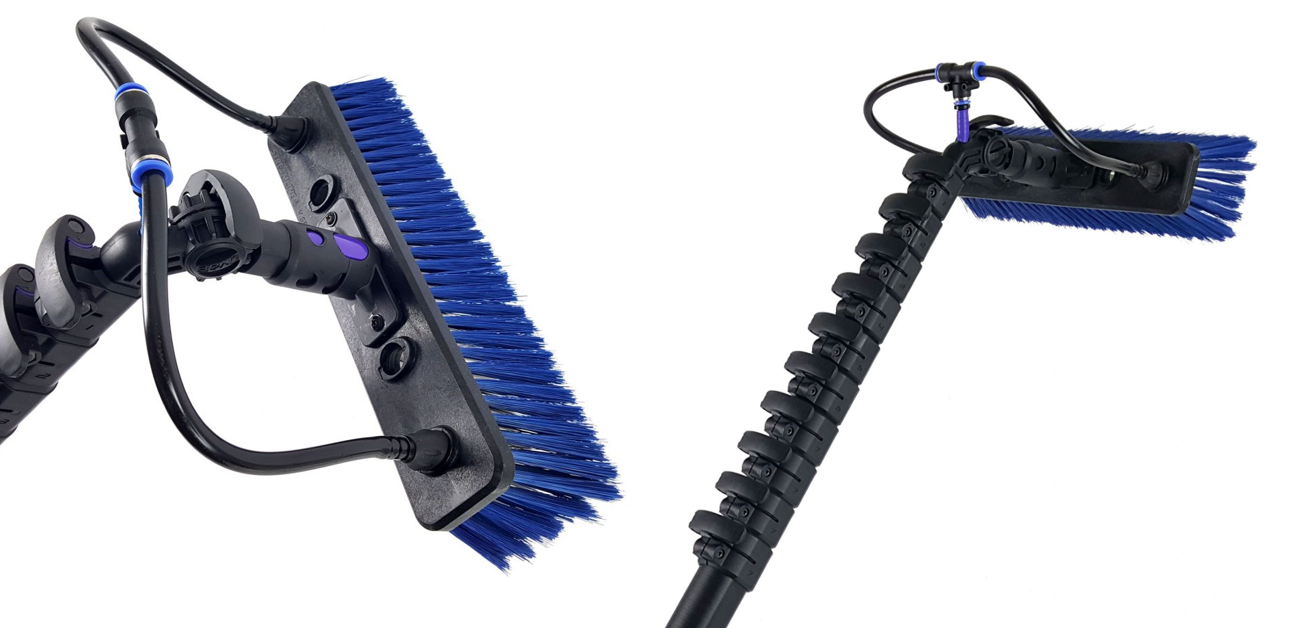 The Streamline OVA8 40T 60-foot water fed pole brush is a telescopic pole that is made in an oval profile shape to stop the dreaded phenomenon of pole turn and made in super robust and lightweight carbon fibre material.
The full specification of this 60-foot Streamline OVA8 water fed pole brush kit is set out here:
Achievable Height: 63 feet / 19.2m
Weight (Pole Only): 3.80kg
Pole Tubing Length: 20m
Number Of Pole Sections: 10
Minimum Length: 2.27m / 7 feet
Maximum Pole Length: 18,28m / 60 feet
Includes a brush, a 6mm male adaptor and a pack of two jets.
Our Price: £1,720.00 +VAT – Buy The Whole Kit Online With Secure Payment Here
The blend of rigid strength and light and easy-to-handle features means that the Streamline OVA8 40T Carbon model with it's reach of 18.2 metres – which is up to 6 floors from the ground – is something of a comprehensive building cleaning system for fascia, cladding, masonry, natural stone, and glass.
Coming in at only 3.8kg in weight for the pole with its 10 sections (brush is extra) this water-fed pole brush really does make a difference for professional operators 'on the tools' all day long and is ergonomic to hold as well.
Check out our unique range of eco friendly cladding and fascia cleaning chemicals on the website and contact us for more details or to discuss your cleaning challenges at.
Acute Build Clean | 74 Bo'ness Road | Grangemouth | FK3 9BL
London Office | Design Hub Clerkenwell | 47 Gee Street | London | EC1V 3RS