How To Remove Rust Stains From Paintwork
In our latest video we are excited to see how a melamine magic sponge disc combined with a LiberVac cordless buffing machine effortlessly removes iron stains and rust marks – using no chemical at all!
A brand new event dedicated to cleaning systems and product for rail, bus, trams and aircraft cleaning will be held in Clerkenwell London 14th to 16th March 2023; please come and see our range for your self.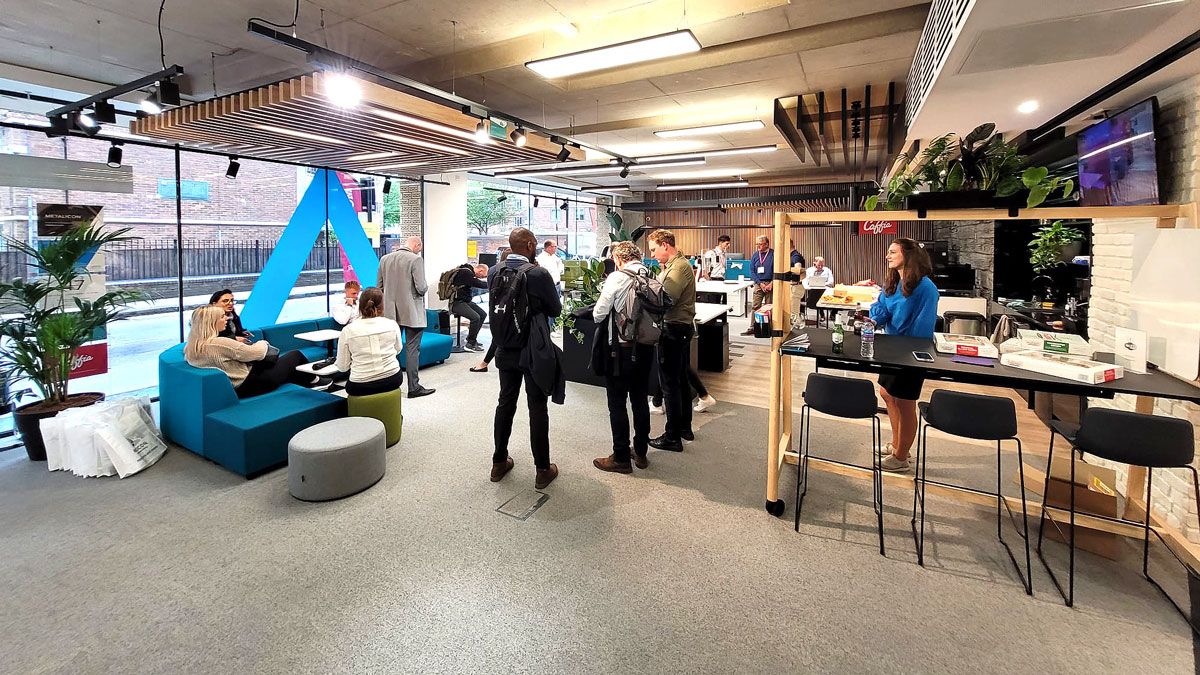 Hand Tools By Sartra
These excellent quality tools like litter pickers and yard brooms offer useful and great value products for cleaning and grounds maintenance! Have a look at the full range of landscaping tools.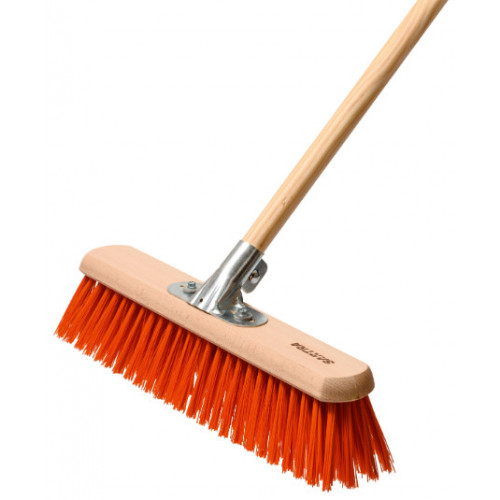 Diesel Pressure Washer And Chewing Gum Remover – Book A Demo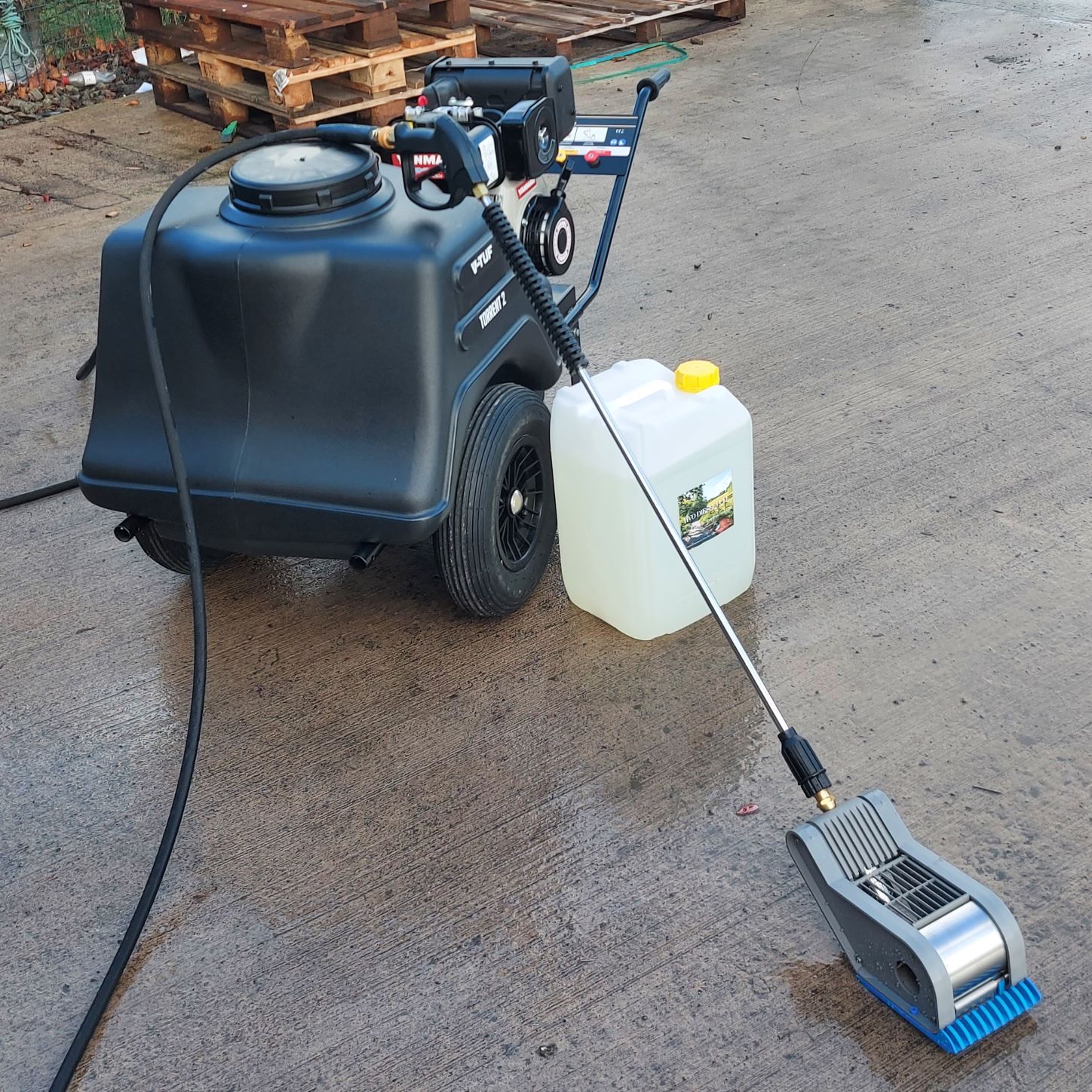 TrainKleen Trolley Guide Video:
New Carpet Cleaner Launched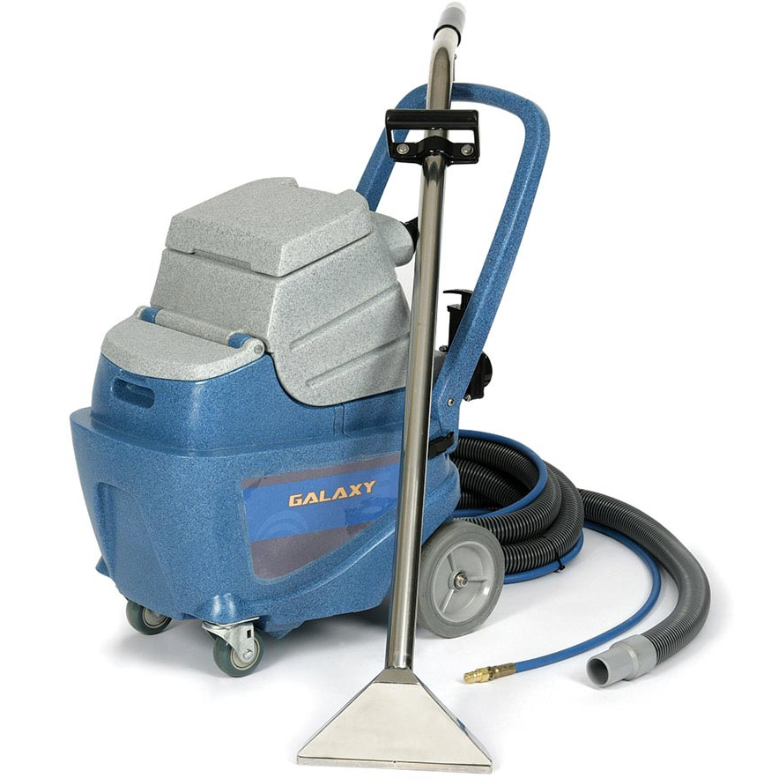 We have launched the Prochem Galaxy commercial carpet cleaning machine as a new product! This is just 40cm wide and perfect for the aisle of coaches on trains and trams and yet offers a 150psi pump within a light and compact extractor machine.
August Greggs Food Offer
If you place an order over £200 value in August 2022, we will send you a £5 e-voucher that you can spend at Greggs the Bakers! Just email us at info@acute.uk.com when you order with the subject 'Greggs' to claim and enjoy!
Great Value Pump Sprayer With Extending Pole Brush Kit
This softwashing trolley is perfect for use by contractors utilising a lithium-ion battery that keeps pumping for up to 12 hours! Combined with a water fed brush it is perfect for cleaning trains, buses and other vehicles with our cleaning chemicals that do not need to be collected as effluent!
NauticOil Marine Engine Oils Range Is Launched.
Offering good value British made marine lubricants for outboard and inboard super high performance diesel engines or petrol engines, the NauticOil range includes 10W 30 grade, 15W 40 oils for diesel engines and ship oil at SAE 30 with TBN of 14 for 4 stroke and 2 stroke trunk picton engines.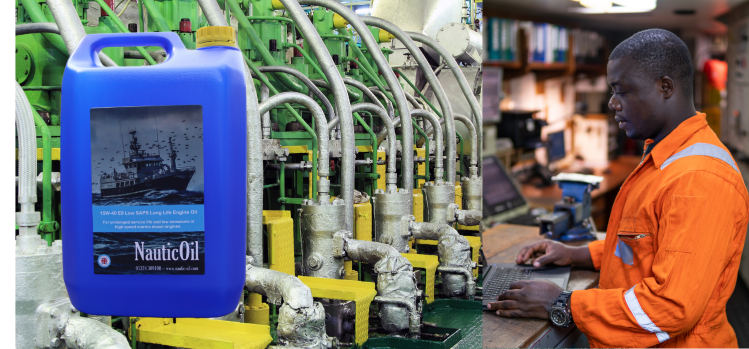 New Packaging For Marine Algae Remover!
We are pleased to now have new packaging for the popular and effective slipway cleaning chemical that is non-toxic, non-hazardous, and non-polluting in any marine environment: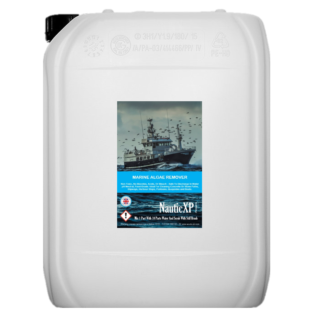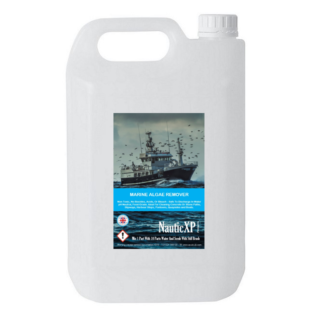 Our Sister Company – NauticOil
We are pleased to launch a new range of marine engine oils for outboard motors and inboard engines that is suitable for Cummins, DAF, MTU, Volvo Penta and Caterpillar Euro 6 diesel engines – please have a look at https://nautic-oil.com/

Cleaning A Ship's Cargo Hold Video
We recently found this interesting video of the ins and outs of cargo hold cleaning on a bulk carrier vessel – it is very interesting – thank you for this Chief MAKOi !!
Keeping Our Seas Safe – Bilge Pumping Video
DW have recently launched an interesting video about the issue of ships letting oily bilge water out while at sea. Do you need highly effective and marine safe boat cleaner? We can help with our all-natural BoatKleen product.
Clear Is The New Green
Due to a steep rise in the price of coloured dye we are supplying our BuildKleen nano-tech chemical concentrate product in clear in order to keep prices the same.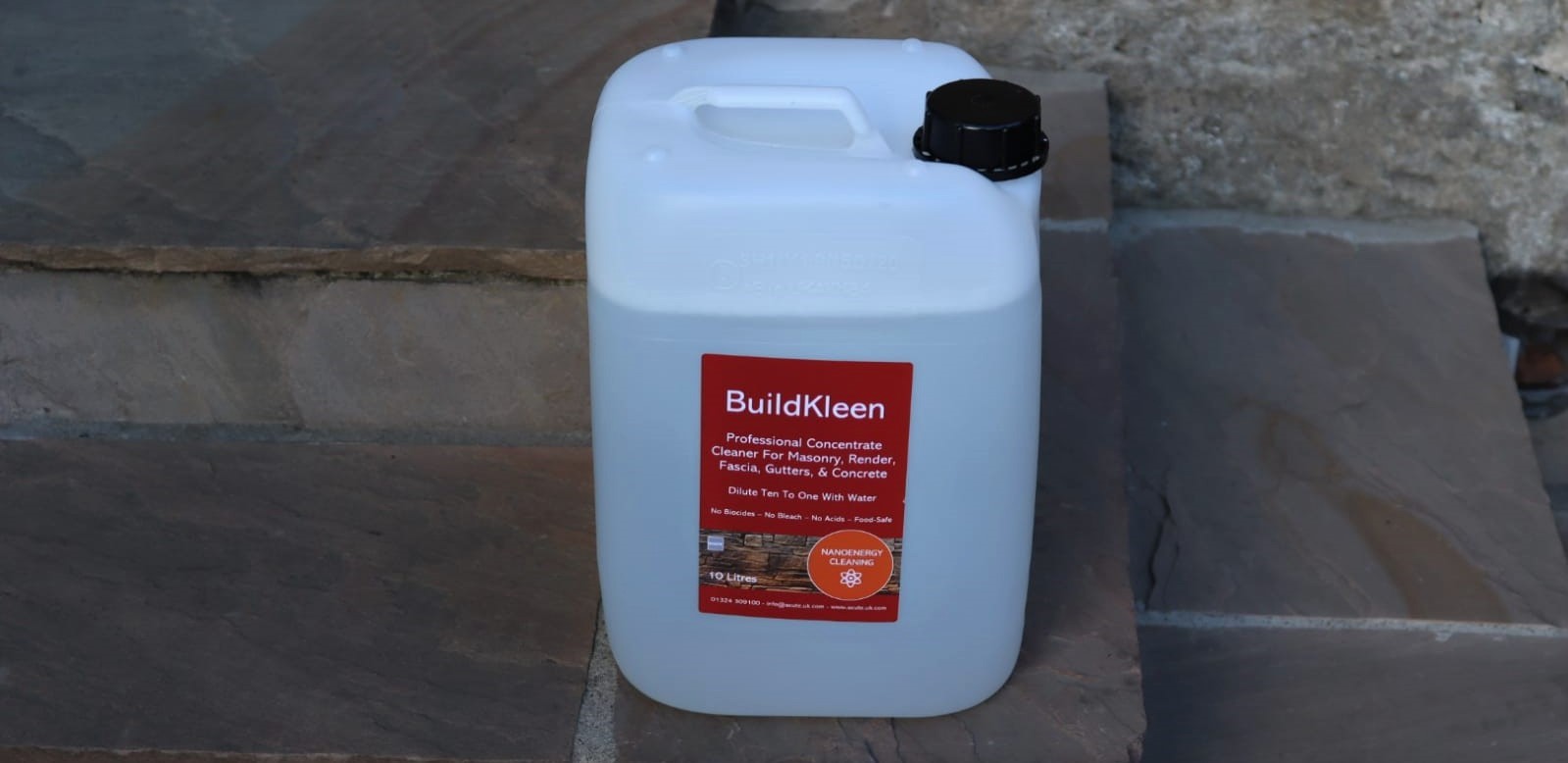 Boat Wash Marine Cleaner
Spring is here and the call of the waves will be strong but is your boat hull free of biofouling to give you best fuel efficiency?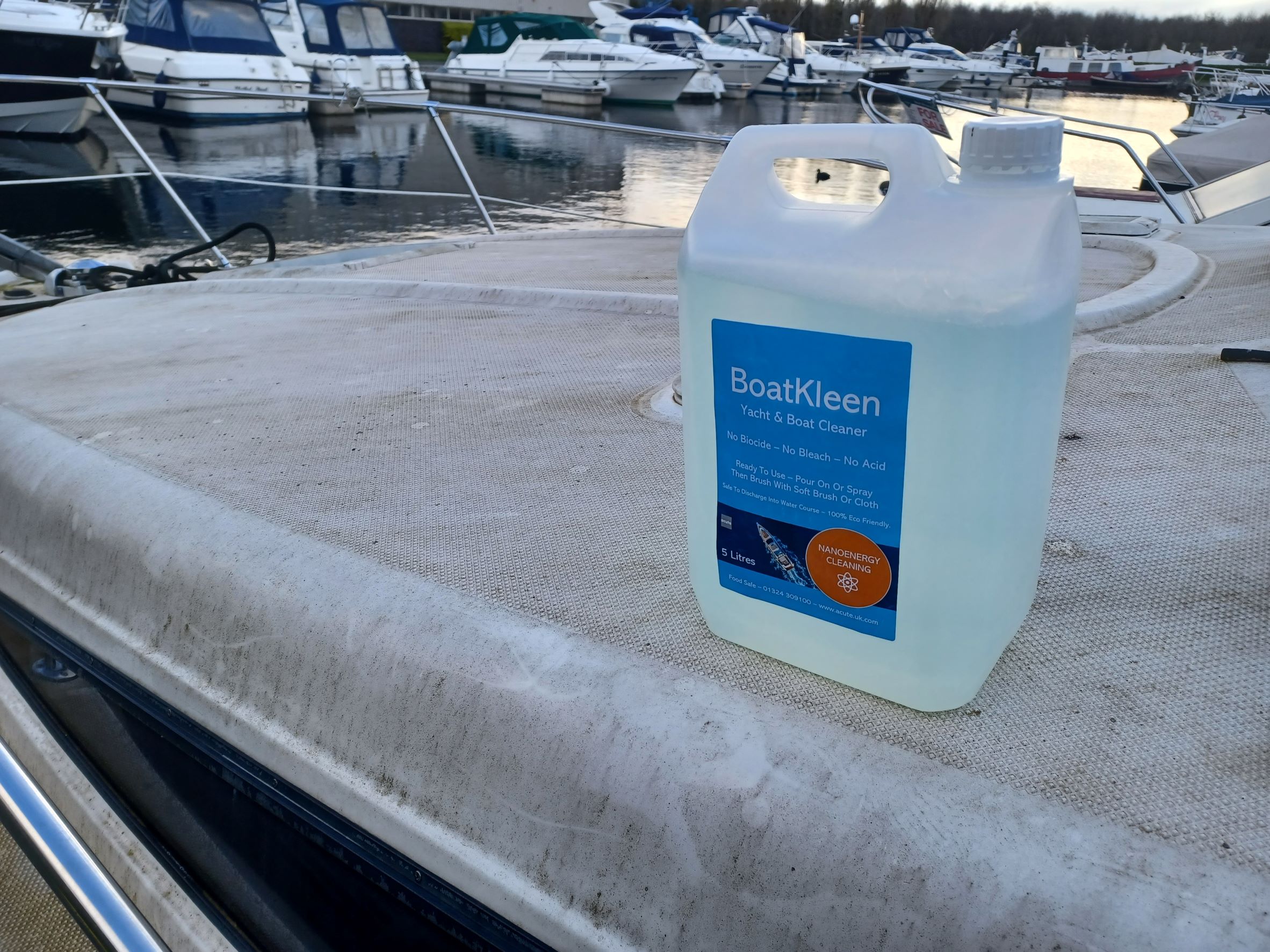 Download the technical data sheet for this boat wash marine cleaner and restorer here.
How To Clean A Slipway Video
Watch this video to find out how to apply the remarkable marine-safe marine algae cleaner product.
Glensanda Quarry Happy With Marine Algae Cleaner
We thrilled to hear from the harbour master at this colossal quarry that our marine algae cleaner is working well for them! Have a look at the Aggregate Industries video about Glensanda Quarry here:
BuildKleen Concentrate Is Launched In 10 Litre Size
We are pleased to now offer our professional trade BuildKleen food-safe and pH neutral natural stone cleaner chemical as a concentrate option in 10 litre jerry cans. This give trade exterior cleaning contractors the option of a lower price per litre and also so you can dilute at your chosen rate with water. See all our outdoor cleaning products and chemicals.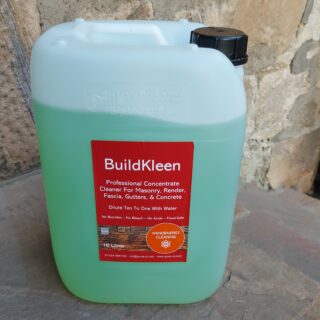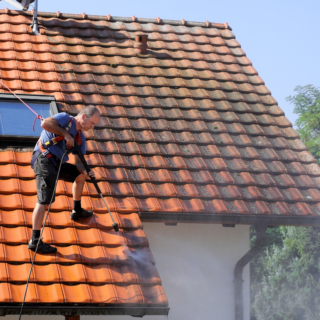 New Industrial Cleaning Equipment
Please have a look at the rugged Yanmar diesel hot pressure water and gutter cleaning vacuum kit on the website as our range expands from professional knapsack sprayers to softwash trolleys and a new nano-tech mountain bike cleaner chemical product.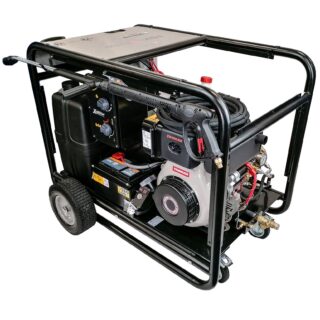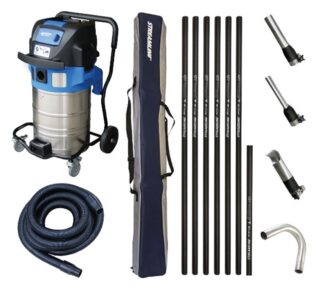 Documentary Video About Toxic Chemicals And Our Soil
Do you enjoy organic-grown food? Have a concern about climate change data and cleaning with biocides and sodium hypochlorite? See this interesting German video about how damaging common pesticides can be:
Masonry Cleaner Tests On Century-Old Wall
This image shows the striking power of BuildKleen cleaner chemical to cut through algae, weathering and dirt on the test strip in the centre of the wall: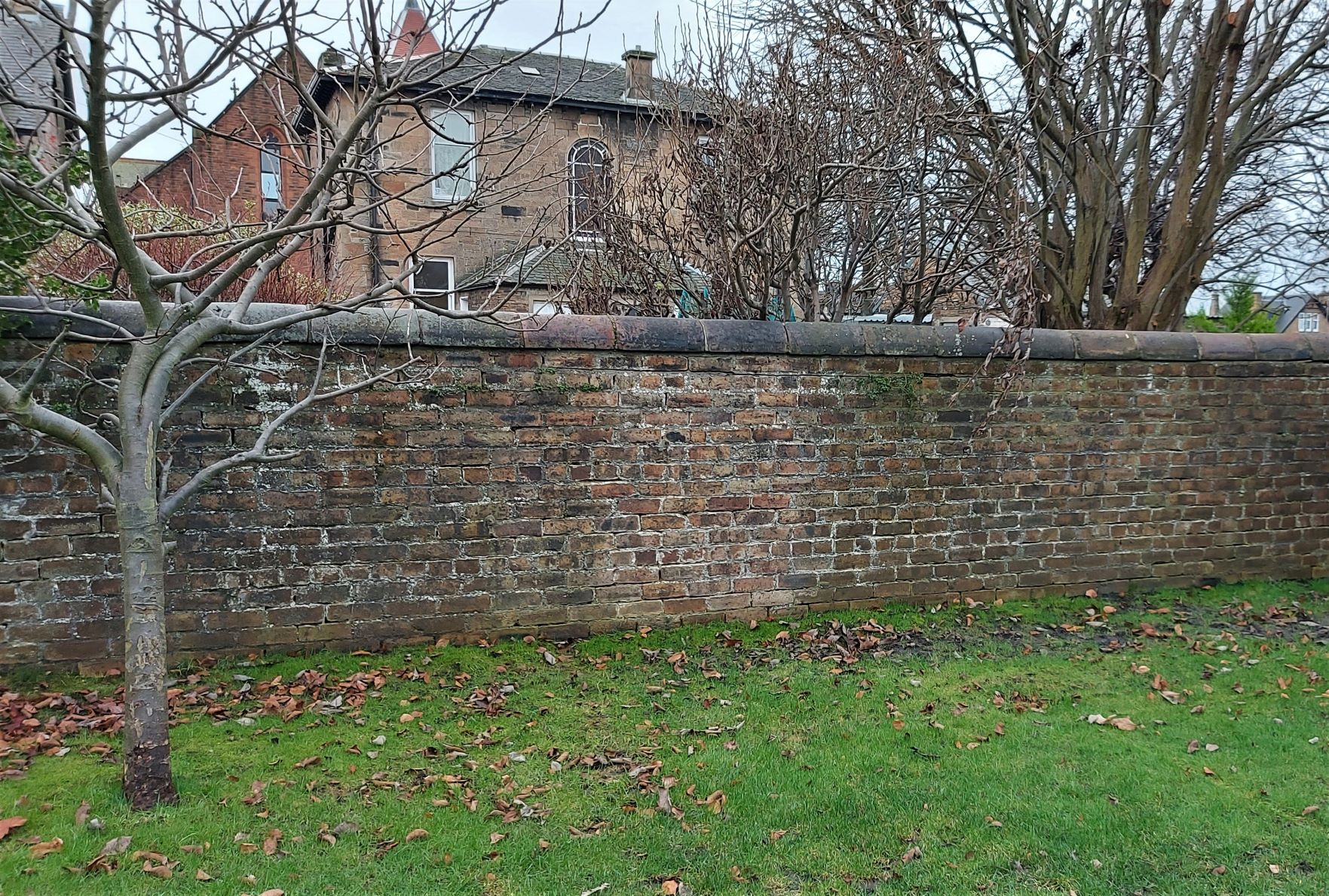 K-Rend Cleaner Project Case Study
Some interesting images have been submitted of a K-rend cleaner project taking place in Wales this month: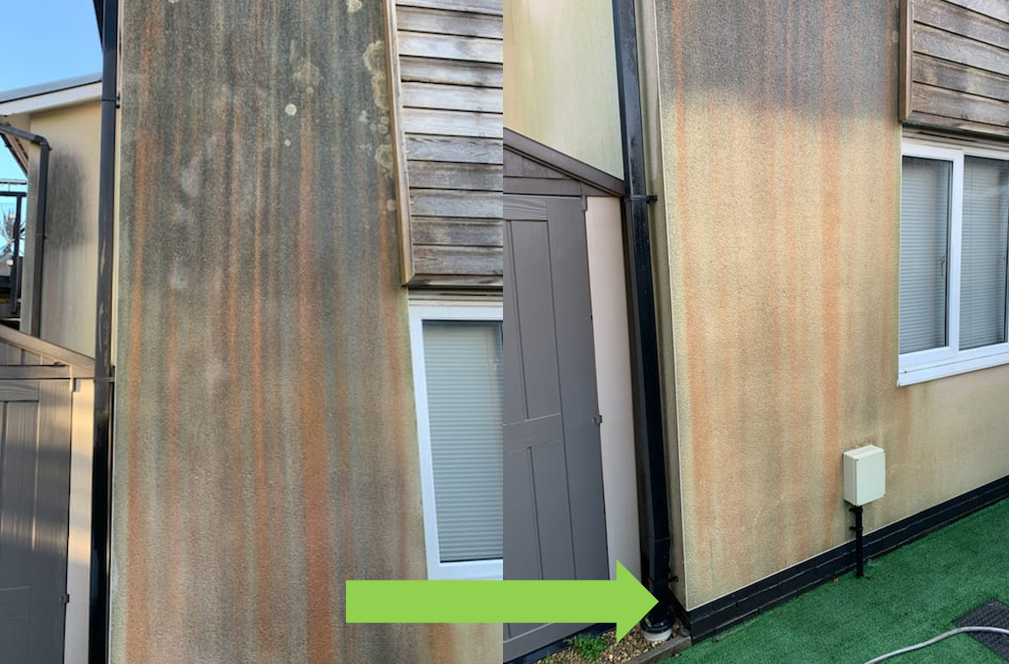 Introducing… BikeKleen!
A fantastic nano-tech mountain bike cleaner chemical, BikeKleen is an outstanding and very safe product that eases the burden of keeping your motorbike or bike clean by dislodging mud, grime, traffic film, and oil stains safely and quickly.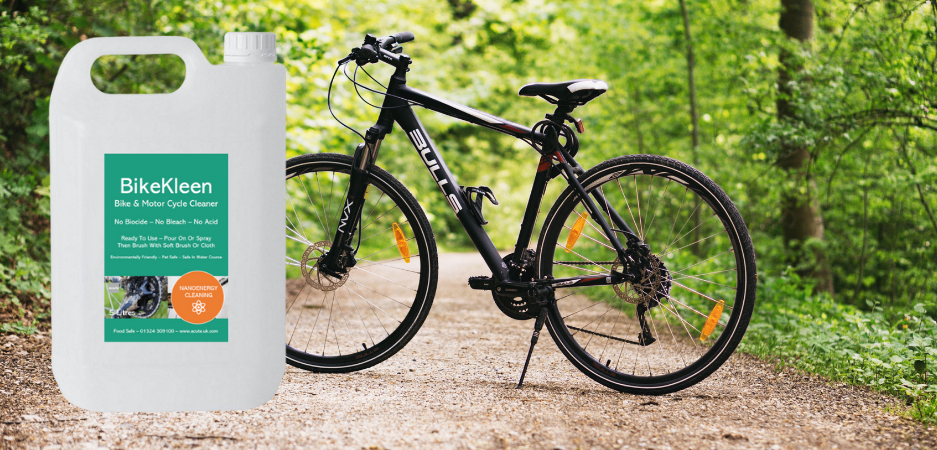 The Many Uses Of BuildKleen
As well as being a high performance masonry cleaner chemical, BuildKleen is a excellent oil stain remover and pigeon poop cleaner where its notable cleaning power and the outstanding product safety is a winner for cleaning contractors and DIY users.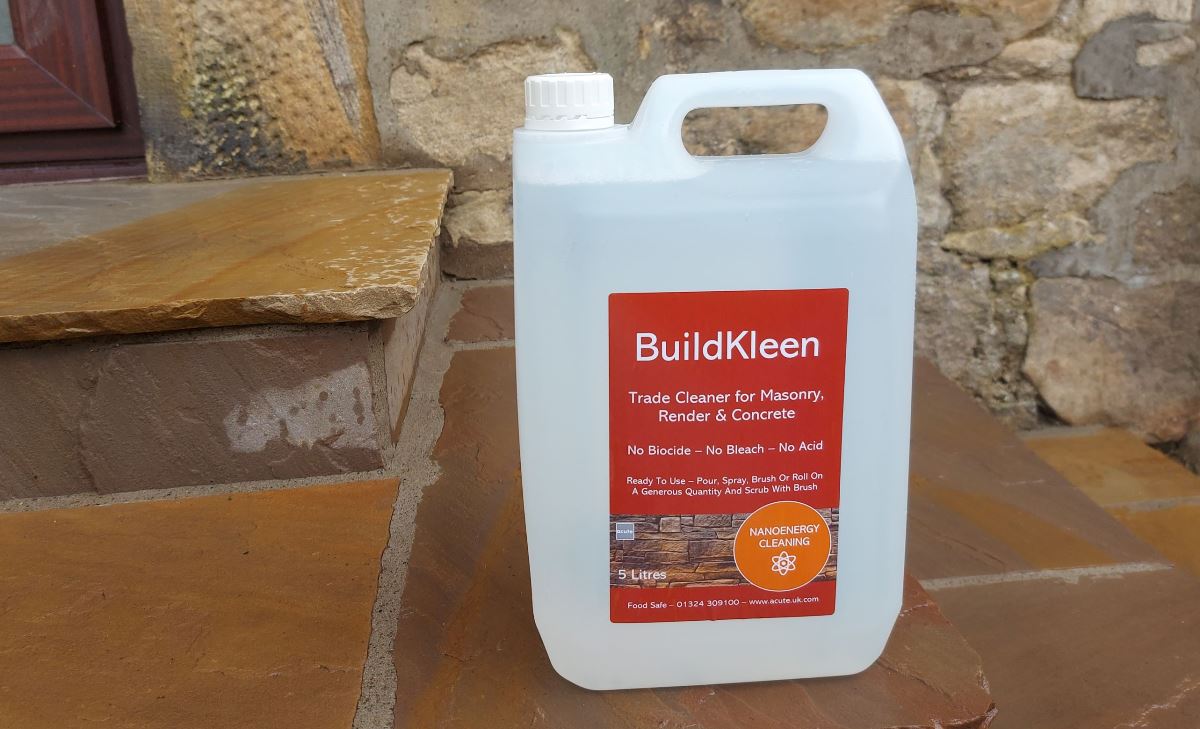 Petrol Powered Sweeper For RenderKleen
This neat attachment means that a Stihl KombiTool strimmer or a Makita brush cutter can be used as a wall brush to quickly agitate the algae clean K Rend product to quickly activate and scrub the eco-friendly chemical to the best effect! Call us to enquire further.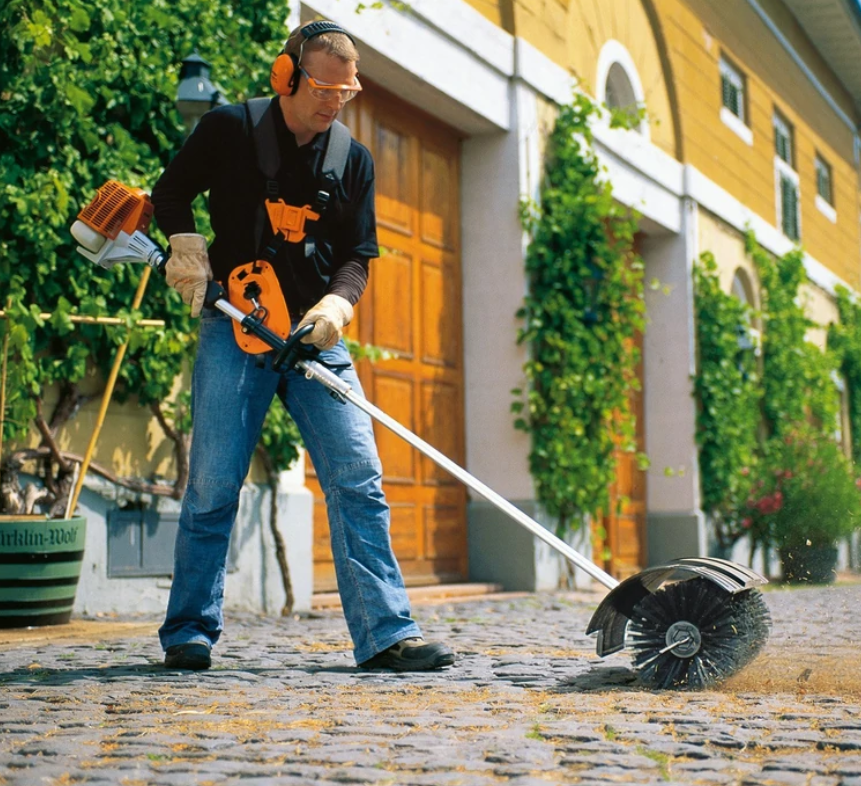 Hotel Clean In Hampshire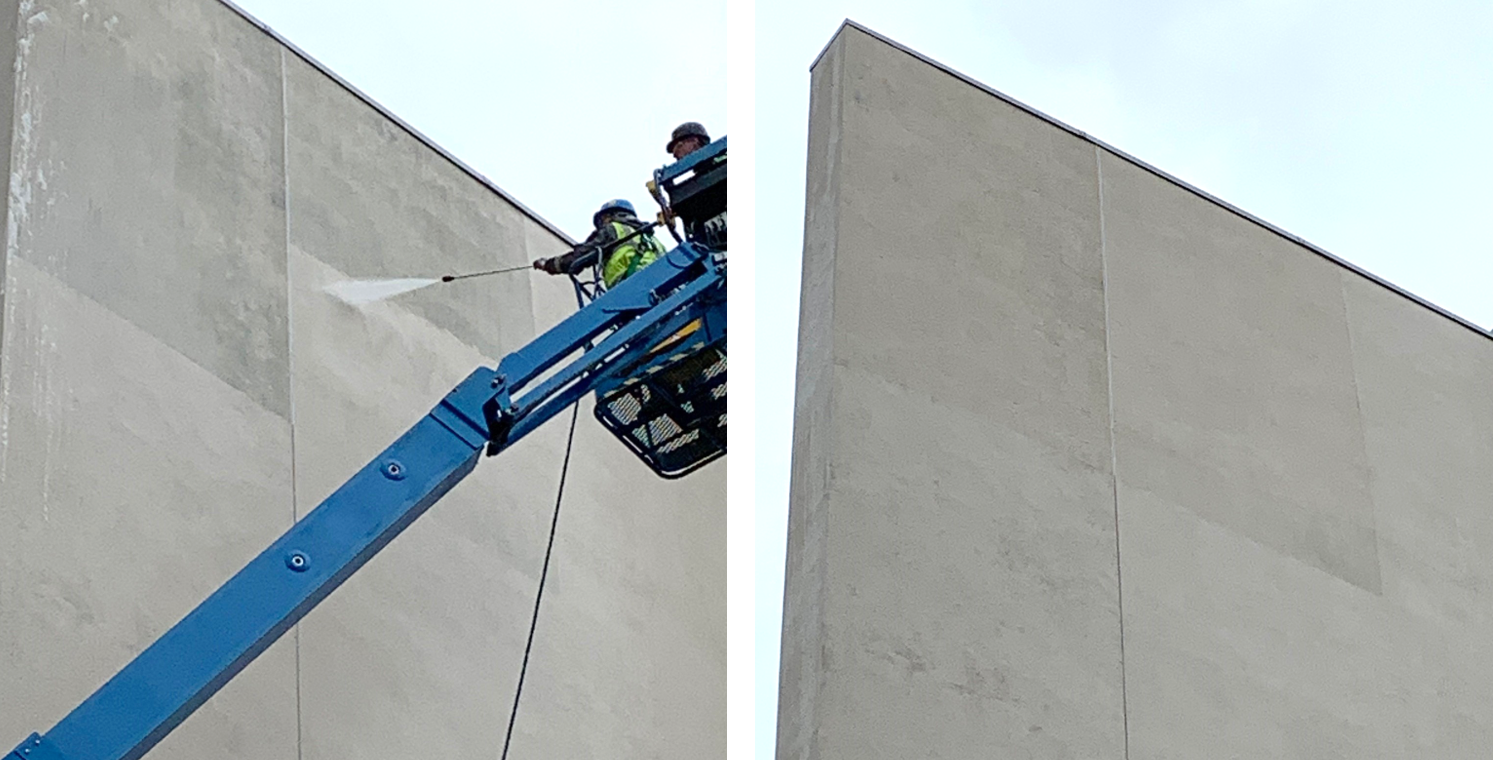 Thank you for trialling our all-natural algae remover product BuildKleen at a #buildingclean recently! No smell, no biocides, no acids, and both pet friendly and food-safe. With all building site cleans its wise to be prepared, we recommend Rapid Covid Supplies for Covid Rapid Test Kits to buy online.
Algae Remover For Slipway Proves Ideal
Thanks to Gavin for providing us an image from a recent visit to the Channel Islands where our marine algae remover is doing a great job on coastal and port infrastructure cleaning: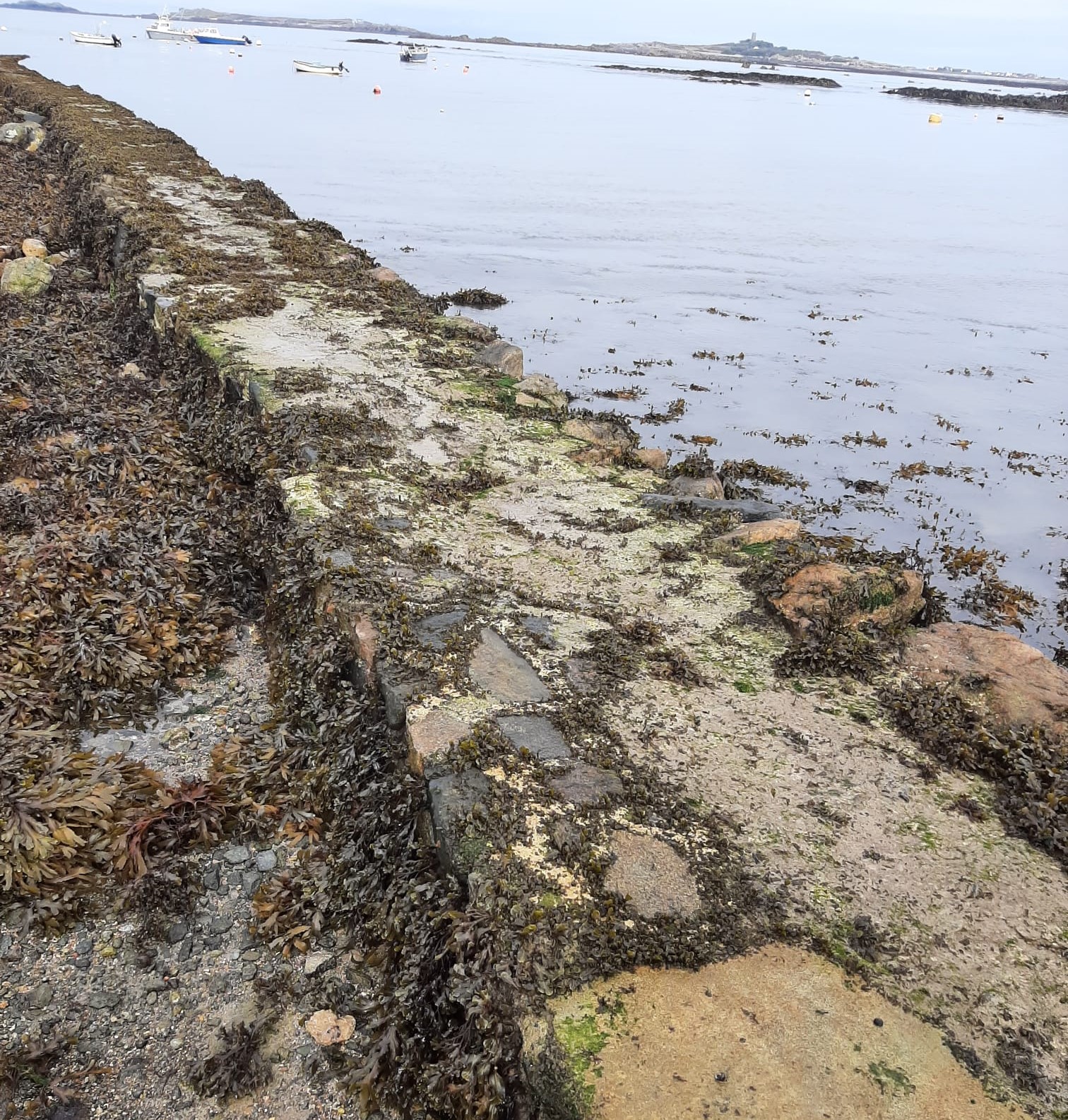 Air Conditioning Unit Cleaner Chemical
You have to get your hands dirty sometimes to test the performance of BuildKleen for yourself! Great to see this Lennox ACU clean up well very quickly today without any need for pressure washers or even water!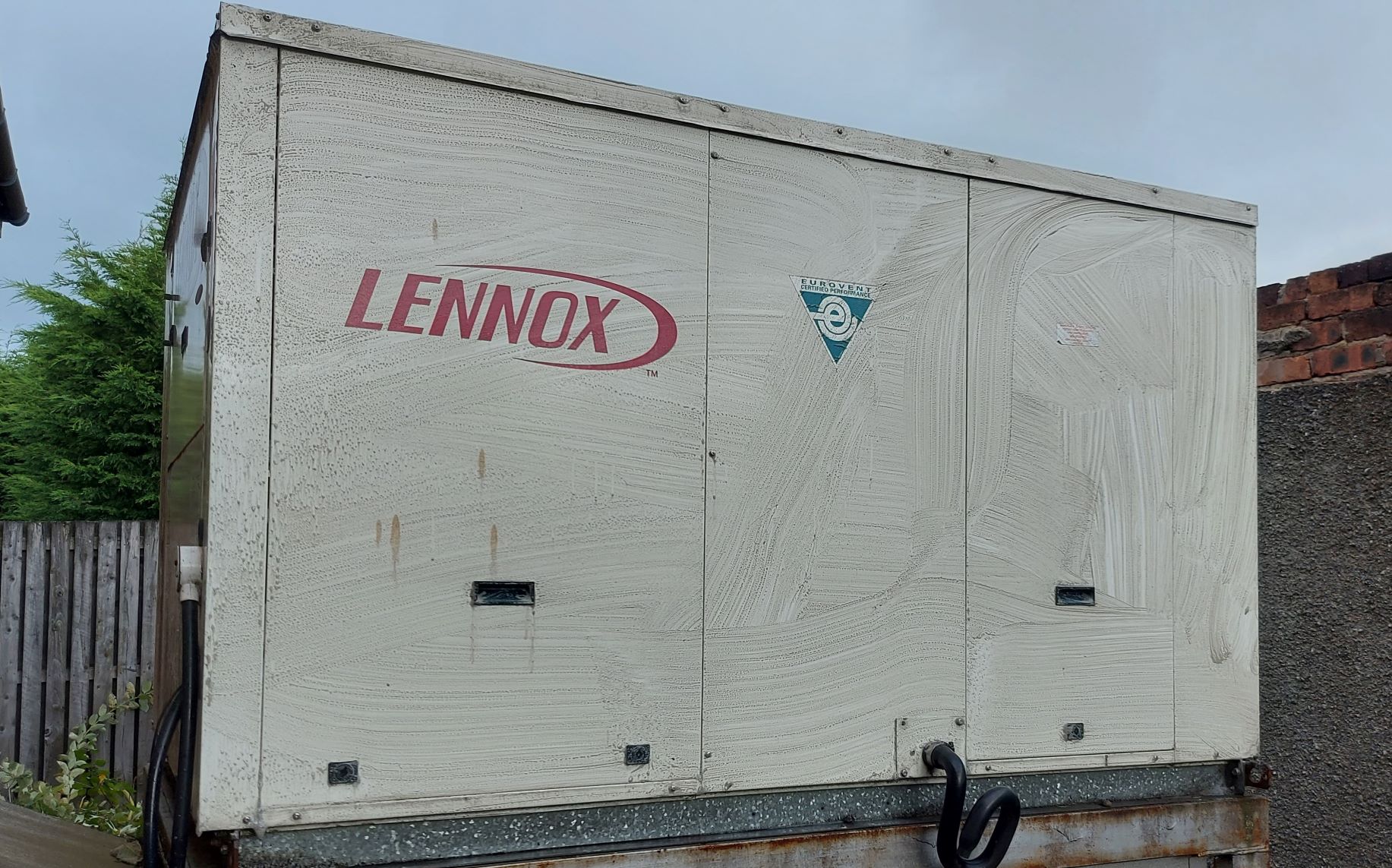 Portable Diesel Water Heater Now Available
Improve your results and lower the usage of cleaning chemicals by using hot water for cleaning and pressure washing tasks with this Heatwave portable diesel water heater module built in stainless steel with handles – it is a perfect portable diesel water heater system for pressure washing or cleaning.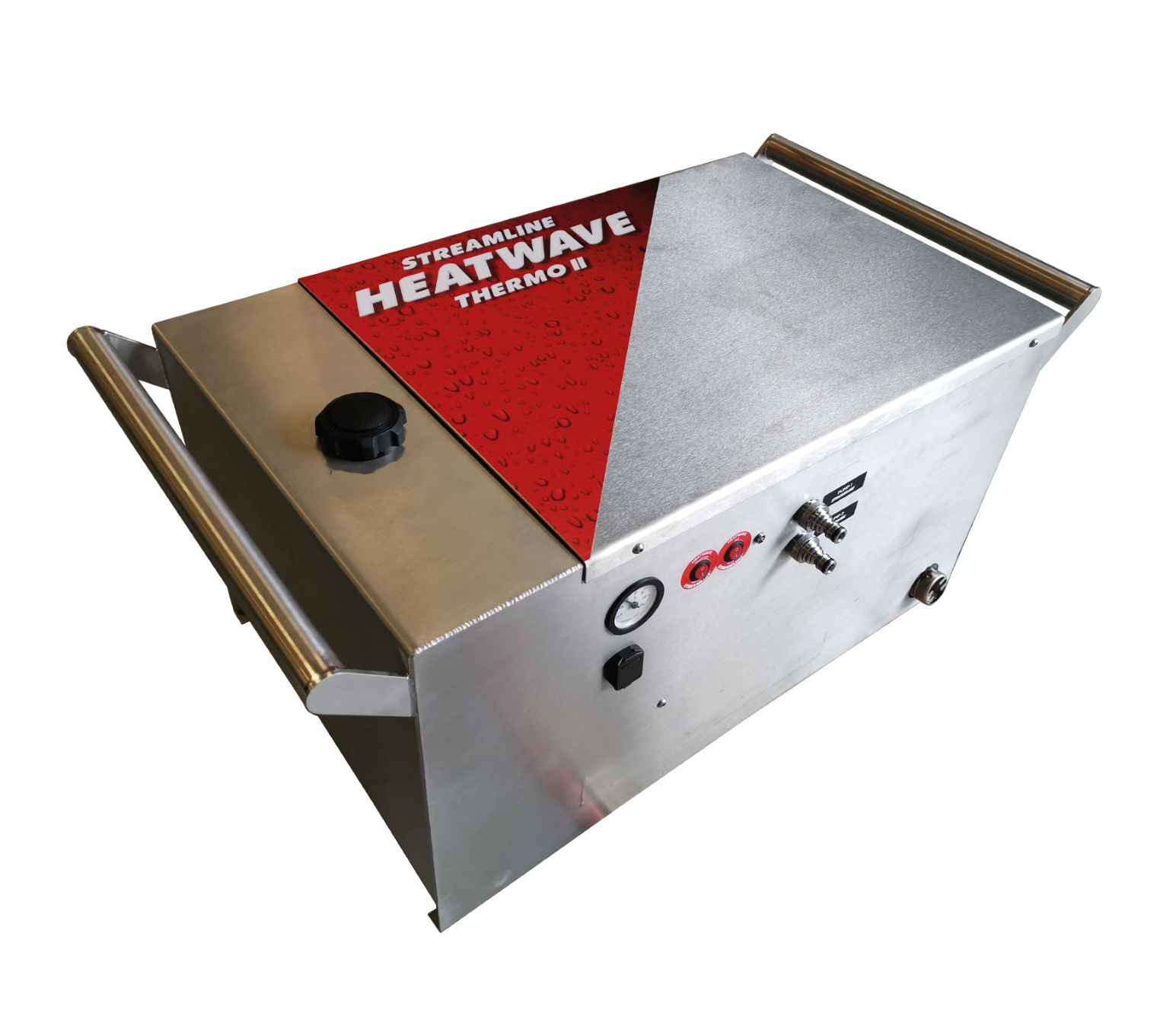 Building And Window Cleaning Equipment Now Supplied!
We are excited to now launch a comprehensive range of carbon fibre pole fed brushes, flat surface cleaners and complete starter kits with pump trollies, hoses and stiff telescopic pole brushes as the recommended AcuteClean battery or petrol engine powered pump kits to apply our industry-leading chemicals. See more here.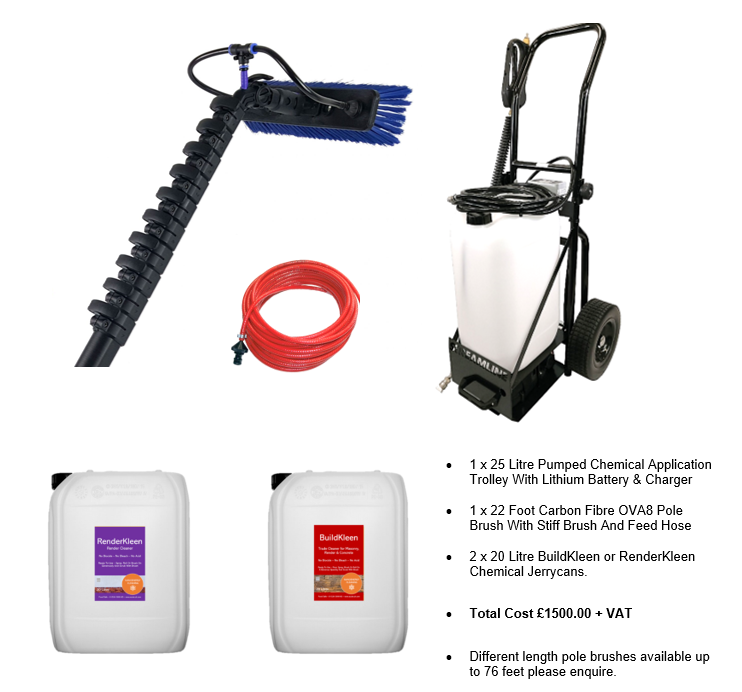 Render Cleaning – Good Results!
We are pleased to share an image of the large test patch clean we undertook in recent weeks here – nanoenergy cleaning certainly works with very tough-to-remove soiling and no odours and no danger to operators.
Cladding Cleaning On PortaKabins
Now that we are in our new offices at Westland House, 14 Inchyra Road, Grangemouth, FK3 9XB we decided to try out our new pole-fed brush and backpack pump with the RoofKleen product – great results we are pleased to say!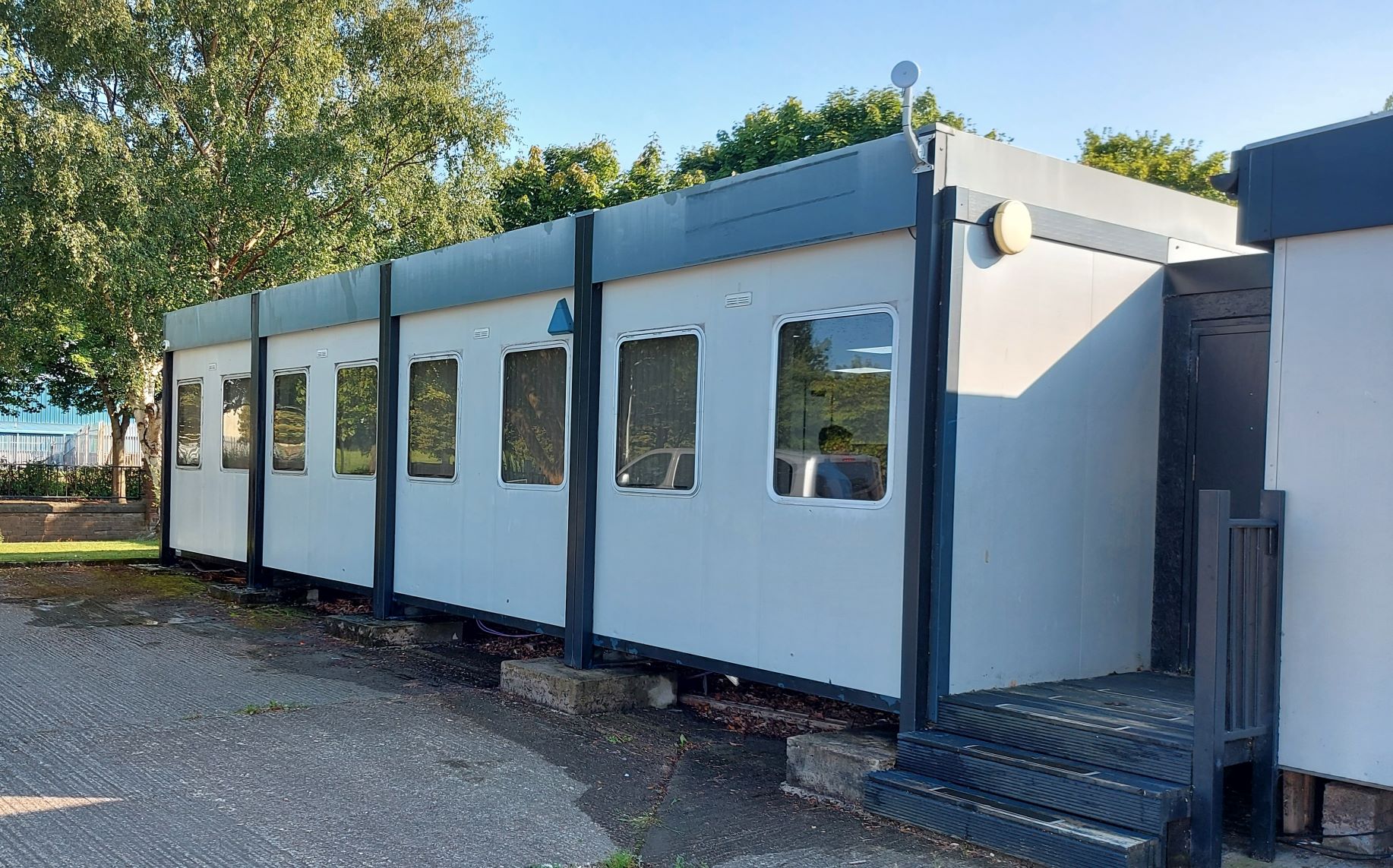 How To Clean Red Algae From Render
We recently begun a project in the glorious Scottish sunshine cleaning streaks of red algae from a stunning countryside cottage near the Avon Gorge. This involved us spraying the walls with our RenderKleen product and then brushing in alternatively with soft then stiff bristled brushes.
This is a simple process for which we had no more equipment than a hose, sprayer and brushes – certainly a pressure washer would have been handy – but it shows how the RenderKleen can work well and quickly! We had no gloves, masks, goggles as the food-safe standard means none of it was needed so we could work in comfort and enjoy the weather and results!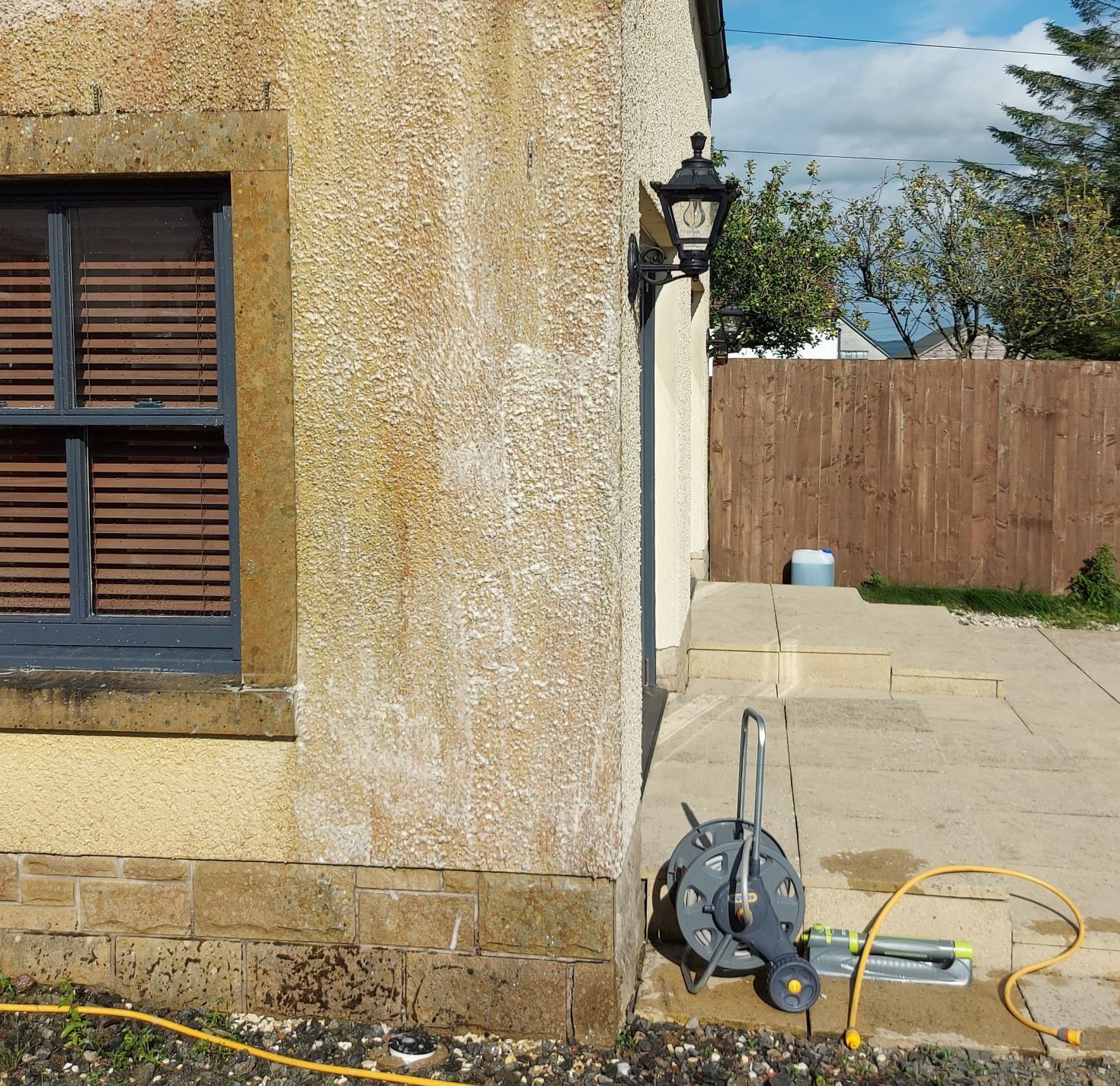 Marine Algae Cleaner In The Channel Islands
Thank you Port of Jersey authority for sharing an image of the marine algae cleaner at work!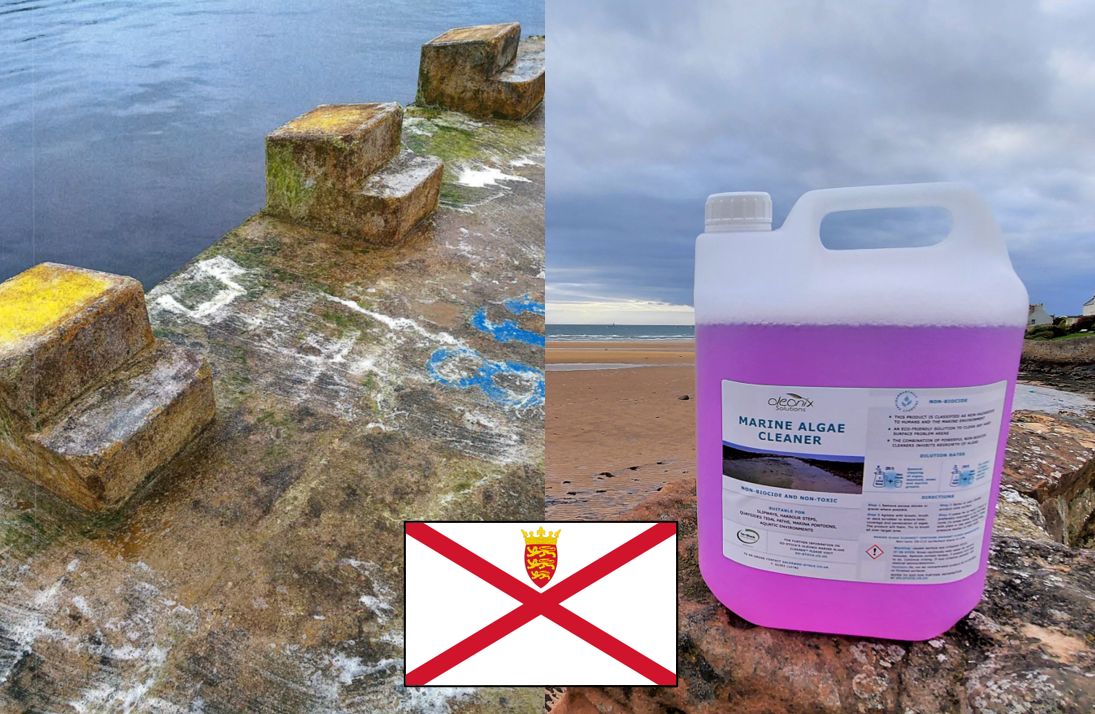 Large London House Roof Clean Project
A substantial property in N2 area is benefiting from treatment with our RoofKleen product to bring up the roof tiles restored to clean condition for years to come.
Algae Cleaner For Decking Project Completed:
DeckKleen is an impressive algae cleaner for decking that effortlessly cleans and restores wooden, composite and Millboard decking as you can see from this project recently undertaken on a charitable basis in East Kilbride.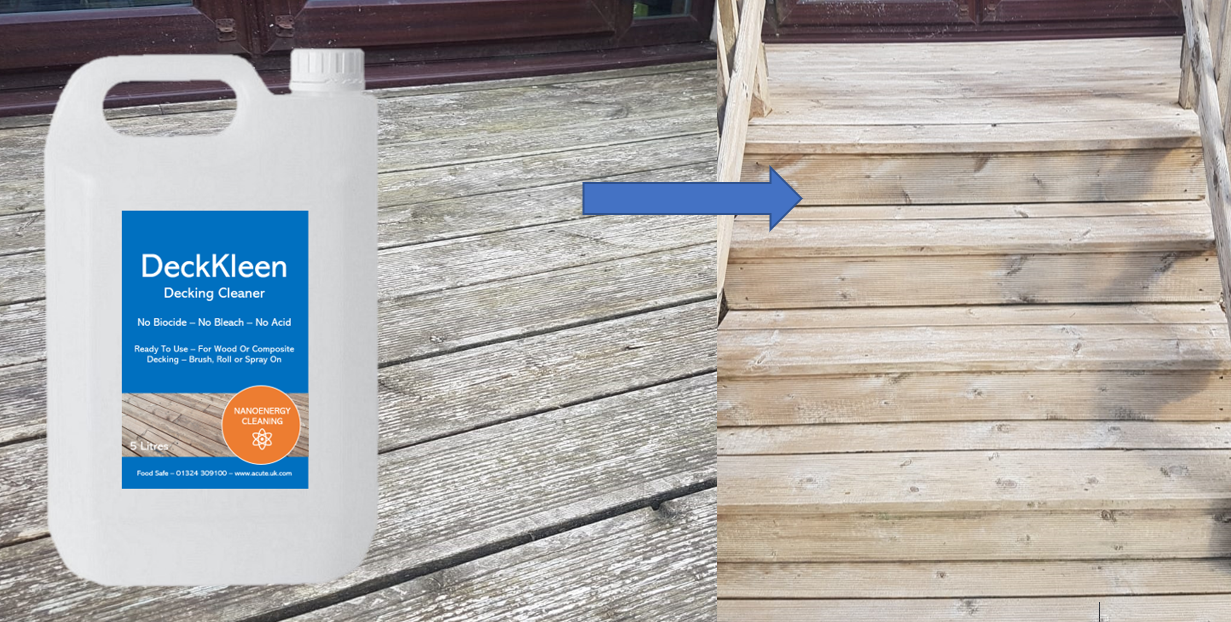 The Ultimate Slipway Cleaner Chemical
All over the UK and Channel Islands customers are proving the value of Marine Algae Cleaner as the ultimate eco-friendly slipway cleaner chemical that safely disperses the menace of marine algae on slipways and steps and is also perfect for cleaning boats. Want to know more or need a sample? Call us on 01324 309100 or email info@acute.uk.com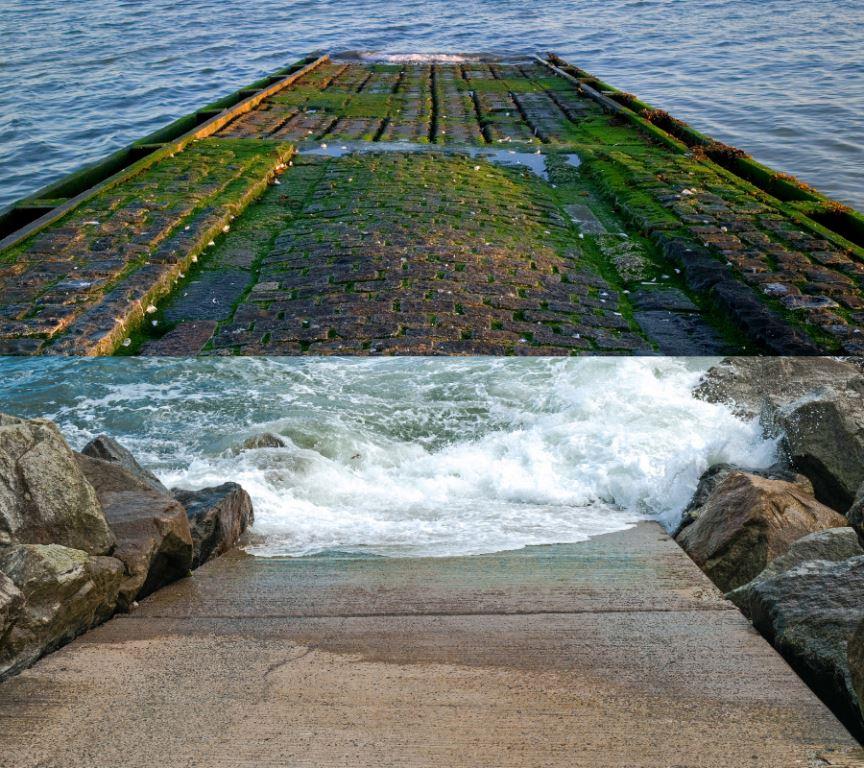 Cleaning Walls With Spray-Applied Eco-Friendly Cleaner
We were out it sunny Fife today and demonstrated the sheer cleaning punch and yet remarkable safety of our RoofKleen product on this wall – we sprayed, briefly brushed and hosed down what was very dark grey / almost black: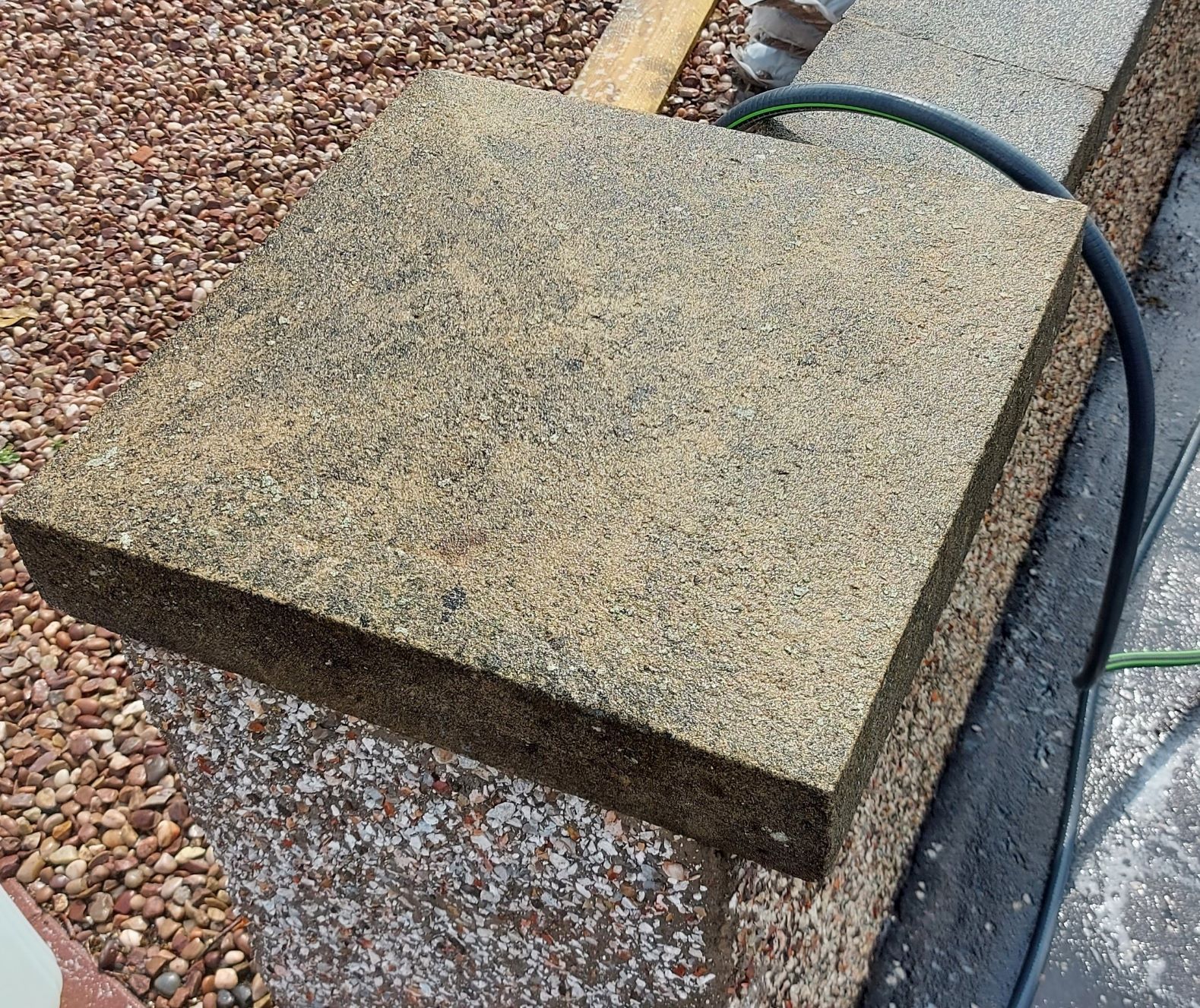 BuildKleen Put Through Its Paces As A Copping Stones Cleaner
These images – kindly donated by MJM Pressure Washing – show a before – during – after images of the copping stones on a wall being cleaned with the assistance of a power washer – using BuildKleen masonry cleaner as a pre-wash treatment.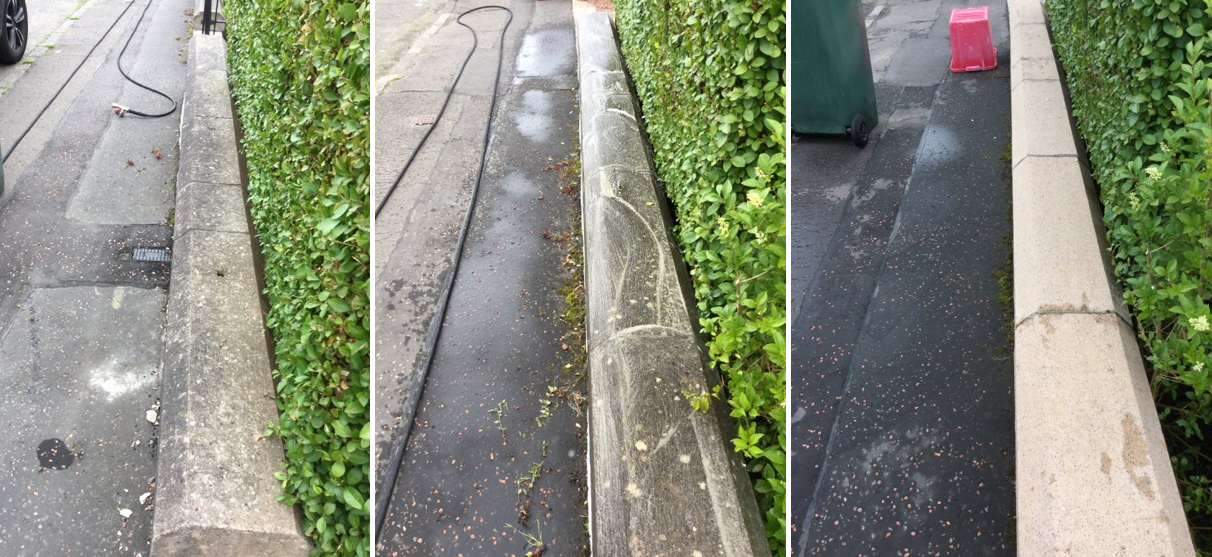 Paving Slabs Cleaner Trials On Soiled Slabs
The difference can be clearly seen on this stretch of paving slabs and concrete kerbs on the left of the photo which were laid 26 years ago. No hose or pressure washer rinsing has been used on this clean – it would be more notable if it had been power washed after application and shows how BuildKleen cuts through soiling.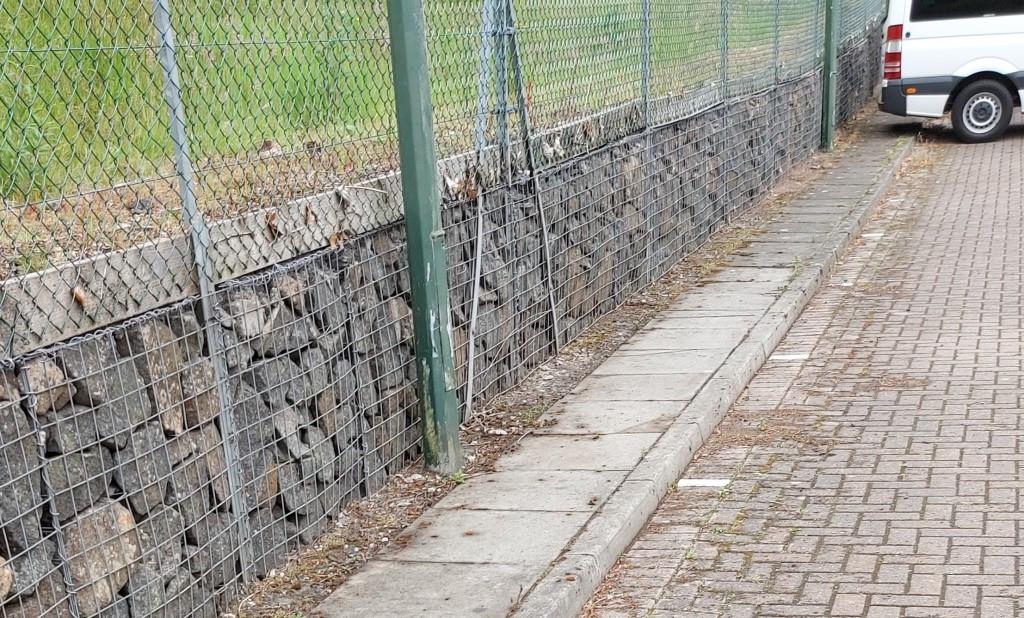 Cleaning Exterior Cabinets With BuildKleen
The stages and results of cleaning a heavily soiled outside gas meter plastic cabinet can be seen here – this was using a generous spray with gentle agitation and wiping of the surfaces.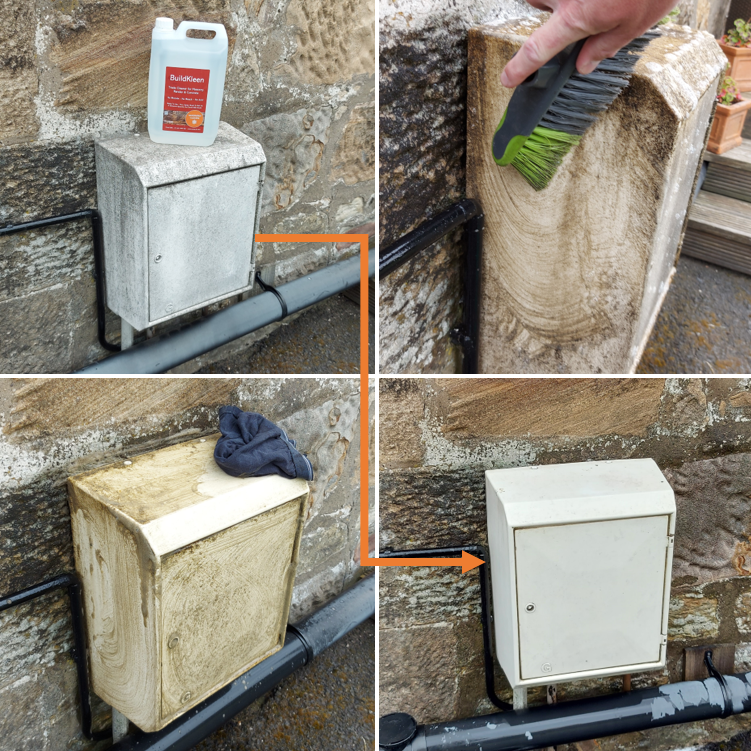 Hull Cleaning – IMOHQ Video On Problems With Biofouling:
The global shipping industry is a source of huge wealth and critical to sustaining our standard of living and moving goods around the planet but there are problems with the movement of species from say the Mediterranean to the Indo-Pacific region or just within regional areas that threaten oceanic health and bio-diversity – check out this video from the UN's IMOHQ department to learn more:
Before And After – Slabs Cleaned With PatioKleen: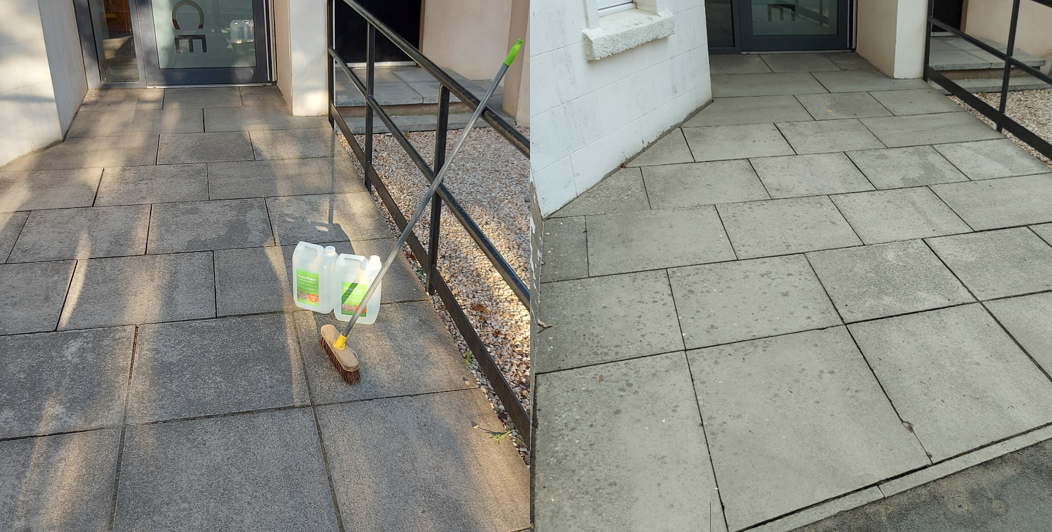 New video launched 'How To Clean Patio Slabs':
We hope this brief video guide will be helpful for how to clean patio slabs using our eco-friendly PatioKleen chemical:
Marine Algae Cleaner comes out well in trial on nearby slipway:
We recently enjoyed trialling the eco-friendly Marine Algae Cleaner on a slipway in the River Forth. You can see the square that we cleaned below after a few tides had gone over it – thanks very much for the image Mr John Spruce and also for the testimonial below.
"We were most impressed by the test strip we did on our jetty which was very badly fouled, much worse than we would normally let it get." Dalgety Bay Sailing Club, Fife, Scotland.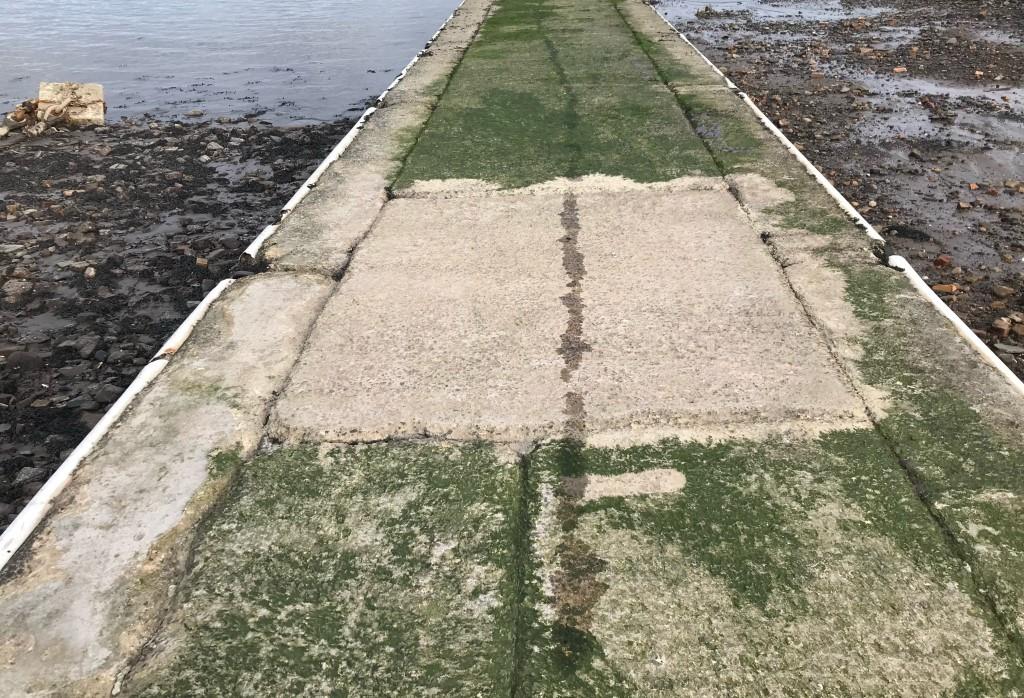 New video shows how to get the best from our concrete cleaner:
We launch RoofKleen roof tile cleaner as an eco-friendly alternative to sodium hypochlorite for roof-cleaning professionals..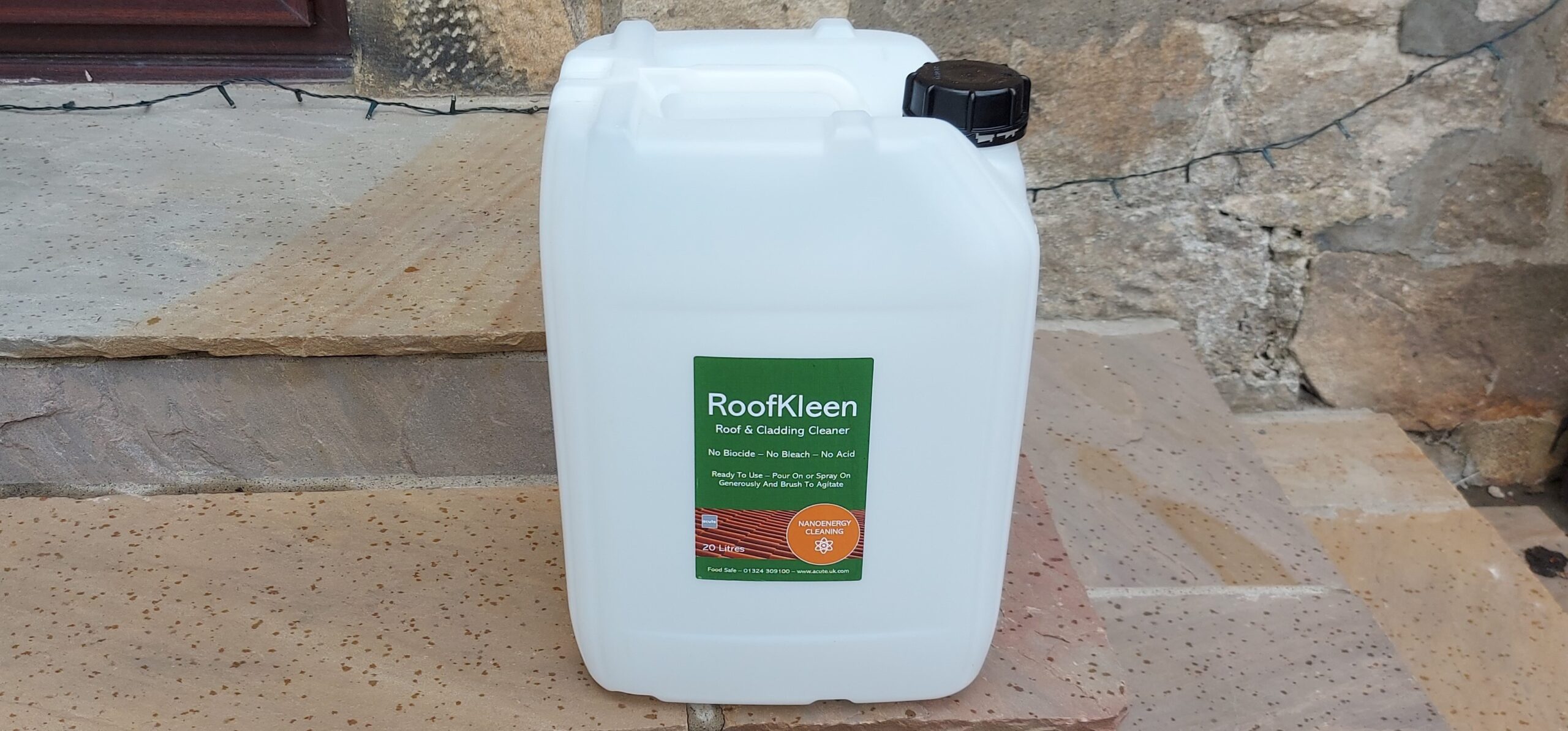 20 Litre StoneKleen and BuildKleen now launched!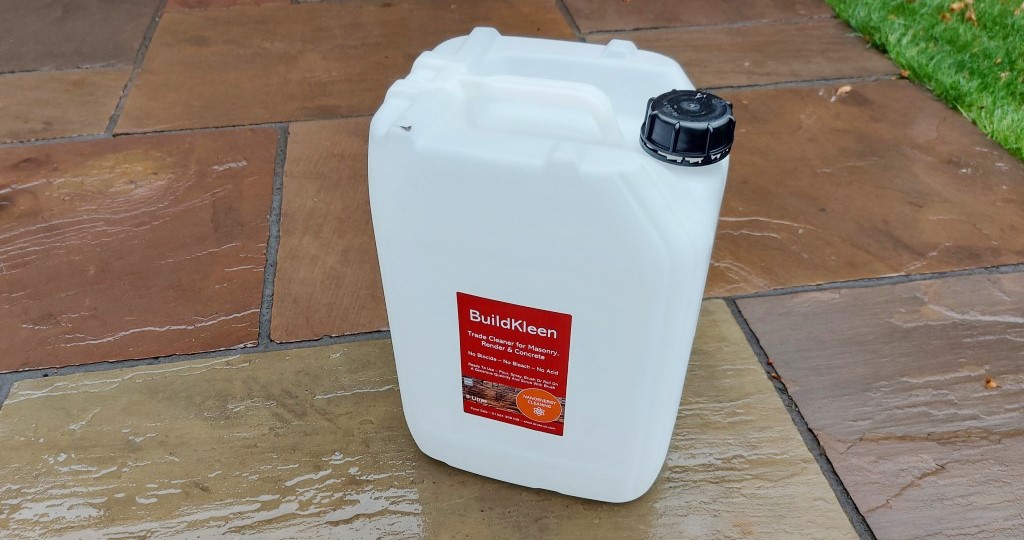 Our epic eco boat hull cleaner BoatKleen in its element..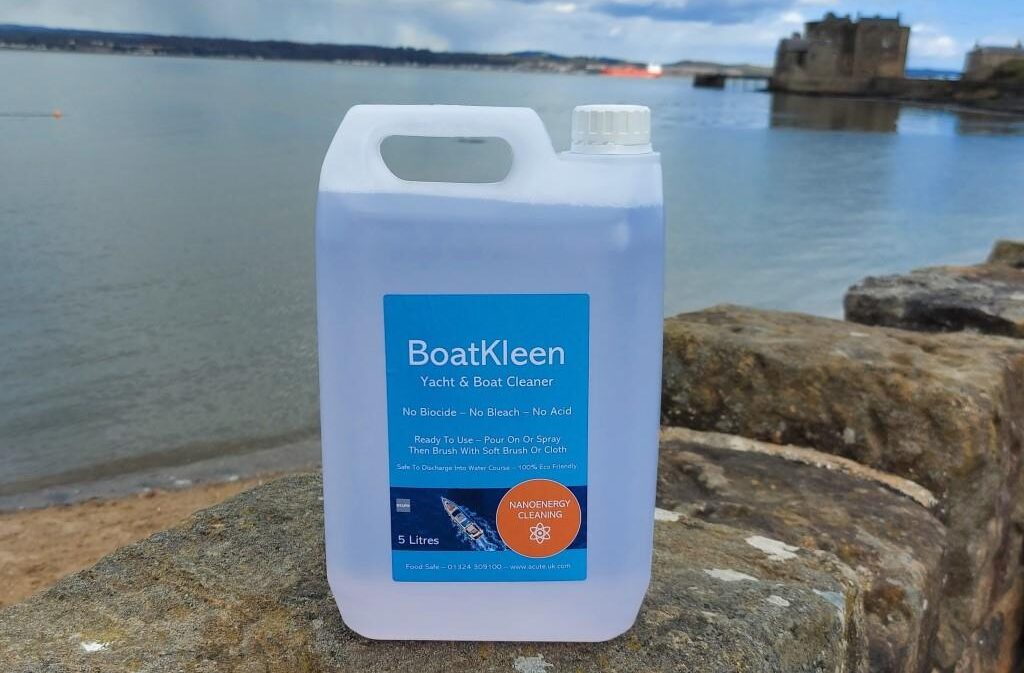 We launch TileKleen! Revolutionary Eco-Friendly Ceramic Tile Cleaner

Our Marine Algae Cleaner – In Lovely Harbour Setting in Fife!

March 2021 – Cleaning An Old Sandstone Wall To Remove Algae:
Using our BuildKleen chemical applied by low-pressure sprayer with a brush on a drill and a bit of elbow grease we are pleased with the results and are convinced you will be to!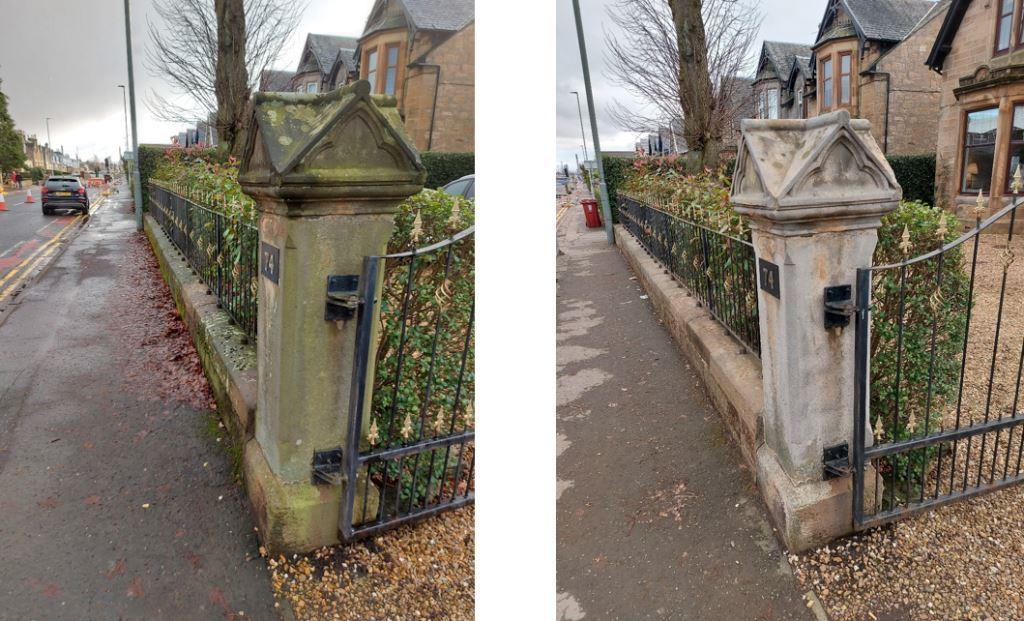 Testing BuildKleen on Natural Stone – How Water Reacts Afterwards:
We were interested that the treatment of reasonably new Indian sandstone slabs was very effective at removing the algae buildup and then has kept strikingly clean for 3 months now – also water soaks in or evaporates very differently on the area that was treated.