Algae Cleaner For Decking
DeckKleen from Acute Build Clean is an effective algae cleaner for decking that works by a different process to most cleaning chemicals with nanotechnology energy packages which penetrate and break the surface tension and lift off the algae.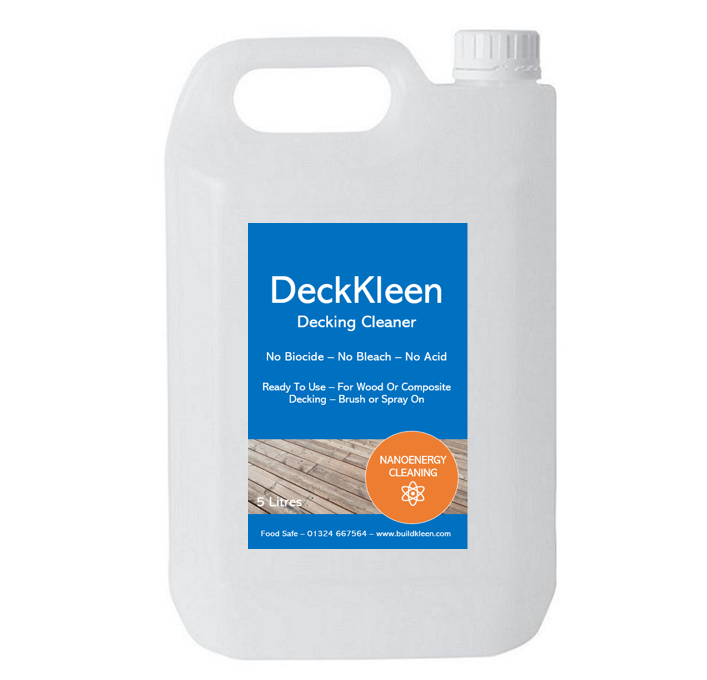 It works to clean and remove unwanted dirt and algae instead of killing it, and the resulting surface has far better grip and also typically stays cleaner for longer than if treated with standard biocide cleaner chemicals which that majority of exterior cleaners are.
DeckKleen is 100% environmentally friendly and remarkably non-hazardous and non-toxic adding the safety of cleaning personnel to its many advantages (and pets of course!).
One of the best eco-friendly cleaners that are available, it is:
Certified food-safe
Non-toxic and non-hazardous, no caustic acids.
Safe for marine life.
No biocide.
No bleach.
Slows regrowth of algae.
Made in the UK.
DeckKleen 5 Litre Jerrycan: £26.00 each
This useful ready to use algae cleaner for decking is a stable, effective, and safe cleaner that is supplied in 5 litre containers. The use of a power washer on low pressure setting is helpful and application can be by a spray can or watering can or poured on.
Please agitate the cleaner with a stiff brush and leave for at least half an hour before rinsing off.
If you would like to discuss algae cleaner for decking challenges that you have then please do contact us at:
Acute Build Clean | 74 Bo'ness Road | Grangemouth | FK3 9BL