Algae Cleaner For Decking
Our eco-friendly DeckKleen chemical is an effective algae cleaner for decking that works by a different process to most cleaning chemicals with nano energy packages which penetrate and break the surface tension to dislodge algae. From both wood decking as well as composite and Millboard decking.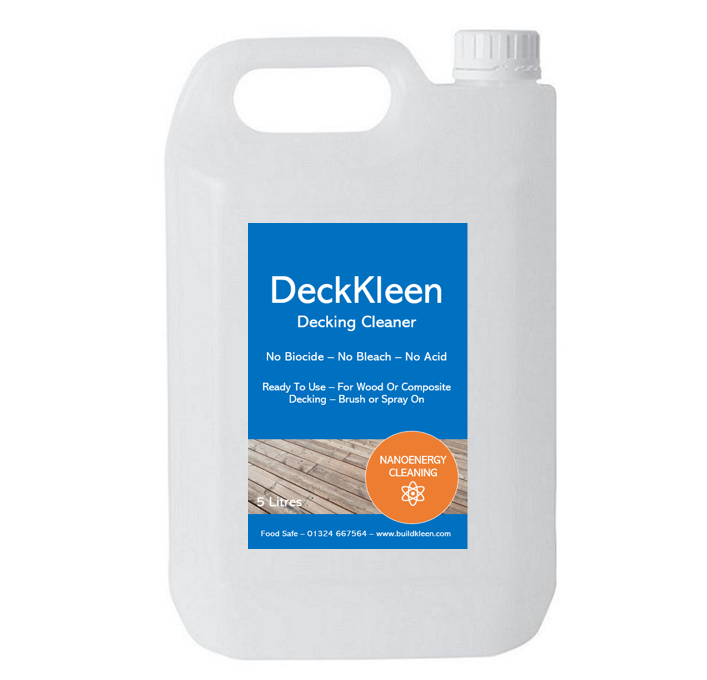 It works to remove unwanted dirt and algae instead of killing it and the resulting surface has better grip and typically stays cleaner for longer than if treated with biocide-based cleaners. It works by a different process to most chemicals with nano energy packages which break the surface tension and dislodge soiling leaving a surface which stays cleaner for longer.

Safe Cleaning Of Unwanted Algae
DeckKleen is remarkably environmentally friendly, non-hazardous and non-toxic adding the safety of cleaning personnel to its many advantages as well as pets and even fish as this is entirely safe in any aquatic environment.
Staff working with this advanced algae cleaner do not need to wear items of PPE and the packaging needs carry no hazard warning pictograms – meaning it is actually safer than Fairy Liquid! The product is formulated in a unique manner from all-natural ingredients and used widely in the food industry for cleaning and hygiene tasks.
One of the best eco-friendly decking cleaners for removing algae and dirt that are available, it is:
Certified by Campden BRI as food-safe
Non-toxic and non-hazardous, no caustic acids.
Safe for marine life.
Contains no biocides.
Contains no bleach or sodium hypochlorite.
Slows regrowth of algae.
Users need no PPE
Made in the UK.
DeckKleen 5 Litre – £20.00 + VAT Each – Buy Now On PayPal – Accepts Credit + Debit Cards
How To Use DeckKleen
This useful algae cleaner for decking is a stable, effective, and safe cleaner that is supplied at ready to use dilution in 5 litre containers. The use of a power washer on low pressure setting is often helpful to remove the loosened dirt and application can be by a spray can or watering can, paint brush or poured on generously.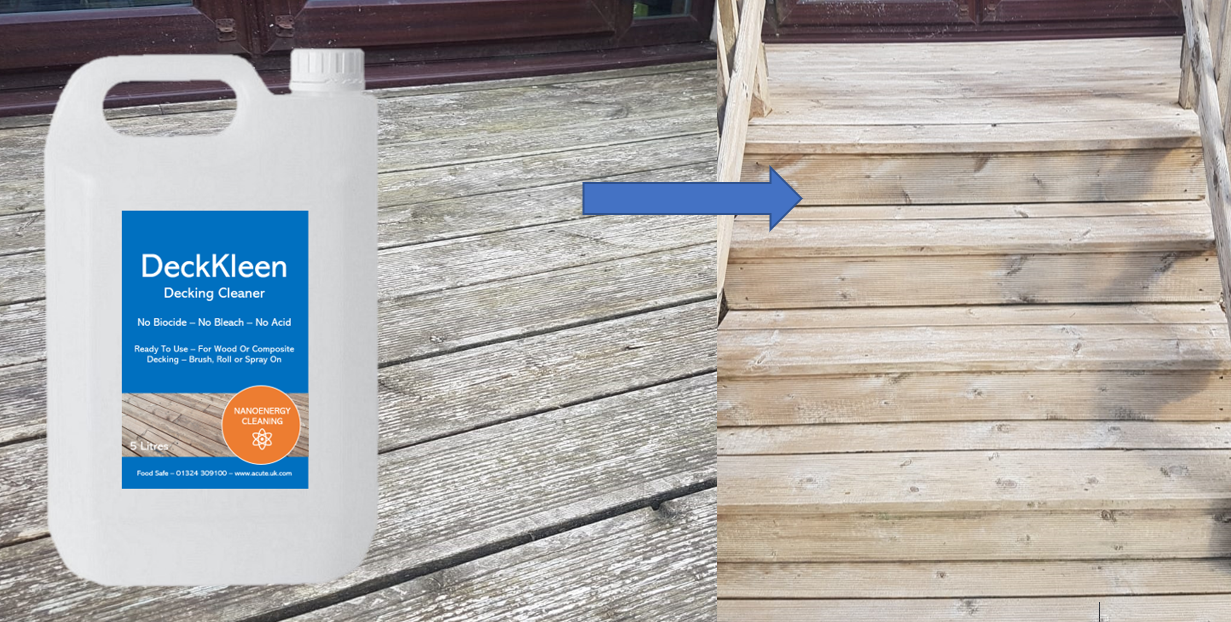 After spraying on with a low-pressure sprayer please agitate the algae remover chemical with a stiff brush and leave for 10 minutes or so before rinsing off. You may need a couple of applications and can normally see the typical light foaming that occurs on the video here.
Download the DeckKleen SDS data sheet here.
If you would like to discuss decking cleaning challenges that you have or request safety data sheets then please do contact us.
Acute Build Clean | 74 Bo'ness Road | Grangemouth | FK3 9BL
London Office | 47 Gee Street | Clerkenwell | London | EC1V 3RS
Did you know that we also offer a range of high quality professional cleaning equipment? You can see the range here.