A non-toxic and eco-friendly and pet friendly algae remover chemical for use on any hard surface; DeckKleen is an odour free and food safe algae remover cleaner that works perfectly to remove algae from composite or wood decking, fences, outside furniture, patios, and walls.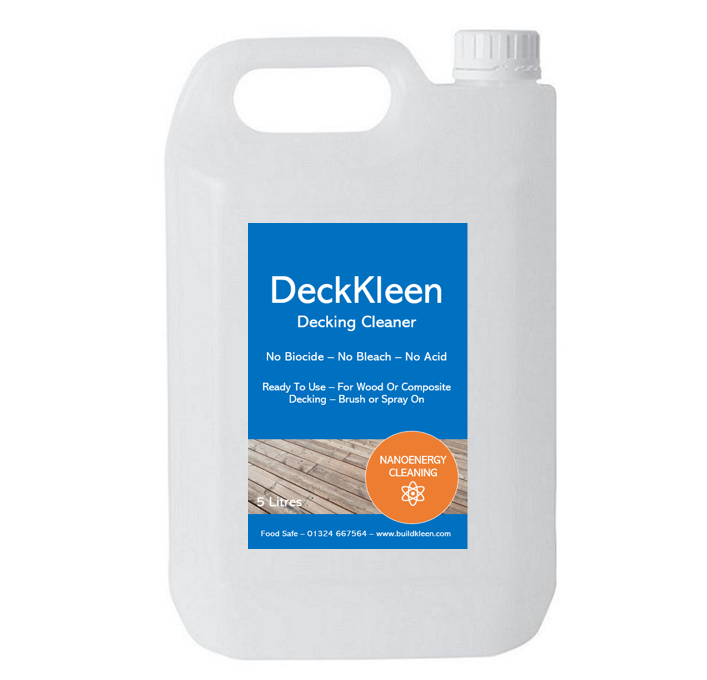 DeckKleen is sold in 5 litre jerrycans and is at ready-to-use strength. This provides a coverage of around 12 to 15 square metres although this can be extended by spraying with a low-pressure sprayer and agitating the product well with a stiff brush and rinsing off with plenty of water.
The outstanding feature of this algae remover chemical is the excellent safety and entirely non-hazardous nature, using advance nano-energy, this detergent product swiftly dislodges the algae without killing it and is therefore a pet-friendly patio cleaner as well.
DeckKleen contains no acids, alkalis, biocides, solvents or bleach and has all-natural oleo ingredients. It will not kill grass, plants, or fish and, uniquely, it is safe to be disposed of in a water course; it is popular as a professional algae cleaner for landscapers, facilities managers, or DIY folks alike. It is also reassuring that you do not need any PPE like gloves, masks, or goggles.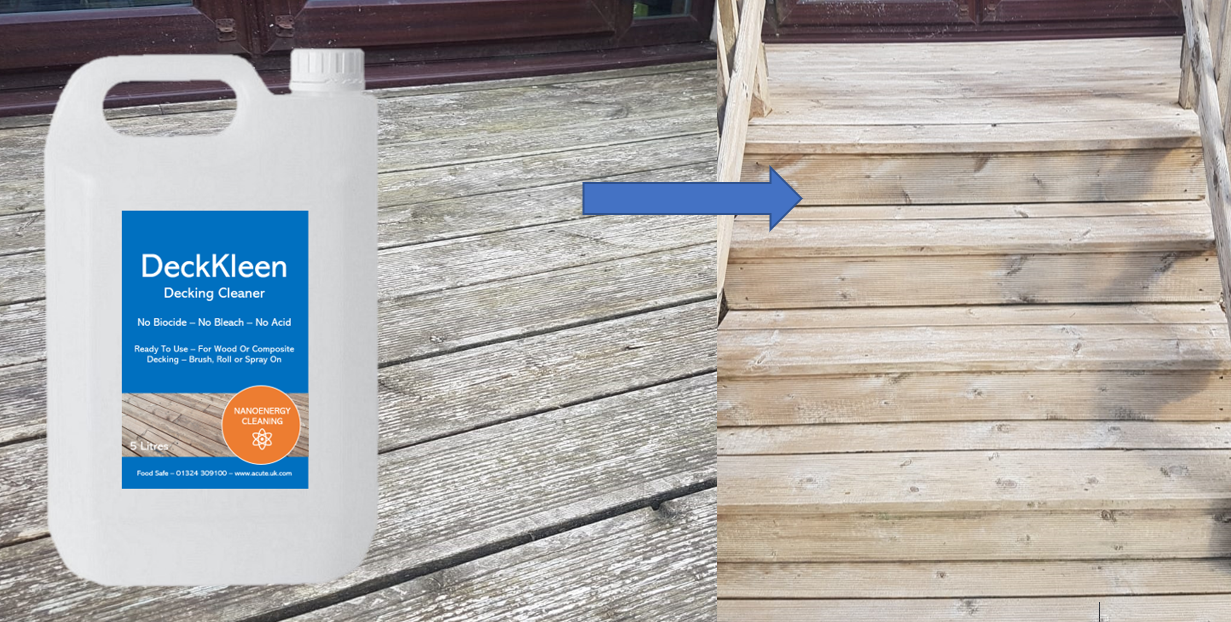 Apply the DeckKleen algae remover product generously from a weed killer style sprayer and brush to agitate the surface and break surface tension. Several sprayed coats are likely to be best and a generous wash-down with a garden hose or pressure washer.

See our full range of environmentally friendly algae, mould and lichen cleaning chemicals here and place an order online for 5 litre or 20 litre jerrycans, long-reach brushes or cleaning equipment.
Download the DeckKleen SDS Data Sheet here.
Please do contact us to discuss your specific algae remover and cleaning challenges or to request samples or SDS sheets.
Acute Build Clean | 74 Bo'ness Road | Grangemouth | FK3 9BL
London Office | 47 Gee Street | Clerkenwell | London | EC1V 3RS
Below: Image shows before and after on a natural stone wall treated with our pet friendly algae remover chemical: