Reduce concrete cleaning effort with PatioKleen, our easy-to-use concrete slab cleaner chemical that is environmentally friendly, non-hazardous and non-toxic while cutting deep into surfaces to dislodge algae and dirt quickly without any acids or biocides.
Have you heard of a certified food-safe concrete slab cleaner before? Well, that is what our PatioKleen and BuildKleen chemical are!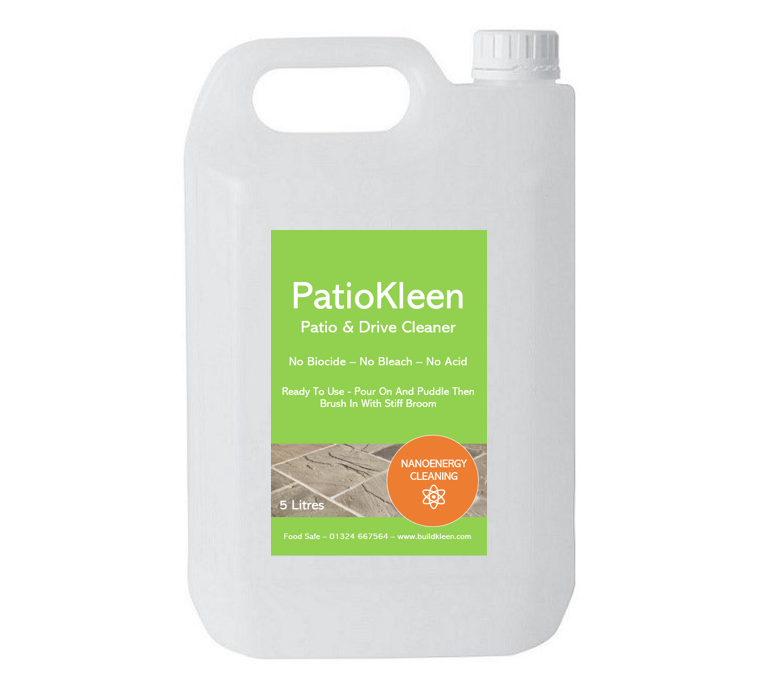 Bang For Your Buck
A great value concrete slab cleaner with quick action removal of algae, stains and dirt, PatioKleen works by using nano 'energy packages' which break the surface tension and lift off dirt leaving a surface which stays cleaner for longer, resisting the regrowth of black or green algae.
We can also supply the same chemical from the professional range branded as BuildKleen in 20 litre jerrycans for a lower price per litre while still at ready-to-use dilution – please see an image of this below.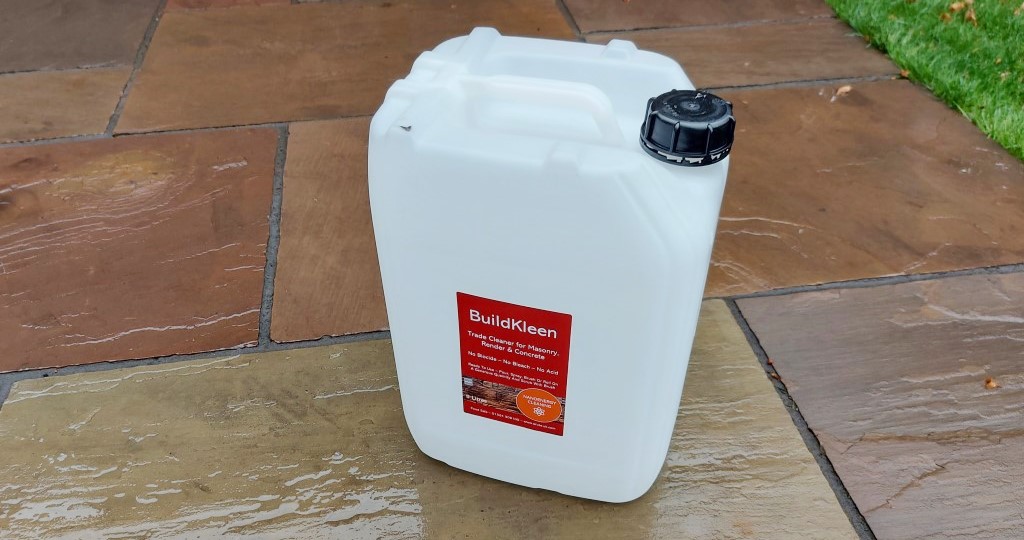 Key Points To Note
The PatioKleen chemical product is:
Certified as food-safe – safe for pets and cleaning personnel
Non-toxic and non-hazardous – uses no caustic acids.
Needs No PPE To Be Worn
Contains no biocides or disinfectants.
Uses no bleach or sodium hypochlorite.
Slows regrowth of algae.
Made in the UK.
This is a ready to use concrete slab cleaner is a stable, effective, safe and environmentally friendly cleaner that is supplied in 5 litre or 20 litre jerrycan containers. Below you can see an image of a before and after treatment of slabs at a surgery reception area: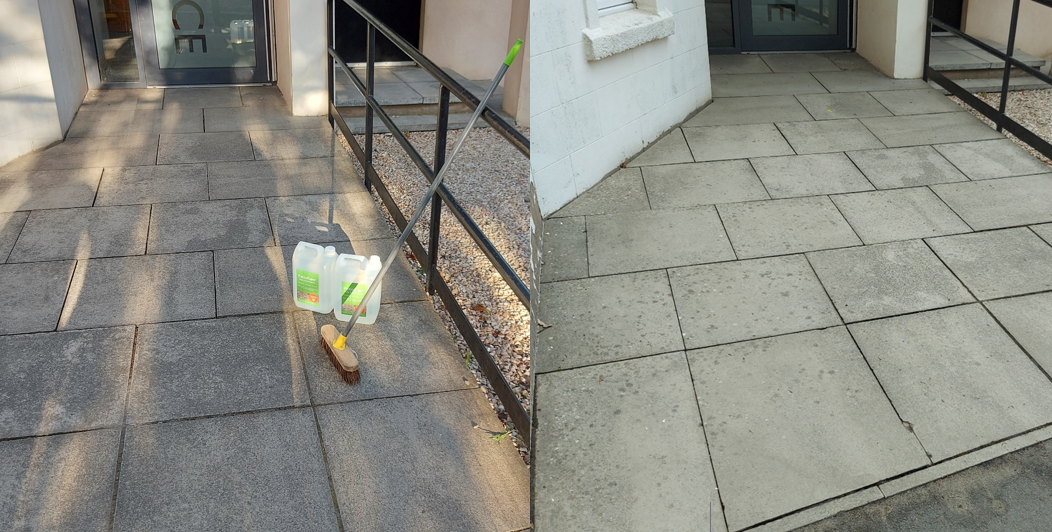 How To Apply
Application can be by a low-pressure sprayer (as could be used for weed-killer) or watering can, sponge, paint roller or poured on straight from the jerrycan. We tend to favour a decent covering as most effective and try to puddle the cleaner on the slabs when we use it. A power washer or garden hose is helpful and disperses the dirt better after cleaning, it can be surprising how much dirt is liberated to get rid off.
Agitate the solution with a stiff brush and leave for quarter of an hour before rinsing off with plenty of water.
Please see a video showing how to best apply and agitate the product for better results:
               
Buy The Concrete Slab Cleaner:
Order PatioKleen Concrete Slab Cleaner 5 Litre – £20.00 + VAT Online
Order BuildKleen Concrete Slab Cleaner 20 Litre – £70.00 + VAT Online
Browse our Professional Exterior Cleaning Equipment Range.
Download the technical and safety data sheet here.
To discuss your needs further please contact us at:
Acute Build Clean | 74 Bo'ness Road | Grangemouth | FK3 9BL
London Office | 47 Gee Street | Clerkenwell | London | EC1V 3RS