Conservatory Roof Algae Cleaner
RoofKleen is a highly effective conservatory roof algae cleaner chemical that uses nano technology in a low-odour aqueous cleaning solution that is remarkably eco-friendly and pleasant to use.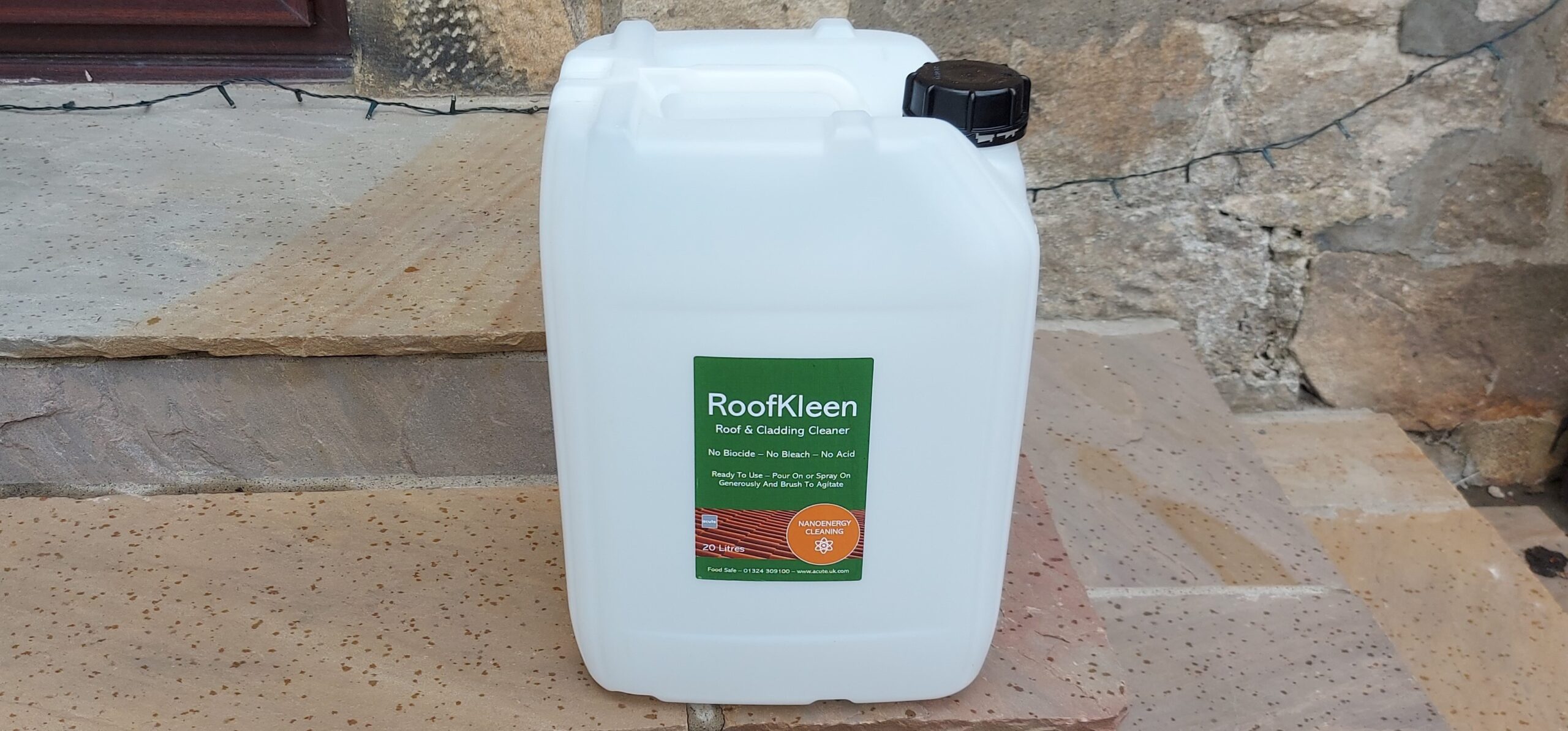 How Does It Work?
RoofKleen contains nano-energy particles that penetrate underneath algae build-up on roofs and break the surface tension bonding soiling, dirt, and grime to polycarbonate.
This therefore dislodges and loosens the soiling so that it is easily wiped and rinsed off in contrast to biocide-based products like Wet & Forget which work by killing the algae; RoofKleen does not kill anything and it contains no biocides, no acids, bleach, corrosives, or alkalis at all.
Using all-natural ingredients formulas, this food-safe polycarbonate conservatory roof cleaner chemical is completely safe for pets or humans as well as in drains or a water course.

Ideal for use on plastic fascia and soffits, concrete, or natural stone with powerful, non-toxic, and non-hazardous cleaning action.
How Do You Apply RoofKleen?
RoofKleen cleaner is sprayed from a heavy-duty pump action sprayer or applied via a telescopic water fed brush which is an ideal method as it combines both application and agitation.
Please apply a generous amount to heavily soiled surfaces like conservatory roofs, agitate and scrub well with a brush, wait about 10 minutes, and then rinse off with a hose or pressure washer using plenty of water.
Is This The Best Polycarbonate Conservatory Roof Cleaner?
While some alkaline degreaser products or biocides are cheaper, we do genuinely think that this is the best conservatory roof algae cleaner as it is fast-acting and yet run off is harmless if you accidentally drip on passers-by; it is safer than Fairy Liquid and treated roof tends to resist re-infestation.

RoofKleen is a pleasant product to use with almost no smell and your staff need no facemasks or PPE while working with it.
Download the conservatory roof algae cleaner SDS data sheet here
Delivered in 20 litre jerry cans, RoofKleen is a ready-to-use conservatory roof algae cleaner chemical, do not dilute it unless for use cleaning just light soiling on, cladding, gutters, or downpipes.
We will be pleased to discuss any challenges that you may have.
Acute Build Clean | 74 Bo'ness Road | Grangemouth | FK3 9BL