---
A fantastic bleach alternative for cleaning, TileKleen is a highly effective eco-friendly chemical that contains no acids, biocides, alkalis, or bleach and is safe in drains or a water course.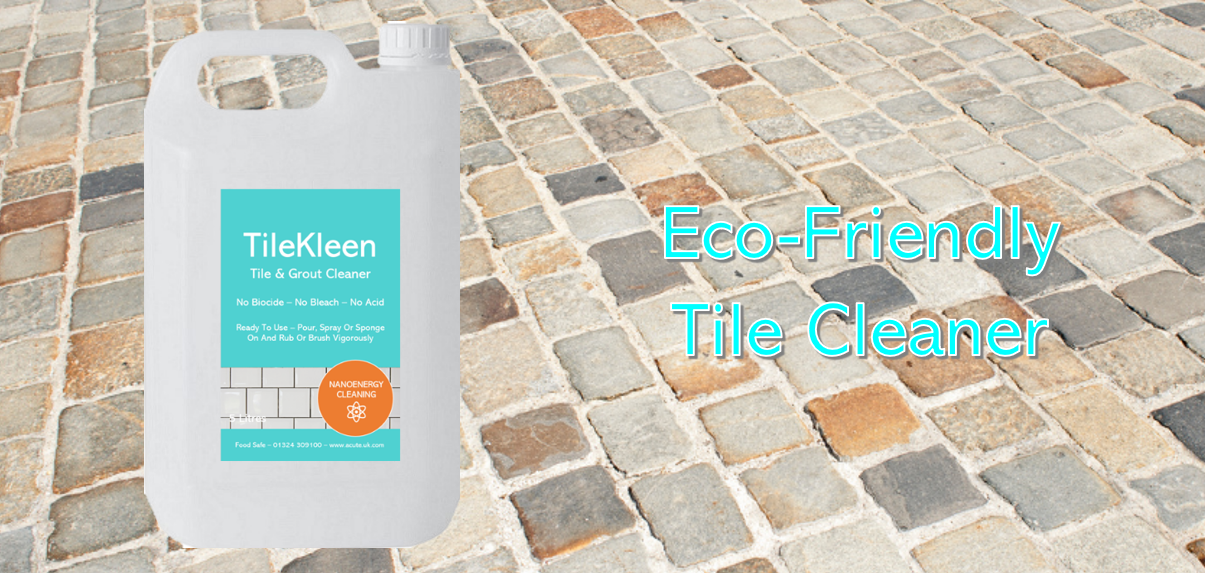 Among other benefits, this means it is a toilet cleaner safe for septic tanks or biodigesters without killing the working bacteria. How many times have your wondered is toilet duck safe for septic tanks or if your fairy liquid might damage them? This is a product that is a highly effective degreaser yet is safer than fairy liquid with no warning CLP signs needed and kind to your skin, users do not need gloves or any items of PPE.
An innovative detergent cleaner that is manufactured in the UK from all-natural ingredients, DeckKleen uses nano energy packages to dislodge and loosen off staining and grime without killing anything as is the case with many harsh and caustic chemicals.
Domestic bleach is generally a 5% solution of sodium hypochlorite, while swimming pool strength sodium hypochlorite is 3 times this concentration at 14 to 15% and widely used by exterior cleaning contractors.
This extremely potent product kills off algae on render or patios but it frequently damages surrounding plants and pets or marine life, to say nothing of users, if you have smelt it, you will know that the odour is something of a natural warning sign that this is not going to be good for you!
If you are looking for a bleach alternative for cleaning due to environmental concerns then the TileKleen product is an ideal one to consider for both internal and external cleaning requirements as it is very effective and yet very safe – download the SDS data sheet here.

Having almost no odour and no disinfectants, solvents, or acids, this highly innovative eco-friendly cleaner is pH-neutral, making it perfect for cleaning natural stone, concrete, composite decking, fences, and tiled floors.
TileKleen looks after both people and the planet; it can even be used safely and successfully for cleaning fabrics and carpets and is marine safe and thus great for boat cleaning, offshore oil rigs, or shipping.
BuildKleen is the same product with a different label and is available in 5 litre ready-to-use format and additionally in the following formats:
20 Litre Ready To Use – £77.00 + VAT – coverage of 48 square metres
10 Litre Concentrate – £159.00 + VAT – coverage of 260 square metres
We are a small family business offering UK wide fast delivery by courier; please get in touch with us on 01324 309100 to discuss your cleaning challenges or drop us an email to: info@acute.uk.com
---