One of the chores of boating is the need to keep your vessel clean; all pleasures seem to have a downside! Using our boat wash cleaner chemical BoatKleen can, however, make fibreglass hull cleans, removing of marine algae, and keeping seats and canvas sails clean, easier and safer.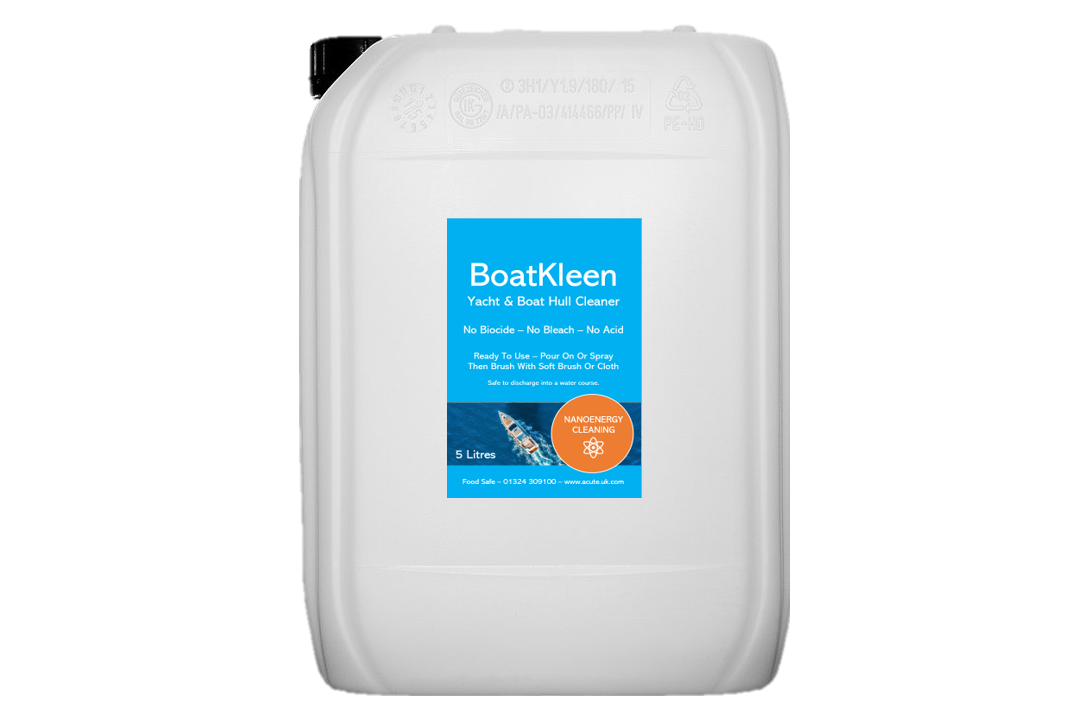 BoatKleen boat wash is a remarkable product that utilises nano-tech cleaning and a food-safe and entirely marine-safe formula with all-natural oleo chemical ingredients to combine astonishing cleaning power and effectiveness with outstanding safety.
Advanced Nano-Tech Cleaning
Made in the UK, this excellent boat wash can be said to be safer than Fairy Liquid and, in some respects, more powerful than acids! The nano energy particles within the solution uniquely penetrate the soiling and break surface tension bonding it to surfaces.
This means the modus operandi is to dislodge and loosen algae – not kill it like biocide-based chemicals. BoatKleen kills nothing and is a food-grade cleaner containing no biocides, acids, alkalis, bleach, or any other marine pollutants.
BoatKleen boat wash is suitable for boat hull and propeller cleaning, decks, seats, engine rooms, fittings, canvas, and as a fibre glass hull cleaner product.

Do you need large quantities for use in shipyards, boat repair shops, or dry dock boat bottom cleaning? Please give us a call on 01324 309100 as we can arrange a 1000 litre IBC if needed.
Versatile For Marine Cleaning Tasks
Other uses that BoatKleen is ideal for include as a slipway cleaning chemical to remove marine algae from slips, pontoons, dock steps and so on. Need to clean a concrete patio or driveway or your front wall at home? It is a pet-safe and plant friendly patio cleaner that is great for this purpose.

This boat wash chemical is entirely safe if discharged into a water course or in any aquatic environment. It is also an ideal fish farm cleaning chemical that is certified as food-safe.
Download The BoatKleen Marine-Safe Boat Wash Data Sheet Here.
How To Apply:
The BoatKleen product is delivered in 5 litre or 20 litre jerrycans and in both cases the boat wash is ready to use so please do not dilute it further.
Apply by pouring, spraying or via a telescopic water fed brush to the yacht or boat's hull or seats, agitate and scrub the surface well and rinse off with plenty of clean water to remove the dislodged algae or dirt.
We will be pleased to discuss any challenges that you may have further.
Acute Build Clean | 74 Bo'ness Road | Grangemouth | FK3 9BL
You can use this Boat Wash or our marine algae cleaner product to clean slipways, pontoons, and other harbourside infrastructure – please see video below: