Exterior Building Cleaner Chemical
An entirely environmentally friendly and innovative exterior building cleaner chemical that was part of a range designed for removing marine algae in harbour quaysides amid serious concerns around chemical discharges of substances like sodium hypochlorite into water courses.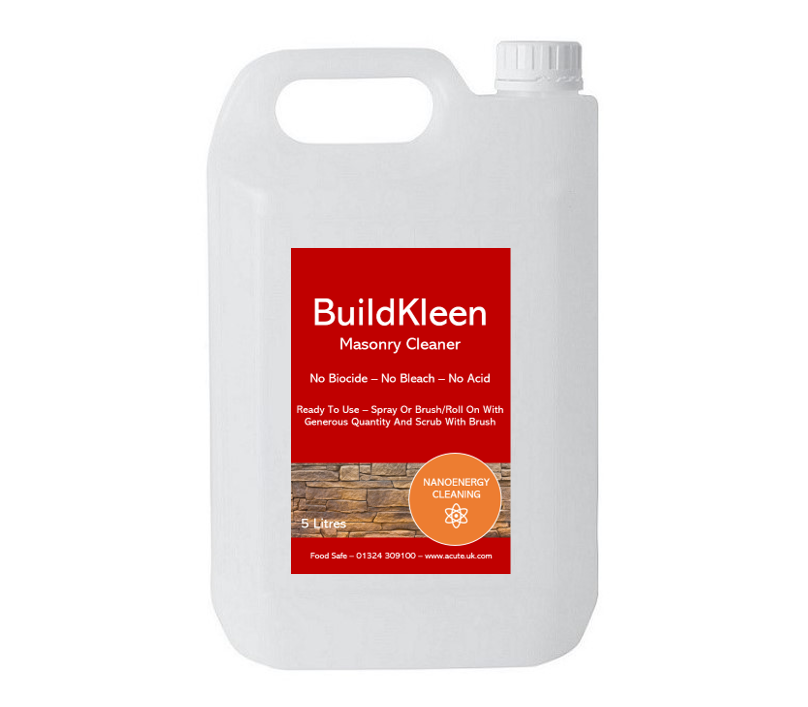 How Does It Work?
BuildKleen is quite different from conventional building cleaning chemicals and our exterior building cleaner utilises nano-energy packages within the mix that penetrate deeply and lift off the algae, render staining and dirt leaving a clean surface that also lasts for longer.
BuildKleen cleans off the algae and green growth by breaking surface tension and without killing it and yet a surface treated with it stays algae-free for longer and in our tests, natural stone absorbs rain water in a more natural way that is almost like 'breathing'.
Truly Eco Friendly
This environmentally friendly patio cleaner product dislodges and removes algae rather than killing the algae:
Contains no biocides, sodium hypochlorite or bleach.
Contains no strong acids or alkalis
Non hazardous and non toxic – certified food-safe!
These nano-energy packages could be thought of as being like piranhas in the River Amazon that are milling around and waiting to attack and tear dirt away like piranhas would feed by tearing meat off the bones of their prey. It is popular with many eco-friendly cleaning contractors in the exterior cleaning London market.
Eco friendly cleaners for buildings are becoming more common and BuildKleen+ masonry cleaner chemical is a leading example that is also highly effective as a render cleaner or wood decking cleaner whose run-off is harmless to aquatic life and indeed it is even a food-safe product.
If you are looking for an environmentally friendly exterior building cleaner in both 5 litre or 20 litre jerrycans this product is a fantastic solution as shown in our photograph. Best results are obtained by brushing off all lose dirt and power washing the walls that are treated – on a low pressure setting is generally better.

Non-hazardous, non-toxic and including no biocides, we believe this exterior building cleaner is one of the best-value render cleaner mixes that money can buy. The product is supplied in 5 litre containers and is ready to use for maximum convenience – apply to walls and statues by sprayer generously and agitate with a stiff brush; wait half and hour to an hour before rinse off or leave to weather via nature.
Ideal For Government Cleaning Work
You will find that local authority clients are delighted to hear of the steps you are taking to lower any chemical risks for external building cleaner for example near children's play areas and it may help you win more tenders that you quote on.
We have a 20 litre version of this exterior building cleaner for better bulk pricing which you can see here and order on the below link.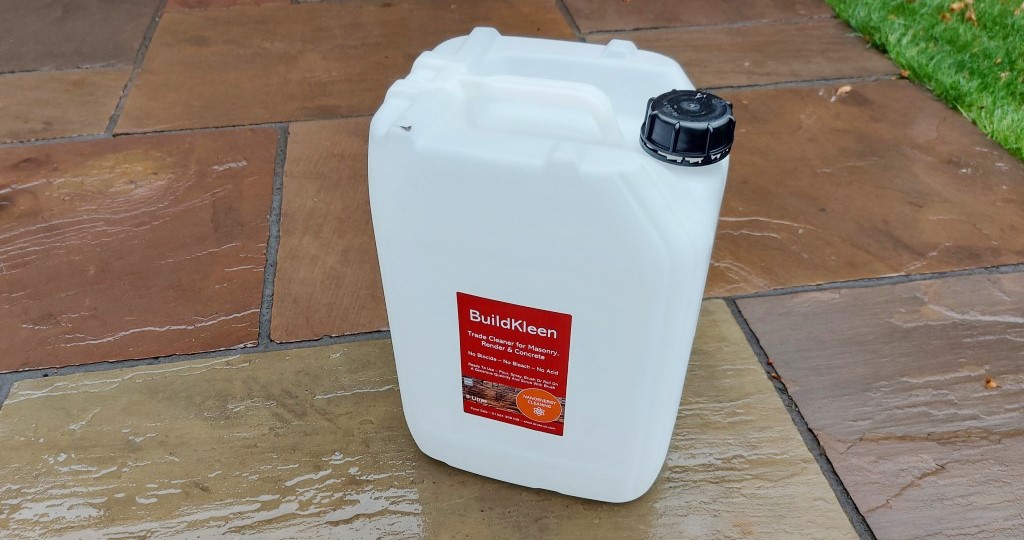 More and more companies and facilities management firms are looking for cleaning contractors that demonstrate care for the environment and this is a cost-effective option to do just that.
Please contact us to discuss your needs further or to request SDS sheets at:
Acute Build Clean | 74 Bo'ness Road | Grangemouth | FK3 9BL
London Office | 47 Gee Street | London | EC1V 3RS