This pH neutral limestone floor cleaner chemical is ideal for limestone tiles because it is made from all natural ingredients and is not caustic, corrosive, or acidic and contains no biocides, alkalis, or bleach.
Having a powerful natural stone cleaner that will clean off dirt, grease and stains but will not damage natural stone is important to maintain the natural beauty of your floor. StoneKleen is a highly innovative eco-friendly limestone floor cleaner derived from a food-industry cleaner that can make your life easier and safer.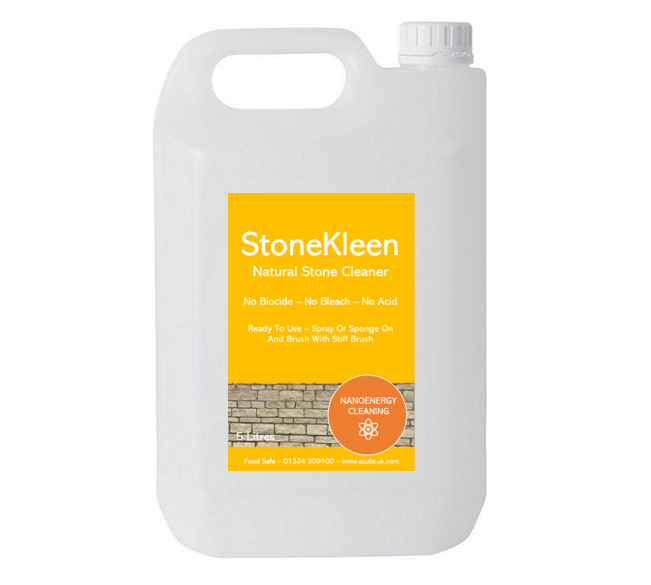 Environmentally friendly and very safe-to-use yet an effective and well-priced cleaning detergent in aqueous solution, StoneKleen is available in both 5 litre and 20 litre jerrycans with quick delivery all over the UK.
Buy Online Here
StoneKleen 5 Litre Natural Stone Cleaner Chemical – £20.00 + VAT
StoneKleen 20 Litre Natural Stone Cleaner Chemical – £70.00 + VAT 
See our full range of cleaning chemicals and order online – BUY ONLINE HERE
How Does This Limestone Floor Cleaner Work?
It works by using nano-size energy packages in the all-natural cleaning agent that penetrate and lift off the dirt or algae from limestone floors or tile, penetrating much deeper than conventional cleaning agents.
StoneKleen dislodges the soiling rather than killing it, by breaking the surface tension that holds dirt or algae embedded. Often a 'dirty' looking floor or wall has in fact been invaded by living microorganisms called algae which is loosened off by this chemical ready to be washed or wiped away.
Effective And Pleasant To Use
The cleaning action of StoneKleen limestone floor cleaner is powerful and yet non-corrosive, non-acid, non-toxic, and non-hazardous and this cleaner product is certified as food safe and is safe to use near a water course. It has almost no odour and is made in the UK from all natural ingredients.
Users do not need any PPE when using this product, it is actually safer than Fairy Liquid, and also ideal for outside patio and concrete cleaning – if you require professional equipment for cleaning why not browse our range on this website?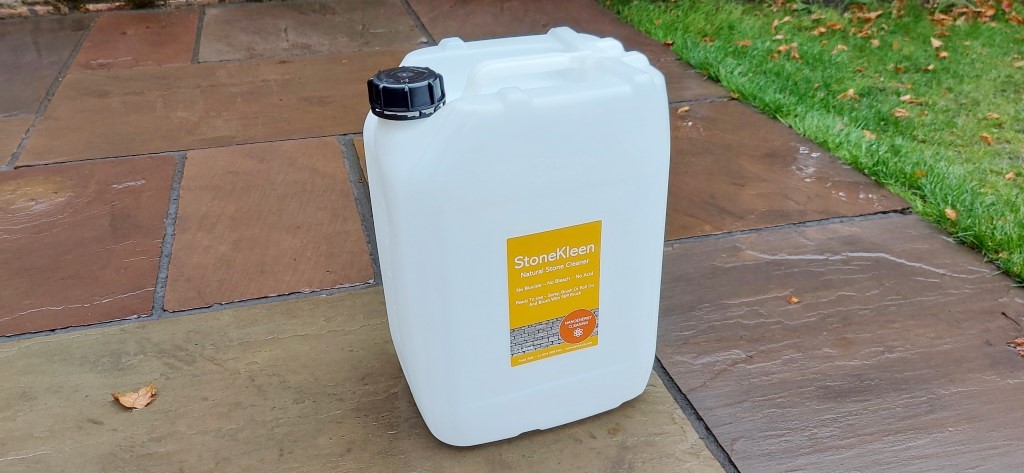 How To Use StoneKleen:
Apply this ready-to-use strength natural stone cleaner without dilution by pouring on from the jerrycan or with a low-pressure sprayer, saturate the surface well and then agitate well with a stiff brush to aid the cleaning action; rinse and wipe off to take away dislodged dirt.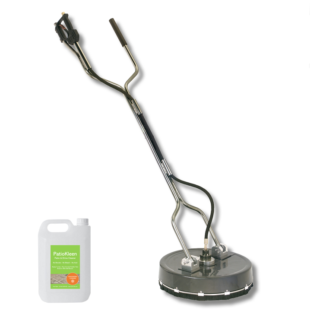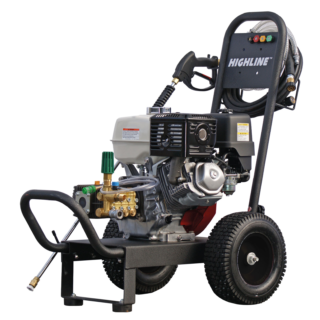 SDS Datasheet Download Link For StoneKleen Limestone Floor Cleaner Chemical
It is often difficult to decide on which limestone floor cleaner chemical to use with cleaning challenges that come up and if something is genuinely eco-friendly. We are a small family-run business and would be glad to discuss your needs further.
To discuss your needs or ask for data sheets, please contact us at:
Acute Build Clean | 74 Bo'ness Road | Grangemouth | FK3 9BL
Tel: 01324 309100 | Email: info@acute.uk.com
London Office | 47 Gee Street | Clerkenwell | London | EC1V 3RS
Tel: 0208 088 3703 | Email: info@acute.uk.com