BuildKleen Eco-Friendly Natural Stone Cleaner Concentrate
An outstanding eco-friendly natural stone cleaner using innovative nano technology in professional trade super-concentrated form. BuildKleen concentrate offers an excellent exterior cleaner that is perfect for cleaning masonry, stone, concrete, cladding, signs, bus shelters, fascia, gutters, patios, and driveways.
Simply dilute the concentrate at 10 to 1 with water or 15/20 to 1 with water when there is only light soiling.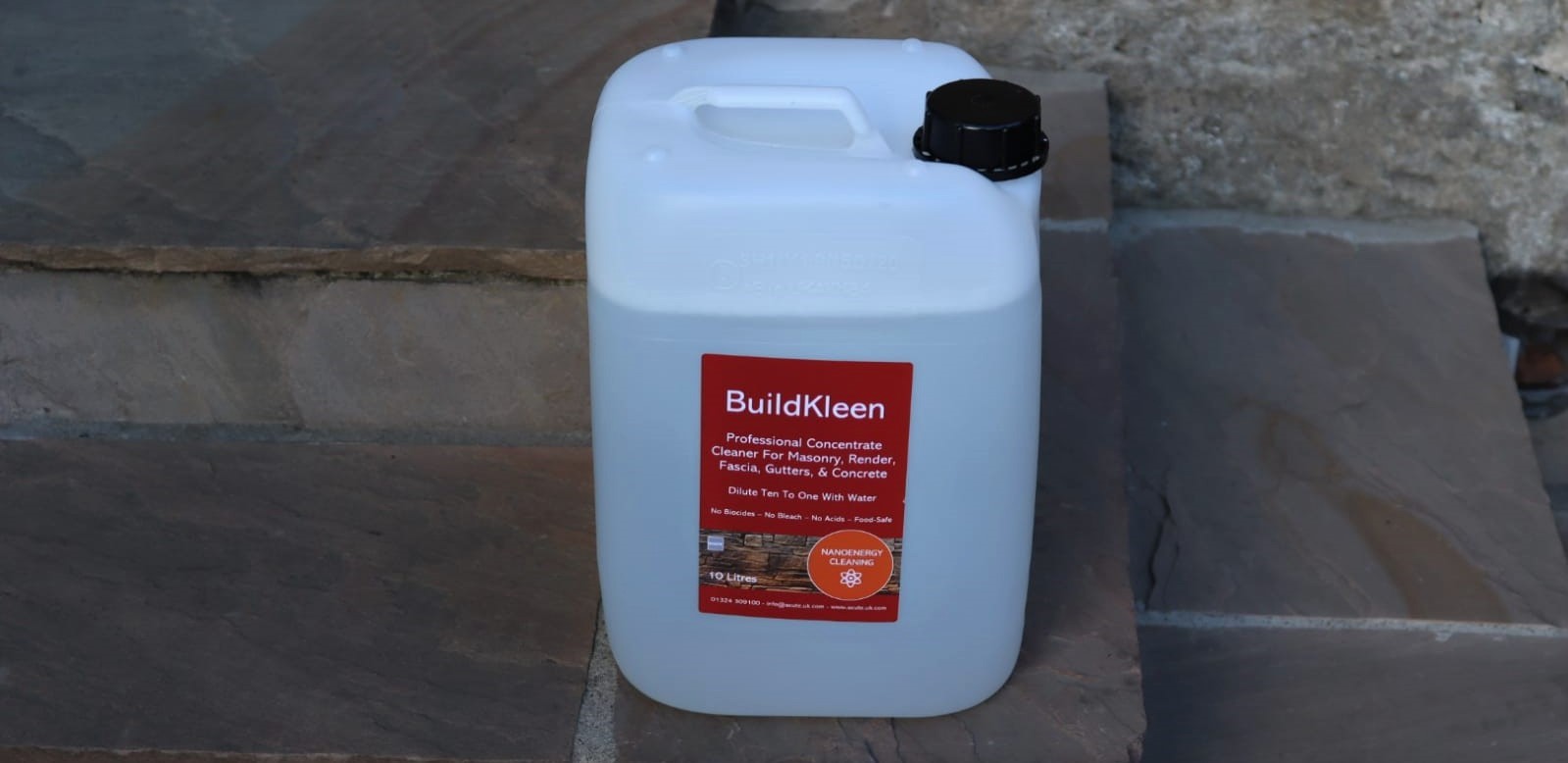 Ideal for removing ingrained grime, dirt, traffic film, algae and oil stains from render and pebble dash, concrete slabs, natural stone, statues, or monuments.
Ultra-Safe And Odour Free
BuildKleen is a pH neutral and food-safe cleaner that is safe for pets and humans, once diluted, this product is safe even in a water course or drains and users do not need to wear PPE items.
This means that exterior cleaning contractors and users can enjoy a vastly safer cleaning product that contains no biocides, acids, alkalis, DDAC, or sodium hypochlorite with no odours and a is very pleasant product to use.
While we sell a wide range of ready-to-use products like PatioKleen and RoofKleen, the BuildKleen concentrated cleaner gives you the full power of this astonishing nano energy cleaning at a lower price per litre and the option to dilute at the rate that you wish to use.
DOWNLOAD THE SDS SAFETY DATA SHEET HERE
How Does BuildKleen Work?
Using an innovative nano-tech formula, BuildKleen is a leading British cleaning product that utilises nano energy particles to penetrate underneath the soiling and algae to dislodge it.

This is the absolute key difference with biocides – that are basically disinfectants – as they kill algae, mould, or lichen – BuildKleen nano-tech cleaner kills absolutely nothing and yet is highly effective.
How Much Does It Cost And What Is The Yield?
BuildKleen concentrate nano-tech cleaner is packed in 10 litre jerrycans and costs £145.00 + VAT and carriage to your door. The yield is 110 litres of ready-to-use cleaner, and the coverage is approximately 260 square metres at this 10 to 1 dilution rate; the cost at this rate is around £1.32 per litre.

Please also have a look at our professional exterior cleaning equipment like diesel hot pressure washers and long reach telescopic water fed brushes.
Please contact us to discuss your masonry or driveway cleaning challenges or to share images.
Acute Bike Clean | 74 Bo'ness Road | Grangemouth | FK3 9BL
London Office | Design Hub Clerkenwell | 47 Gee Street | London | EC1V 3RS