Natural Stone Floor Cleaner
StoneKleen is our eco-friendly natural stone floor cleaner which is a pH neutral and highly effective cleaner that will not damage natural stone. It is not caustic, corrosive, or acidic and contains no biocides, acids, or bleach.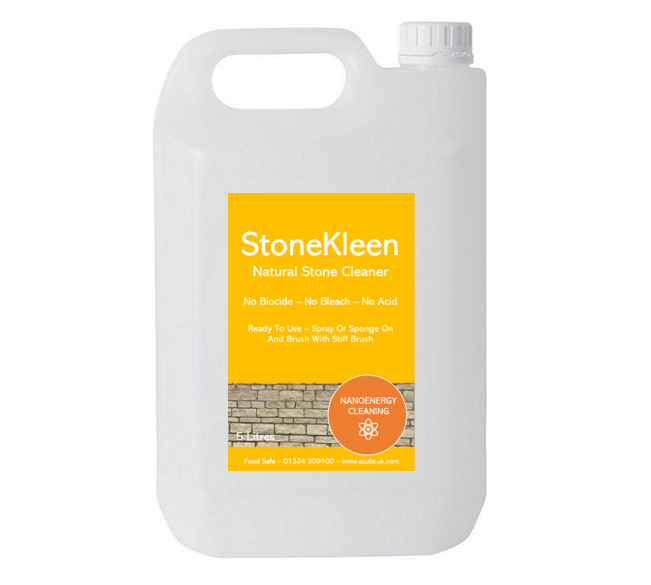 Demand for environmentally friendly cleaning chemicals for natural stone floors has led our family-run company to introduce StoneKleen, an innovative food-safe detergent that can make your life easier and safer.
It is available in both 5 litre and 20 litre jerrycans with quick delivery UK-wide and contributes to maintaining the natural beauty of the stone and eases cleaning tasks.
How Does It Work?
It has nano-size energy packages that penetrate and dislodge dirt or algae from the sandstone, marble, limestone, or granite flooring. It does this by breaking the surface tension that holds dirt or algae embedded on the flooring with the bonus of keeping the cleaned area free of algae for longer than biocide-based chemicals.
One of our mottos is 'Cleans Not Kills' and this natural stone floor cleaner does this in contrast to biocide-based exterior cleaners that are for harmful for nearby plants, aquatic life and not ideal for pets.
Remarkably Safe And Eco-Friendly
One of few chemicals where users do not need to wear any PPE items, StoneKleen is remarkably safe and practically odourless. It is a food-safe product that is certified by Campden BRI organisation and is safe in drains and a water course or any aquatic environment. The cleaning action is powerful yet non-corrosive, non-acidic, non-toxic, and non-hazardous.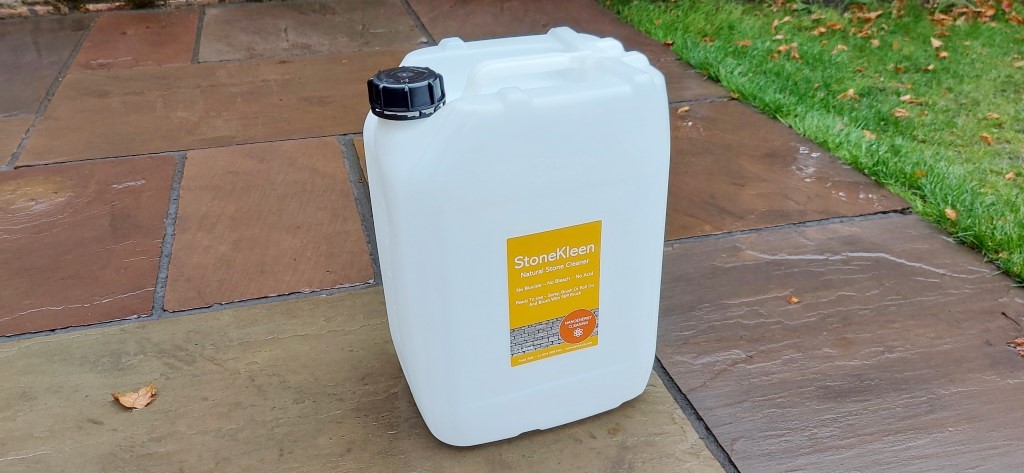 A similar cleaner chemical in our range is used for cleaning marine slipways to remove algae from stone or concrete while being safe for aquatic life – one of very few that genuinely eco-friendly to this extent.
Applying To Natural Stone Flooring Or Patios
The product comes at ready-to-use dilution – apply by pouring on or with a brush, sponge, roller, or low-pressure sprayer, saturate the surface well and then agitate with a stiff brush. If sprayed you may need from more than one coat, wait 15 minutes before rinsing off with water.
SDS Datasheet Download Link For This Natural Stone Floor Cleaner

Buy It Online Here
StoneKleen 5 Litre Natural Stone Cleaner Chemical – £20.00 + VAT
StoneKleen 20 Litre Natural Stone Cleaner Chemical – £70.00 + VAT 

It is often difficult to decide on which flooring cleaner to use with cleaning challenges and if something is genuinely eco-friendly. We are a small family-run business and would be glad to discuss your needs or supply samples or data sheets, please be free to contact us at:
Acute Build Clean | 74 Bo'ness Road | Grangemouth | FK3 9BL
London Office | 47 Gee Street | Clerkenwell | London | EC1V 3RS