Paint Brush Cleaner Chemical
BuildKleen paint brush cleaner chemical quickly loosens and dislodges water-based paints like emulsion from paint brushes or spray equipment. It is highly effective at cleaning oil-based paints and varnishes safely and without any odour.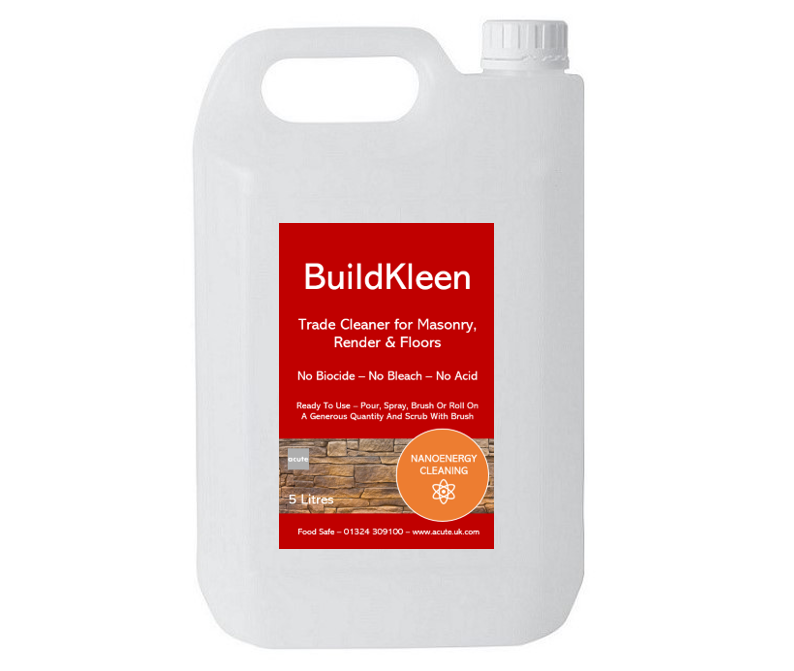 Speed up and improve the cleanliness of your paint brushes, paint trays, paint spray guns, rollers and other utensils ready for the next decorating task by using this nano-tech paint brush cleaner to remove drips and stains from around the floors or decorating area whether you are a professional decorator or DIY painter.
Paint Brush Cleaner – Fast!
BuildKleen is a British product that is made from all natural ingredients. It is an entirely food-safe, pet-safe, and environmentally friendly product that is even safe if discharged by accident into a water course, pond, or drains.
Using innovative nano-tech with microscopic energy packages, this unique aqueous cleaning solution deeply penetrates paint, oil stains, or grease, to break the surface tension and quickly dislodge and clean.

This leads to high performance as a paint brush cleaner to shorten the time and even remove paint spills and small flecks from floors, skirting boards, clothing, and fabrics. BuildKleen is also ideal as an oil stain remover product for both garage floors, driveways, and for cleaning cladding from algae or grime.
Safe Paint Cleaning
A safe, pleasant, pH neutral and odourless paint brush cleaner chemical that is great as a hand washing and sanitising cleaner to take paint and varnish or stains off your hands safely and quickly.
This paint brush cleaner is at ready-to-use dilution so it is generally better to use from the bottle but can be watered down as well.

Available to buy in 5 litres or 20 litre jerrycans with delivery all over the UK; BuildKleen paint brush cleaner detergent can also be used in numerous exterior cleaning tasks like driveway, stone, or patio cleaning tasks.
Download BuildKleen paint brush cleaner SDS data sheet.
We will be pleased to discuss any paint cleaning challenges that you may have.
Acute Build Clean | 74 Bo'ness Road | Grangemouth | FK3 9BL