Buy our eco-friendly patio slabs cleaner chemical online here to help with pre-washing your patio slabs and removing algae and dirt, grime, and staining.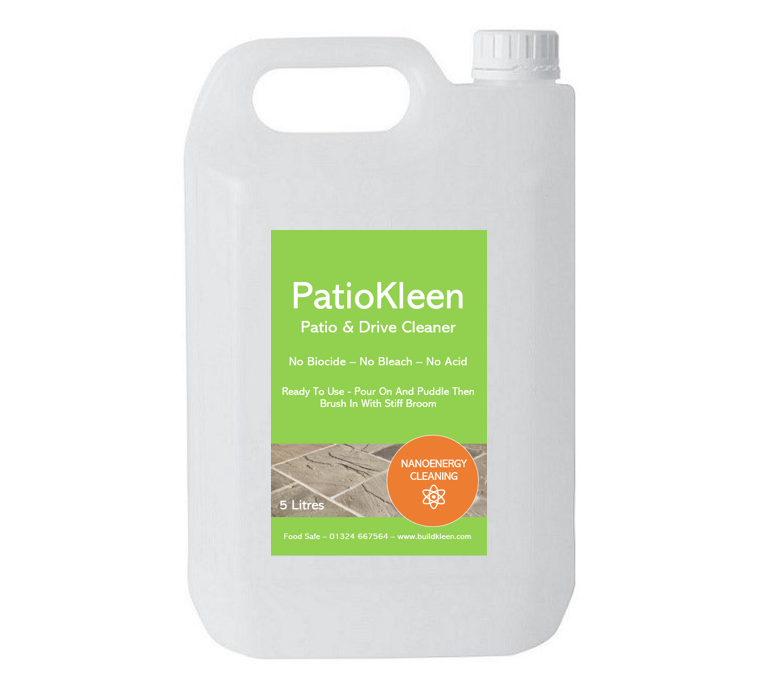 Our carefully developed PatioKleen product is an aqueous cleaning solution that is non-toxic and non-hazardous and yet provides remarkably effective and powerful cleaning action on concrete slabs and natural stone patios and driveways.
PatioKleen works differently to many chemical products used in the exterior cleaning trade as it does not work by using biocides to kill algae but instead works to get underneath and dislodge the dirt and algae by breaking the surface tension using millions of nano-energy packages in the mix. There are no acids, no biocides, no bleach, and no sodium hypochlorite in this patio slabs cleaner; it is both stable and uniquely safe to use and handle.

A pressure washer used carefully with a rotary patio cleaner attachment and hood helps with removing stubborn dirt and to wash away loose dirt after application.
PatioKleen is actually a food-grade cleaner for which users do not need even need PPE and there are no hazard pictograms on the packaging. It is fast-acting, easy to use, safe for use near lawns and pets and is perhaps the only patio slabs cleaner that is even safe if spilled into a water course!
Because the chemical is pH neutral it is great for cleaning natural stone like granite and slate and is delivered to you at ready-to-use dilution for convenience so you can use it straight away.
We also offer a similar chemical in 20 litre jerrycans at bulk-discounted price: ORDER 20 LITRE HERE
Contact us to discuss your needs further or to request SDS sheets at:
Acute Build Clean | 74 Bo'ness Road | Grangemouth | FK3 9BL
London Office | 47 Gee Street | Clerkenwell | London | EC1V 3RS