Used as a stone wall cleaner for houses, public buildings, heritage properties, schools, and garden wall cleaning, StoneKleen takes all in its stride and is perhaps the safest natural stone cleaning chemical available today.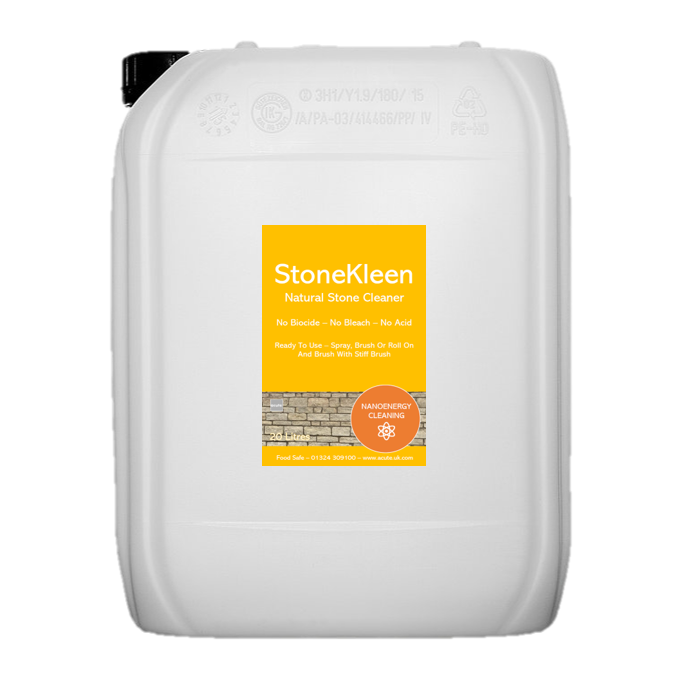 An advanced detergent that is made in the UK with all natural ingredients in a uniquely powerful formulation that uses nano-energy in the pH neutral solution to dislodge and remove algae, dirt, and stains rather than killing the green on stone walls.
DOWNLOAD THE DATA SHEET FOR THIS STONE WALL CLEANER
This stone wall cleaner chemical kills nothing! An odour-free, pet-friendly, and certified food-safe chemical for humans as well as being pH neutral, StoneKleen is a refreshing and environmentally friendly change from potentially harmful biocides and pungent Sodium Hypochlorite.
The Best Way To Clean Stone Walls – Step-By-Step
Brush off loose debris from the concrete or stone wall to be cleaned.
Apply from a low-pressure sprayer or pumped extending pole brush – DO NOT DILUTE.
Select a manageable area to focus on, say a metre or 2 squared and apply generously.
Brush in well and agitate with a stiff brush – you will see the dirt and algae start to colour the foam.
Rinse off the areas treated with a hose or lightly with a pressure washer.
Repeat as needed, on very old dirt and algae several applications may be needed.
Perfect as a stone wall cleaner in churches, war memorials, monuments, and older properties as it is all natural and pH neutral. StoneKleen can also be used on interior stone and tiled or brick walls and on limestone or sandstone floors. Available in 5 litres (£20.00) and 20 litres (£70.00) jerrycans.

A readily biodegradable product that is safe in drains as run-off and in any water course or aquatic environment, this gives a whole new level of eco-protection and pleasantness to use all day long!
Breaking the surface tension that bonds dirt to stone walls is not only ideal for the initial cleaning but also secures a surface that resists the re-infestation of algae or dirt gripping back on.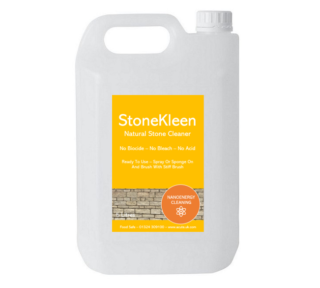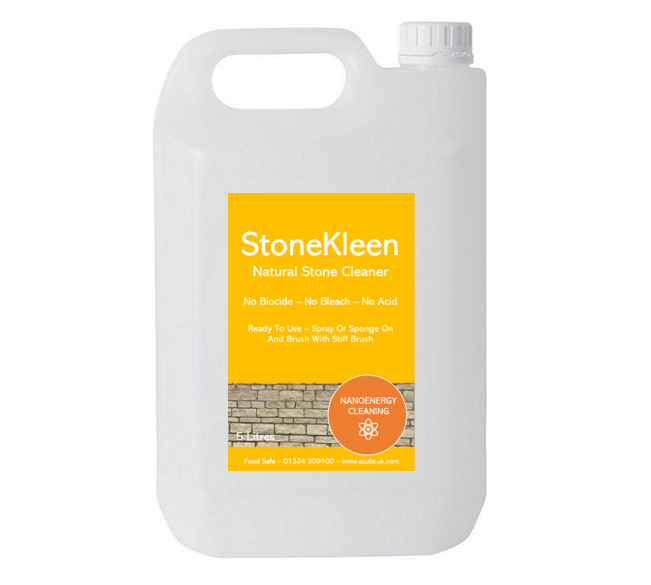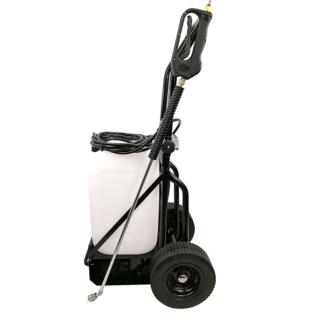 This means the clean appearance on stone walls, driveways and patios lasts for longer although the product itself is non-toxic and non-hazardous and very safe and stable to store and use.
Contains no biocides, disinfectants, bleaches, acids, or alkalis. Please contact us to discuss your stone wall cleaner challenges and also see our exterior cleaning equipment range.
Acute Build Clean | 74 Bo'ness Road | Grangemouth | FK3 9BL
London Office | Design Hub Clerkenwell | 47 Gee Street | London | EC1V 3RS