AcuteClean Application Kit – Battery Powered Trolley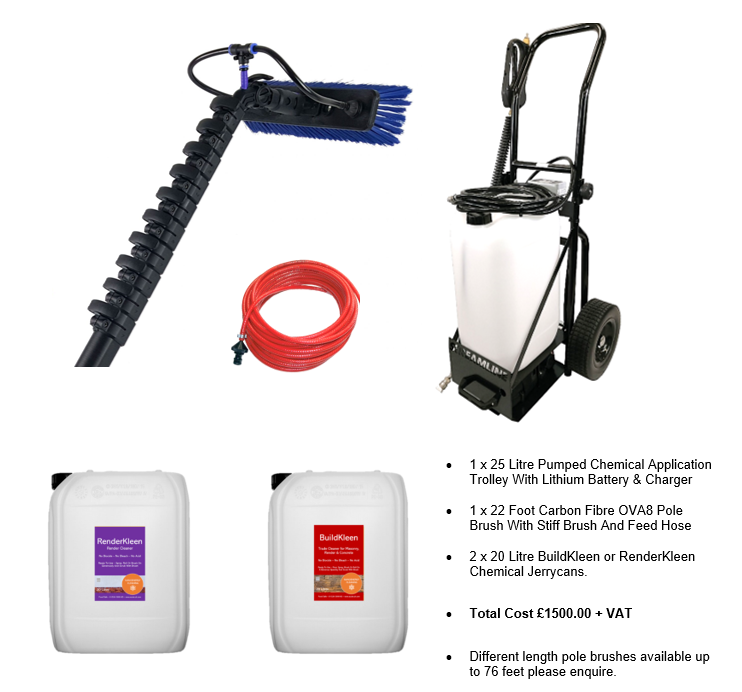 The AcuteClean application kits combine a series of carefully chosen commercial window cleaning equipment and professional pump trolleys that are often used for what is commonly known as 'softwashing' with harsh chemicals like Sodium Hypochlorite.
However, we have optimised this equipment into a robust and focused pump system that give the ideal starter kits at a good price for applying our unique exterior cleaning eco-friendly chemicals because the application and all-important agitation can be done in one pass with the pole brush.
We have carefully researched the best of professional quality carbon fibre water fed pole brushes, selected a stiff brush that is ideal for render, concrete and roofs or a softer brush option for fascia's, cladding or signs so that you have the perfect recommended system to operate for many years.
The package kit on this page uses a lithium-ion battery that will often give 12 hours of use, all fittings, hoses, water-fed brushes and a choice of 2 x 20 litre jerrycans to get you going!
The price for the complete package is £1500.00 + VAT – please see the link below:

Contact us on 01324 309100 or email info@acute.uk.com
Acute Build Clean | 74 Bo'ness Road | Grangemouth | FK3 9XB