Eco Friendly Masonry Cleaner
With increasing demand for environmentally friendly and safe to use cleaning chemicals in the brick cleaning and masonry restoration market and on building sites it is great to know that BuildKleen is an innovative eco friendly masonry cleaner that has no acids, alkalis, biocides, or bleach. An ideal monument cleaner chemical for mortar splashes, algae and dirt in 5 litre or 20 litre bottles as a ready-to-use product.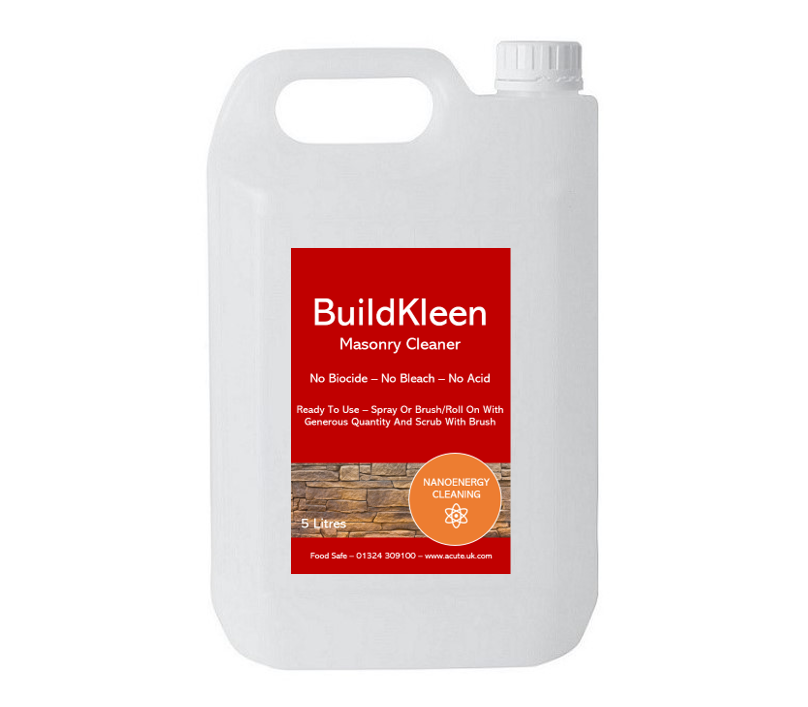 New for Spring 2022 is the super-concentrated version of BuildKleen in 10 litre jerrycans for professional exterior cleaners, see more detail here.
How Does It Work If It Has No Biocide?
This eco masonry cleaner works by using nano-size energy packages that penetrate and get underneath the dirt or algae (many a 'dirty' patio or war memorial or masonry like sandstone are in fact living microorganisms called algae that thrive in our damp climate). They do this by breaking the surface tension that holds dirt and algae embedded on a substrate ready for easy removal.
The cleaning action of this eco friendly masonry cleaner is powerful and effective and yet non-corrosive, non-acidic, non-toxic, and non-hazardous and the product is even certified as food safe; it does not kill the green growth as with biocides used in most cleaners and is safe to use near a water course.
BuildKleen 5 Litre – £20.00 + VAT Each – Buy Now – Accepts Credit + Debit Cards

How To Apply This Masonry Cleaner:
Use of a pressure washer on low pressure setting in conjunction with use of BuildKleen masonry cleaner can be helpful to send the loosened dirt on its way after treatment. If you are washing a patio that is monoblocks please use a hood washer to save blasting out kiln dried sand between the blocks. Brush off leaves, cobwebs and debris before you begin and apply generously with several coats it you are spraying the product.
Apply our eco-friendly masonry cleaner with brush or sprayer, saturate the surface well and then agitate with a brush – ideally wait about 15 minutes before rinsing off the dirt.
To discuss your needs, ask for samples or data sheets, please contact us at:
Acute Build Clean | 74 Bo'ness Road | Grangemouth | FK3 9BL
London Office | 47 Gee Street | Clerkenwell | London | EC1V 3RS
Download the BuildKleen Technical Data Sheet here. 
Below: BuildKleen ready-to-use eco masonry cleaner is now available in 20 litre containers with a bulk discount at £70.00 + VAT and carriage.