Keeping outdoor areas clean and presentable is a hard challenge but with our eco-friendly outdoor cleaner chemical BuildKleen you have the ideal cleaner for this purpose with easy dispersal of algae and soiling on patios, decking or even poultry farm cleaning without containing any caustic chemicals.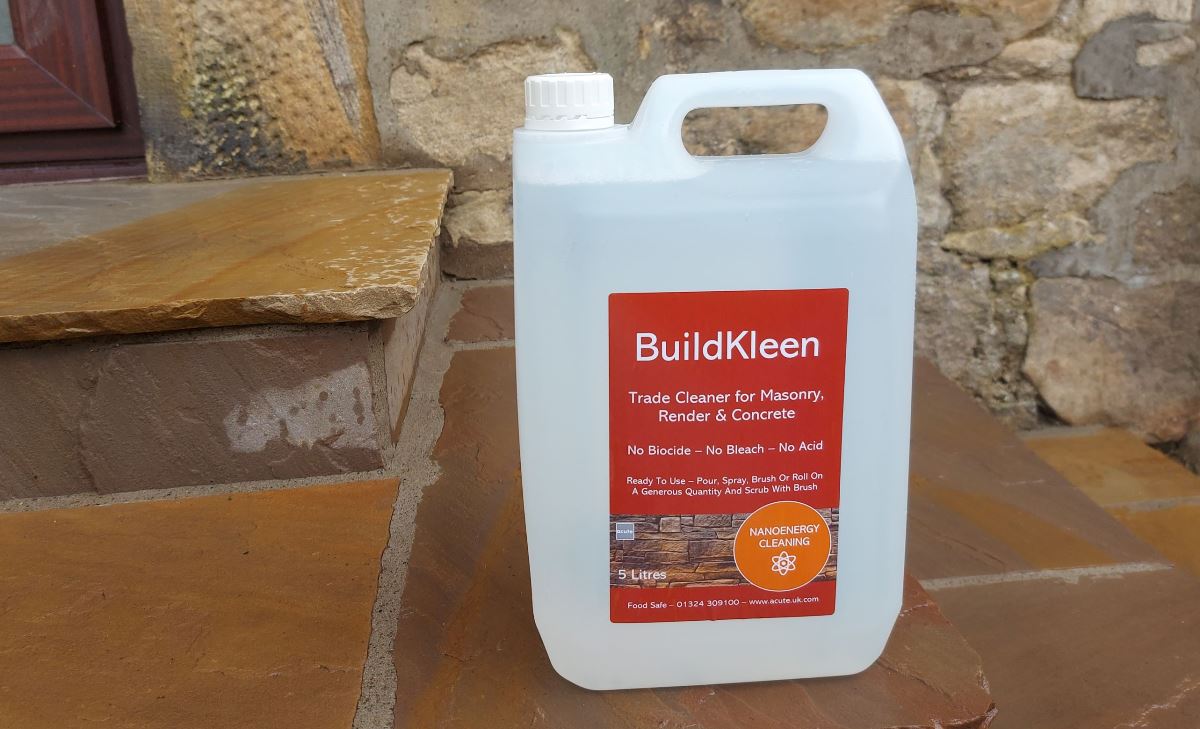 This food-safe detergent outdoor cleaner chemical is formulated of all-natural ingredients and contains no acids, alkalis, biocides, or bleach and does not work by killing the green or black growth but rather by dislodging it for easy rinsing.
This innovative process involves the use of nano-energy packages within the aqueous cleaning solution and is ideal for cleaning granite, sandstone, marble, render, and hard surfaces including gravestones that are to be cleaned, uPVC gutters and concrete or fabric.
Safe For Outdoors, For You, And For Pets
BuildKleen is both pH neutral, odourless, and certified as food-safe; meaning it is great for ease of use and users do not require to wear any items of PPE while natural stone surfaces do not suffer the damage associated with using acids.
With any outdoor cleaner chemical, it is always a concern if there will be any danger to your pets, lawns, pond life or plants and all of these are entirely safe when you use BuildKleen and, importantly, so are you! Readily biodegradable and safe in drains as run-off and in any aquatic environment.
An Outdoor Cleaner With Long Term Results
The remarkable way that this chemical breaks the surface tension that bonds dirt to the substrate is not only ideal for the initial cleaning but also secures a super-clean surface that resists the re-infestation of algae or dirt gripping back on.

This means the clean appearance on walls, driveways and patios lasts for longer although the product itself is non-toxic and non-hazardous and very safe and stable to use.
Application Instructions:
This exceptionally versatile chemical is delivered at ready to use strength in 5 litre or 20 litre jerrycans and can be poured on, sprayed on, brushed, sponged, or rolled on to the dirty surface generously and then brushed with a soft to semi-stiff brush to agitate. Perfect for concrete slabs, Indian sandstone, Anstone coloured concrete or block paving.
Rinse off the outdoor cleaner with a garden hose or a pressure washer if you have one and at the appropriate power setting; take care not to damage old stonework by excessive pressure; this product is also ideal as an outside furniture cleaner.
How Much Does It Cost?
You can order BuildKleen outdoor cleaner online here – please note you can pay by card and don't actually need to have a PayPal account.

There are 3 choices of format for this eco-friendly all-natural outdoor cleaner; 5 litre and 20 litre RTU (ready-to-use dilution) and a 10 litre super concentrated version that is generally used by professional exterior cleaning companies with Dosatron pumps to dilute as required, please see links here:
Please do contact us to discuss your specific outdoor cleaner chemical challenges – like monument or heritage building cleaning or request MSDS data sheets.
Acute Build Clean | 74 Bo'ness Road | Grangemouth | FK3 9BL
London Office | 47 Gee Street | Clerkenwell | London | EC1V 3RS