Environmentally Friendly Stone Cleaner
StoneKleen is an environmentally friendly stone cleaner for effective cleaning of granite worktops, limestone flooring and any natural stone that is also a pH neutral cleaner. Originally part of a range designed for removing slipway algae in harbours, it works quite differently from brick acid and conventional cleaning chemicals.
How Does It Work?
StoneKleen lifts off dirt, algae, and green growth using minute nano-energy packages without killing it and a surface treated with it stays algae-free for longer and in our tests, natural stone absorbs rain water in a more natural way one it is treated.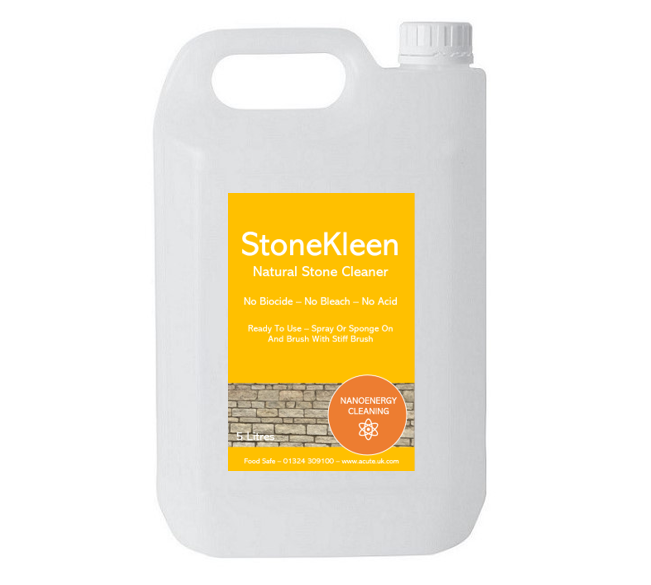 This product dislodges and removes dirt and algae rather than killing the algae and cares for the environment – especially aquatic life – by having no:
No biocides or bleach or sodium hypochlorite.
No strong acids or alkalis
Non-hazardous and non-toxic – safe for you and for your pets.
It is even certified as food-safe!
Cleaning personnel need no PPE
Nano-energy packages in the cleaning agent can be looked upon as being like piranhas in the River Amazon that are just milling around and waiting to attack and tear dirt away like piranhas would. The product has a remarkable combination of aggressive cleaning action while gentle to operators and substrates.

When Eco-Friendly Makes Sense
If you are looking for an environmentally friendly stone cleaner then StoneKleen is a fantastic solution for your needs. Best results are obtained by brushing off all lose dirt and power washing the walls that are treated – on a low pressure setting so as not to damage the surface. Safe in a drain or water course.
Non-hazardous and non-toxic, we believe this cleaner is one of the best-value ready-to-use natural stone cleaners that money can buy. The product is supplied in 5 litre containers or 20 litre jerrycans as shown here; apply to walls and statues by sprayer generously and agitate with a stiff brush before rinsing.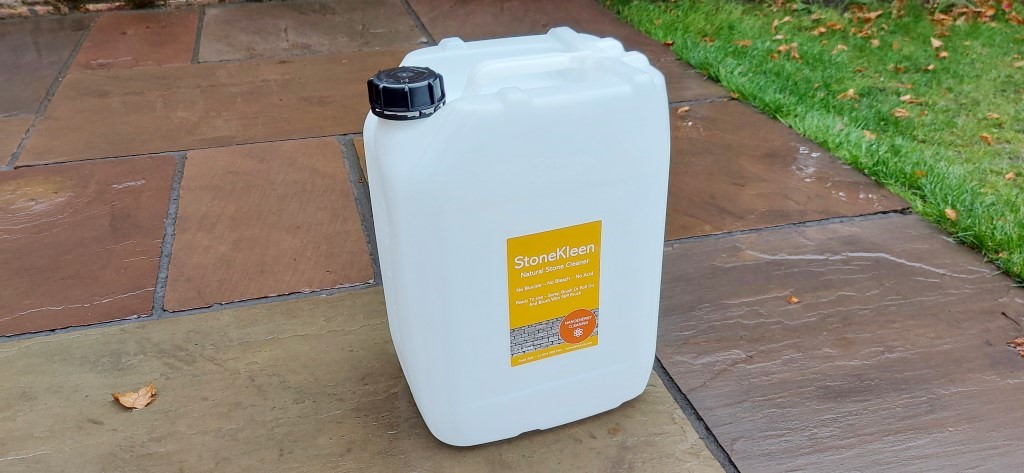 Councils and schools are generally very pleased to hear of the steps to lower any chemical risks in cleaning, for example near children's play areas, and this may help you win more tenders that you quote on.
These cleaning products are made from all natural ingredients and have been cleared by government agencies as being safe if discharged into a water course (ask us for more details)
Download the technical safety data sheet.
Please contact us to discuss your needs further or to request samples and SDS sheets at:
Acute Build Clean | 74 Bo'ness Road | Grangemouth | FK3 9BL
London Office | 47 Gee Street | Clerkenwell | London | EC1V 3RS