Natural Stone Cleaner Chemical
Our natural stone cleaner chemical is not caustic, corrosive, or acidic and contains no biocides or bleach. Having a pH neutral cleaner which is effective and will not damage the stone is very important to maintain the natural beauty of the stone while effectively cleaning it.
Increasing demand for environmentally friendly and safe-to-use yet effective cleaning chemicals in cleaning of stone has led to us producing StoneKleen, an innovative cleaner chemical that can make your life easier and safer. It is available in both 5 litre and 20 litre jerrycans with quick delivery UK-wide.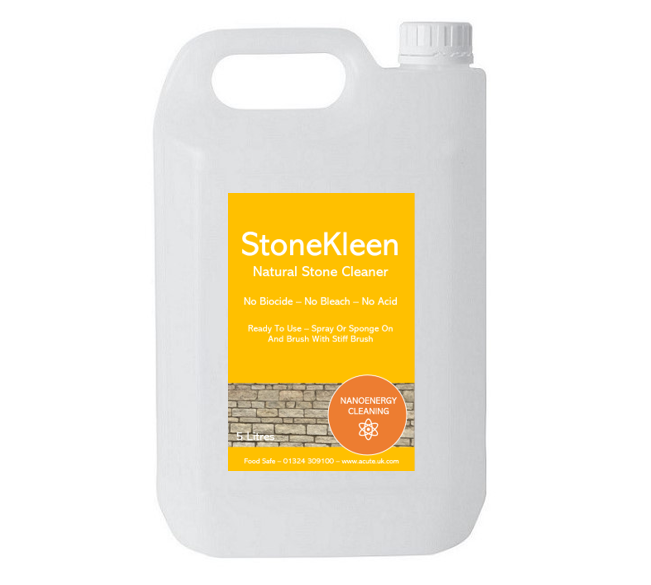 How Does StoneKleen Work?
One of our motto's is 'Cleans Not Kills' and our natural stone cleaner does this in contrast to biocide-based cleaners that are for deadly for aquatic life and less than ideal for lawns or flower beds. It works by using nano-size energy packages that penetrate and lift off the dirt or algae from limestone or granite. It does this by breaking the surface tension that holds dirt or algae embedded on a substrate with the added bonus of keeping the cleaned area free of algae for longer than biocide based chemicals.
Many a 'dirty' looking patio or natural stone wall is in fact suffering from an invasion of living microorganisms called algae that thrive in our damp climate; with StoneKleen applied generously they are loosened off ready to be washed away by hose or just rain and the weather over time.
The cleaning action is powerful yet non-corrosive, non-acid, non-toxic, and non-hazardous and this cleaner product is even certified as food safe and is safe to use near a water course. It is supplied in 5 litre bottles or 20 litre jerrycans as a ready-to-use cleaner and ideal for patio and concrete and hard surface cleaning.
StoneKleen 5 Litre – £20.00 + VAT Each – Buy Now On PayPal – Accepts Credit + Debit Cards
How To Apply:
Use of a pressure washer in conjunction with use of StoneKleen is normally helpful but older stone masonry needs a low pressure setting and it is a good idea to test an area first – we also have a video of how to apply here.
Apply the ready-to-use strength cleaner with brush, sponge, roller or low-pressure sprayer, saturate the surface well and then agitate with a stiff brush. If sprayed you may benefit from more than one coat, ideally wait half an hour before rinsing off.
To discuss your needs or ask for data sheets, please contact us at:
Acute Build Clean | 74 Bo'ness Road | Grangemouth | FK3 9BL
London Office | 47 Gee Street | Clerkenwell | London | EC1V 3RS
StoneKleen 20 Litre – £70.00 + VAT Each – Buy Now On PayPal – Accepts Credit + Debit Cards