Indian Sandstone Cleaner For Patios
PatioKleen is an excellent Indian sandstone cleaner to combat the effects of British weather and a damp climate on your patio or drive in an eco-friendly way. The lovely look of a new Indian sandstone patio can quickly darken with what looks like dirt that may actually be black or green algae embedded on the surface.
Hard to shift, this disappointing coating can however be treated effectively and safely with this pet-safe and food-safe natural stone patio cleaner and will tend to resist being darkened by algae again.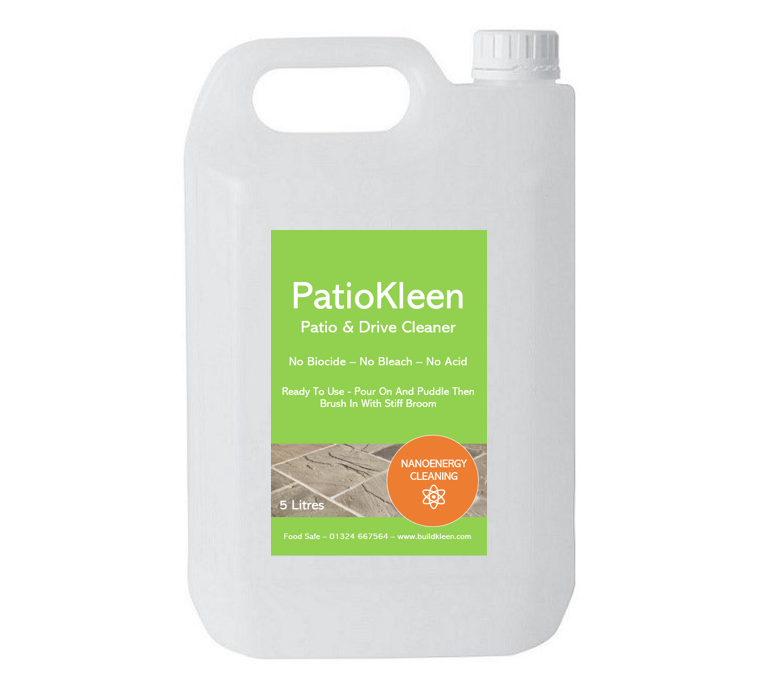 Eco Friendly Cleaning Of Sandstone
PatioKleen sandstone driveway and patio cleaner is an effective and innovative cleaning chemical which is non-hazardous and non-toxic with no biocides or acids and is certified food-safe and needs no PPE for users.
If you want an effective, pH-neutral, and eco-friendly Indian sandstone cleaner chemical that is at ready to use dilution, then this is a great product for you. Apply it with a low-pressure sprayer, roller (paint roller) or brush and scrub thoroughly with a stiff broom before leaving for 15 minutes or so for the cleaning to take place before rinsing off.
We deliver all over the UK and you can buy the product as 5 litres for £20.00 + VAT and carriage or our 20 litre jerrycans for £70.00 +VAT on the link below:

A pressure washer used carefully with a rotary patio cleaner attachment and hood helps with removing stubborn dirt and to wash away loose dirt after application; take care to avoid damaging patios or driveways.
Caring for the environment is very important and this pH-neutral sandstone patio cleaner chemical contains no biocides or bleach and no sodium hypochlorite, no strong acids or alkalis. The product is also safe if it goes into drains or a water course and will not harm pets or plants.
If you need larger quantities, then consider StoneKleen in 20 litre containers as this is also an excellent option: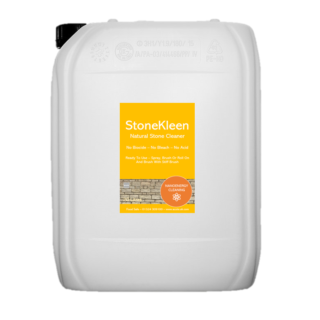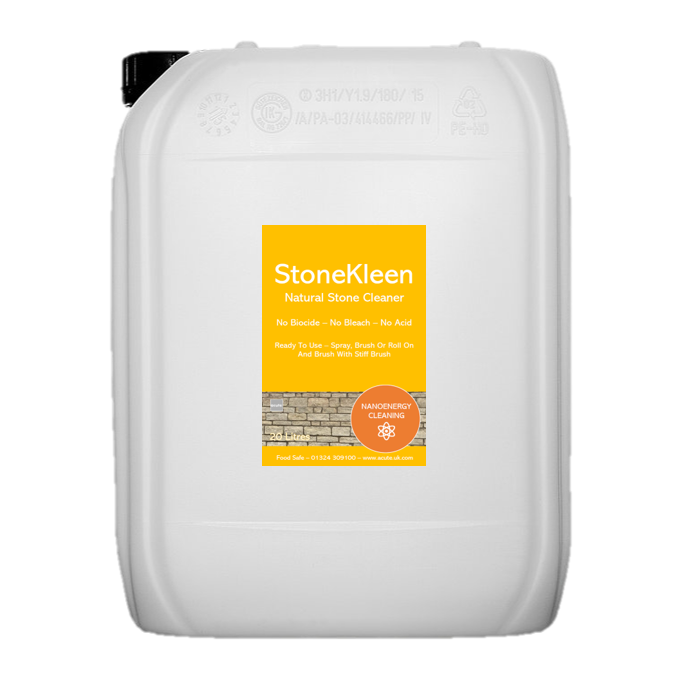 To purchase StoneKleen Indian sandstone cleaner in 20 litre please click here.
How Does PatioKleen Work?
This water-based Indian sandstone cleaner chemical uses nano energy packages to penetrate and loosen off algae, dirt and stains by breaking the surface tension to dislodge and lever off soiling. Biocides are almost universal in stone cleaner chemicals but there are none in this Indian stone cleaner, meaning much-improved care for aquatic life, the operators using the product, pets, and the environment.
The nano-energy packages in the chemical can be compared to piranhas in the River Amazon that attack and tear dirt away like piranhas would feed by tearing meat off the bones of their prey.
Indian sandstone treated with PatioKleen stay algae-free for longer and in our tests, sandstone absorbs rain water in a more natural way after cleaning.
Supplied at ready to use dilution for maximum convenience in 5 litre or 20 litre jerrycans, it is also an ideal cleaner or for concrete slabs or tarmac. Do you need cleaning equipment like long reach brushes, pressure washers or flat surface cleaners? We supply a range of these and the range can be seen here.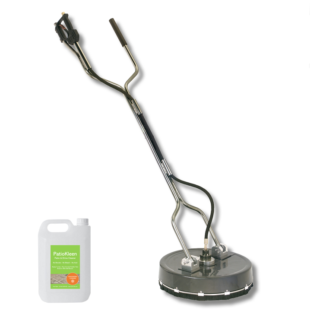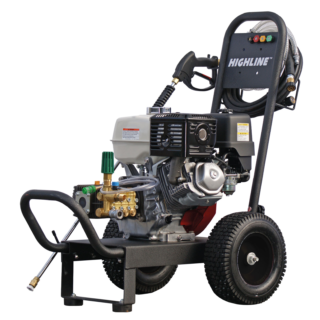 How To Use It:
After brushing debris and moss off the surface simply pour the product straight from the jerrycan or spray on generously to an area of say 6 or 10 slabs, if it is a hot day then hose over the area to be treated to wet it first. Brush in the cleaner with a stuff broom in order to agitate and help penetration, wait about 15 minutes or so and then rinse off with a hose or pressure washer.
You can see a video of how to apply here:
Download the safety data sheet for the product here.
Contact us to discuss your needs further or to request samples at:
Acute Build Clean | 74 Bo'ness Road | Grangemouth | FK3 9BL
London Office | 47 Gee Street | London | EC1V 3RS