Acute Build Clean are a dynamic family-run stone cleaner products supply company specialising in a stone cleaner chemical which is not corrosive or acidic called StoneKleen. A pH-neutral natural stone cleaner which is effective and will not damage the surface is important to enhance the beauty of the stone and clean off weathering, algae, dirt and stains. StoneKleen is an innovative cleaner chemical that uses no caustic acids, alkalis, biocides, or bleach; it is available in 5 litre and 20 litre ready-to-use strength jerrycans.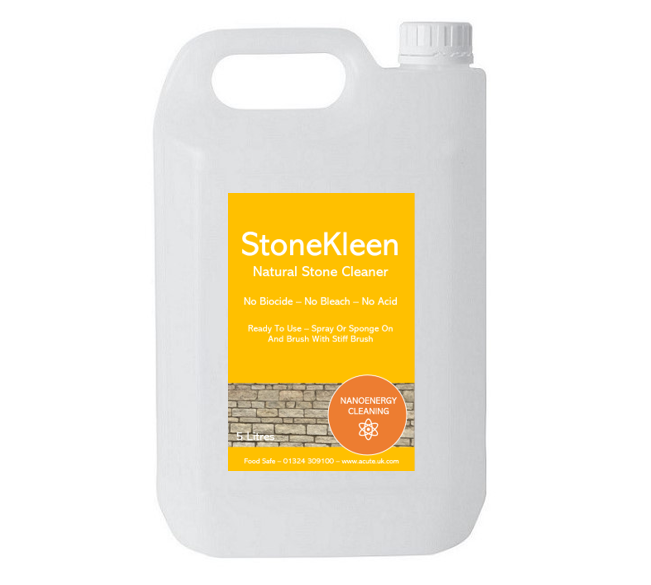 How Does StoneKleen Work?
Our stone cleaning products clean differently to biocide-based chemicals that work by killing microbes. StoneKleen – for example – works by using nano-size energy packages that penetrate and lift off the dirt or algae from the stone's surface. They do this by breaking the surface tension that holds dirt or algae on to a substrate with the added bonus of keeping the cleaned area free of algae for longer.
Many a 'dirty' looking slate or sandstone patio or natural stone wall has living microorganisms called algae that thrive in our damp climate; with StoneKleen this is loosened off ready to be washed away by hose or just rain and the weather over time.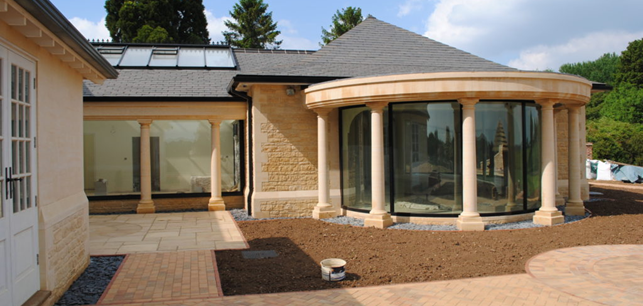 Ultra Safe – For You And The Environment
The cleaning action of our stone cleaning products is powerful yet non-corrosive, non-acid, non-toxic, and non-hazardous and the product is even certified as food safe and is safe to use near a water course or in drains.
Operators and staff using this product do not need any items of PPE in contrast to what is essential when using sodium hypochlorite, brick acid and so on – a refreshing change! Our product is virtually odourless and is supplied in 5 litre and 20 litre bottles as a ready-to-use cleaner.

Use of a pressure washer on low pressure setting is normally helpful especially when rinsing off, however a simple garden hose is also fine (please wash off well to get rid of dirt and don't worry about lawns or plants as it will not kill them).
Apply our natural stone cleaner products with a brush, sponge, roller or low-pressure sprayer, saturate the surface well and then agitate with a stiff brush. If sprayed you will normally benefit from more than one coat. StoneKleen is an excellent cleaner product for stone monuments, war memorials, marble, headstones and gravestones, heritage properties or older listed buildings as it has no biocides, is pH-neutral and yet is effective and a lot less work than just distilled water.
Buy Our Stone Cleaning Products Online
You can purchase our cleaners quickly and securely on-line here on these links:
StoneKleen 5 Litre Ready-To-Use Jerrycan:       £20.00 + VAT + Carriage – ORDER IT HERE
StoneKleen 20 Litre Ready-To-Use Jerrycan:     £70.00 + VAT + Carriage – ORDER IT HERE
Please note you do not need a PayPal account, you can pay with your credit or debit card; we deliver all over the UK with APC parcels. There is a small extra carriage charge for offshore and Ireland.
Download the StoneKleen safety data sheet here.
To discuss your needs in more detail or to ask for more data sheets, please contact us at:
Acute Build Clean | 74 Bo'ness Road | Grangemouth | FK3 9BL
London Office | 47 Gee Street | London | EC1V 3RS