With an environmentally friendly and effective exterior stone cleaner like our StoneKleen product you have a fantastic product for maintenance companies, stone masons, builders and DIY natural stone cleaning as the product is not caustic, toxic, corrosive, or acidic and contains no biocides.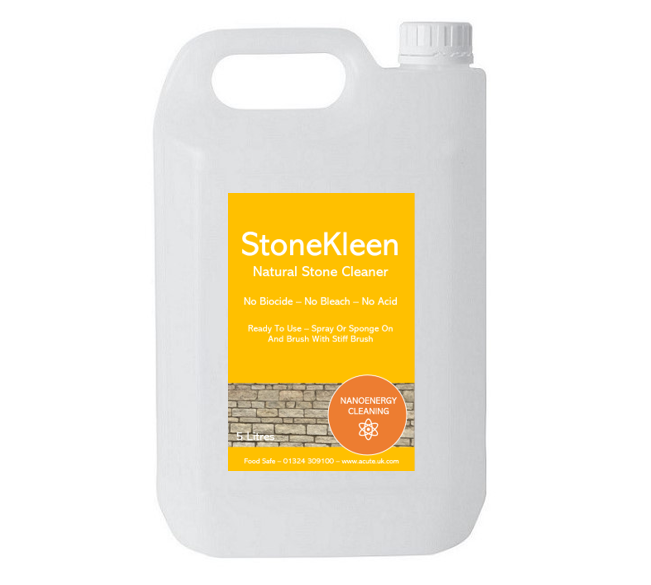 How StoneKleen Can Help
Having a powerful and pH neutral stone cleaner as part of our stone cleaning products that will not ruin natural stone or marble is very important to maintain the natural beauty of the stone. This is a very innovative chemical that uses no caustic acids, alkalis, biocides, or bleach – among other factors this means your metal fittings are safe from corrosion that would typically come from brick acid.
The StoneKleen chemical 'cleans not kills' in contrast to most biocide-based chemicals that are deadly for aquatic life and sometimes even for pets; it won't kill plants or grass either and for these reasons is ideal as a cleaner for heritage stonework, masonry or listed buildings, statues and monuments.
It works by using nano-size energy packages that penetrate and lift off the dirt or algae by breaking the surface tension that holds it on the substrate. There is also an added bonus of keeping the cleaned area free of algae for longer than biocide-based chemicals.

Many 'dirty' looking patios or stone walls are suffering from an invasion of living microorganisms called algae that thrive in our damp climate. With a generous application of StoneKleen they are loosened off – along with dirt – ready to be washed away.
Non-corrosive, non-acid, non-toxic, and non-hazardous, this exterior stone cleaner is even certified as food safe and is safe to use near a water course. It is supplied in 5 litre and 20 litres jerrycans as a ready-to-use cleaner.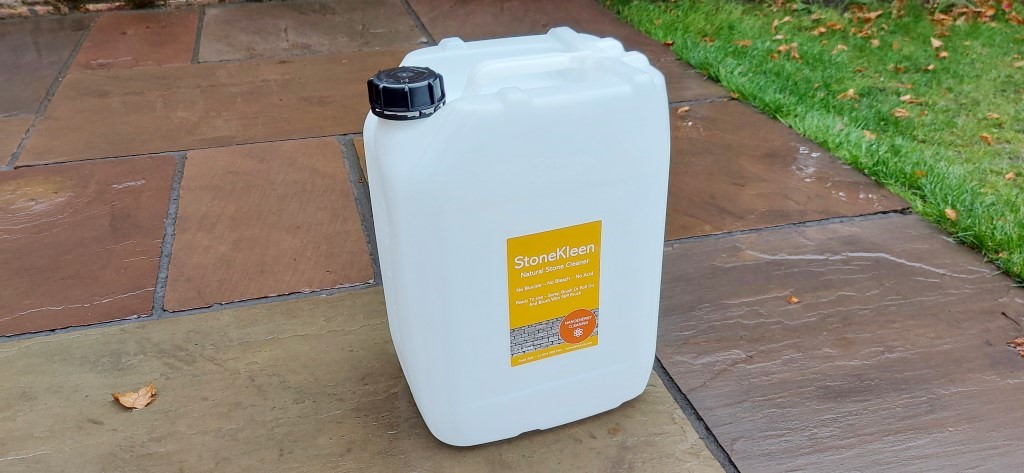 Use of a pressure washer in conjunction with use of StoneKleen is generally helpful and a garden hose helps to rinse off dirt and algae. Pour the concrete slab cleaner on or apply with brush or sprayer, saturate the surface well and then agitate it with a stiff brush. If sprayed you will generally need more than one application and a generous volume of detergent on the substrate, wait 15 minutes before rinsing off with plenty of water.
How Much Does It Cost?
This exterior stone cleaner is delivered at ready-to-use strength in 5 litre or 20 litre jerrycans and is delivered all over the UK by courier – order online on the links below. Please note you can pay by card and don't actually need to have a PayPal account.
StoneKleen 5 Litre Jerrycan:      £20.00 + VAT + Carriage   Order Online Here
StoneKleen 20 Litre Jerrycan:    £70.00 + VAT + Carriage   Order Online Here
Download the StoneKleen safety technical data sheet here.