---
Using our BuildKleen chemical is a revelation in cleaning of concrete surfaces which combines outstanding safety with excellent performance. This makes it the best concrete cleaner on the market by lowering risk and improving speed and it is proven to leave a surface that resists algae re-growing.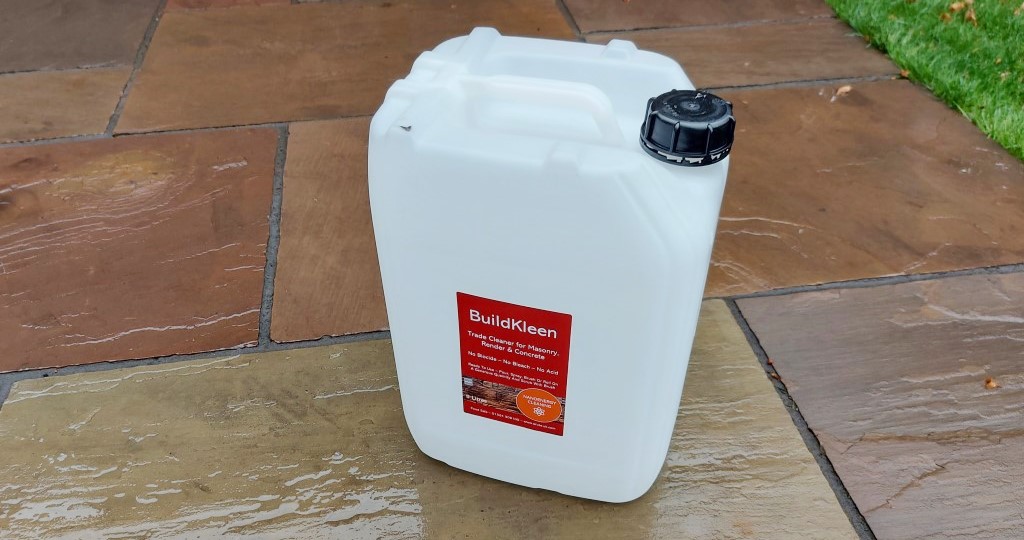 Remarkably Safe – Highly Effective
A Camden certified food-grade cleaning chemical, BuildKleen is available to buy online at ready-to-use dilution for convenience in 5 litre and 20 litre jerrycans. It works by a very innovative process where nano energy particles in the agent get underneath the soiling, dirt, and algae to lift it off for transport away; it contains no acids, no bleach, and no biocides at all. You can see the effect of this cleaner on the concrete on the left.

This is very different and a considerable improvement on biocide-based cleaners – which form the bulk of the exterior cleaners or softwash chemicals out there – as these are killing the algae or green growth for removal. These chemicals carry hazard warnings and pictograms and are harmful to the environment and sometimes to users whereas with BuildKleen it is entirely harmless, even if released into a water course.
There is no risk to pets or lawns and plant life with our concrete cleaner which contrasts with most competitors and it takes only a short time to penetrate through dirt and transform the appearance making it one of the best concrete cleaners around.
Applying The Concrete Cleaner
Please brush or blow off any loose leaves, dust and debris and apply BuildKleen cleaner generously to concrete in a manageable area at a time and puddle it, coverage is usually about 12 square metres per 5 litre bottle. Please see a video showing how to spray-apply and then brush this cleaner for best results above.
Brush the concrete cleaner in vigorously to assist the cleaning – using a pressure washer if available to assist removing loose dirt, lichen, and stains.
Please contact us to discuss your needs further or to request SDS sheets at:
Acute Build Clean | 74 Bo'ness Road | Grangemouth | FK3 9BL
BuildKleen 20 Litre – £70.00 + VAT Each – Buy Now On PayPal – Accepts Credit + Debit Cards
---