---
PatioKleen is a safe and easy to use concrete patio cleaner chemical that is environmentally friendly, non-hazardous and non-toxic, quickly cutting deeply into the substrate and dislodging algae, stains and dirt on concrete patios and monoblock paving.
A great value concrete cleaner for powerful removal of algae and dirt that is available in 5 litre and 20 litre jerrycans. It works by a different process to most cleaning chemicals with nano 'energy packages' which penetrate and break the surface tension and lift off dirt leaving a surface which stays cleaner for longer.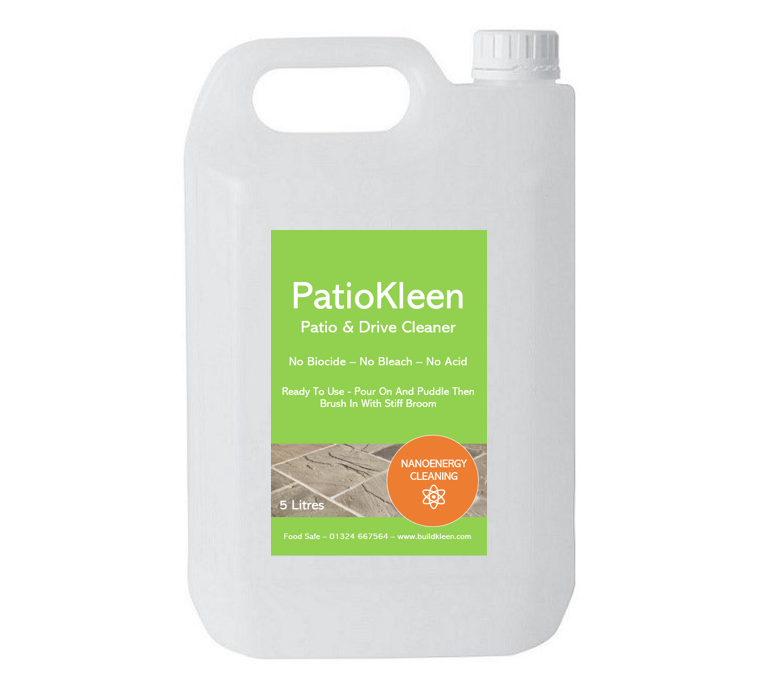 Points To Consider About PatioKleen:
An ideal and effective concrete path cleaner product, PatioKleen is:
Certified food-safe and safe for pets .
Non-toxic and non-hazardous with no acids or caustic alkalis.
Has no biocides or disinfectants.
Contains no bleach or sodium hypochlorite and is odourless.
Users need no PPE equipment.
Delivered at ready-to-use dilution for convenience.
Slows regrowth of algae.
Made in the UK.
This is a ready to use patio cleaner is a stable, effective, safe and environmentally friendly cleaner that is supplied in 5 litre or 20 litre containers.
How Does It Work?
Different from conventional exterior cleaning chemicals, this chemical utilises nano-energy packages within the agent that penetrate deeply and dislodge the algae and dirt leaving a cleaner surface that also lasts for longer. These nano-energy packages are like piranhas just milling around and waiting to attack and tear dirt away like piranhas would feed by tearing meat off the bones of their prey.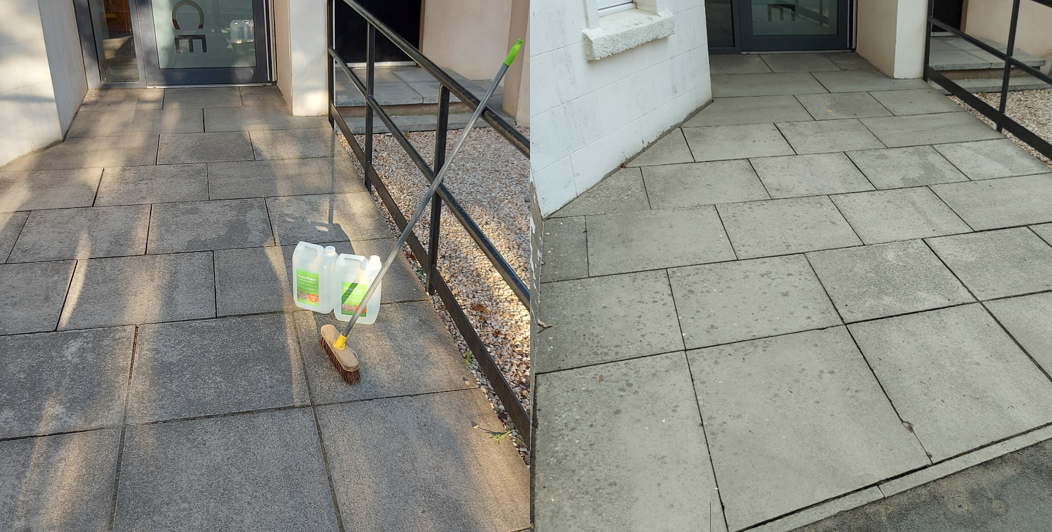 How To Apply:
Use of a power washer can often be helpful helpful and disperses dirt better after cleaning. Application can be by a low-pressure sprayer or watering can, sponge, paint roller, brush or simply poured on. Please agitate the solution with a stiff brush and leave for at least half an hour before rinsing off.
Please see our 'How to apply concrete cleaner' video below:
To discuss your needs further or for data sheets, please contact us at:
Acute Build Clean | 74 Bo'ness Road | Grangemouth | FK3 9BL
London Office | 47 Gee Street | Clerkenwell | London | EC1V 3RS
PatioKleen 5 Litre – £20.00 + VAT Each – Buy Now On PayPal – Accepts Credit + Debit Cards
---